(Scroll for video)
A new vehicle purchased for use by Prime Minister Ralph Gonsalves has evoked a criticism of excessive spending from Opposition Leader Arnhim Eustace.
The government has purchased two vehicles, a Toyota Prado, registration number G7, assigned to Gonsalves, and another vehicle for Governor General Sir Frederick Ballantyne.
The vehicle assigned to Gonsalves is the third since he came to office on March 28, 2001.
The first was G1, a Mercedes Benz sedan, a Volvo bought in 2007, and the Toyota Prado.
Prices listed on the Internet suggested that the government might have paid in excess of EC$100,000 for the latest vehicle.
Speaking on his radio programme, on Monday, Eustace noted that former prime minister, Sir James Mitchell, who was in office from 1984 to October 2000, used one vehicle for 14 years.
Around 2000, when Eustace was Minister of Finance, the government budgeted EC$55,000 to buy a new vehicle to be used by Sir James.
"Ralph Gonsalves opposed that down the line," Eustace said, adding, "How many vehicles he (Gonsalves) had? He had from Mercedes Benz, all kinds of vehicles since he is prime minister for a shorter time than Sir James.
"When I became Prime Minister I got the same car. I used to help push it when it breakdown," said Eustace who was prime minister from October 2000 to March 2001.
"When I was Prime Minister, I pushed the car when it broke down in Government House yard, trying to get it start. Fourteen years Sir James had that car. So when you look at these excesses of expenditure and so, no wonder our financial position is where it is," Eustace said.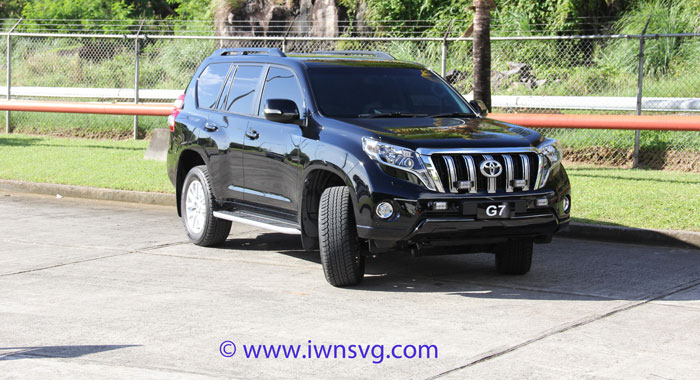 But Gonsalves told I-Witness News that Eustace was speaking about the vehicle because he had nothing else to talk about.
"When a leader of the opposition doesn't have anything else to talk but the prime minister's vehicle, you know really that they are bankrupt of ideas," Gonsalves told I-Witness News on Monday.
He said that for the last three months he has had to borrow a vehicle from the Ministry of Foreign Affairs.
"The G7 which was purchased in 2007 has some mechanical problems and they were trying to sort them out, and in fact, since last year it was having problems. A seven-year-old vehicle? The government will either put it to use somewhere else or sell it," Gonsalves said.
He told I-Witness News that he was not involved in the criticism of Sir James when money was budgeted for a new vehicle, almost 15 years ago.
"In fact, the vehicle which Sir James left should have been changed before he left office because when I got it, the hubcaps and so on were falling off regularly," Gonsalves said.
He said that when officials were discussing a new vehicle for him, they suggested several types.
"I said why don't you buy a vehicle here, a Toyota, which they went and did and they did all the specs and thing and they get a vehicle. The previous vehicle is seven years old. Executives around town change their vehicles every three years. This is a 7-year-old vehicle which I am changing," Gonsalves said.
He told I-Witness News that he believes that a similar vehicle was bought for the Governor General.
"The Governor General had to be driving his personal vehicle. The Governor General's vehicle has gone into disrepair — his official vehicle," Gonsalves said.