By Kenton X. Chance
ABU DHABI, Jan 18, CMC – St. Vincent and the Grenadines has been granted a loan of US$15 million to help fund the development of a 10 to 15 megawatt geothermal project, expected to come on stream by 2018.
The funds are part of US$57 million in concessional loans for five renewable energy projects in developing countries financed under the second cycle of the International Renewable Energy Agency (IRENA) and the Abu Dhabi Fund for Development (ADFD).
The loans, announced on Sunday during IRENA's Fifth Assembly, will also go to projects in Cuba, Argentina, Iran, and Mauritania.
"The geothermal project in St. Vincent and the Grenadines will connect to the energy grid to provide a consistent power source for the entire country and will influence the deployment of additional geothermal projects in the Caribbean," IRENA said.
"The implications are massive and game changing. It is a word that the Prime Minister [of St. Vincent and the Grenadines Ralph Gonsalves] uses, and it is a word that you also heard the director-general of IRENA [Adnan Z. Amin] use," Minister of Foreign Affairs Camillo Gonsalves told the Caribbean Media Corporation (CMC) after the announcement.
He noted that US$15 million is the most that IRENA-ADFD lends for a single project, and this is the second time in its two cycles that it has awarded such an amount.
"So, we are very pleased in the confidence that IRENA and the government and people of the United Arab Emirates have reposed in us," said Gonsalves, who is leading the three-member Vincentian delegation.
The other members of the delegation are Minister of the Health, Wellness and the Environment Clayton Burgin, and Director of the Energy Unit, Ellsworth Dacon.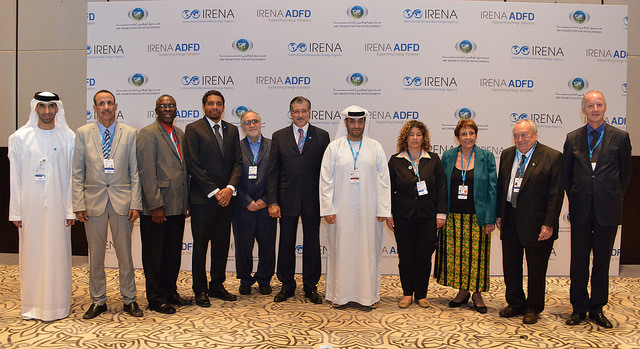 Gonsalves noted his country's reliance on imported diesel for electricity generation.
"… we have some of the highest electricity tariffs in the world, due in large part to the fact that we are a small country, importing small amount of diesel and our electricity is based on that," he said.
He told CMC that when the geothermal power plant is complete, it will reverse the ratio of electricity generated by fossil fuel and renewable sources.
"This project is over 50 per cent of our current demand," he said, noting that it has the potential to generate 10 to 15 megawatts of electricity.
"We have roughly 20 per cent of our electricity already provided by hydro. So, we will go from being 80 per cent fossil fuel electricity to close to 80 per cent renewable energy when this project is completed.
He told CMC that in addition to reducing electricity cost by some 20 per cent, the project potentially has important developmental benefits, including poverty alleviation, the competitiveness of business, and foreign direct investment.
"So, all of these things, wrapped up, create what we really believe is a game changer," he said.
Dacon told CMC that the project could save the country US$18 million of the US$26 million that it spends on diesel for electricity generation annually.
"This project will save approximately 4.5 million imperial gallons of fuel imports per year. So, the impact of the foreign exchange is great. It will also stimulate some light manufacturing," he said, adding that it could also create opportunities in aquaculture, and agriculture.
"We expect this project to be saving or reducing at least by 25 per cent our energy cost today. We pay about 39 cents US a kilowatt-hour. I don't want to predict, but I think, based on discussions, that it will be lower than 25 per cent saving when the project is realised," Dacon told CMC.
At the press conference where the successful loans were announced, Amin said while renewable energy resources are abundant in many communities suffering from energy poverty, finance is still a key challenge for deployment.
"That is why the partnership between IRENA and ADFD is so important as a pioneering effort," he further said.
"Renewable energy is now, in many cases, the low-cost solution to power generation and one of the most cost-effective ways to increase energy access and energy security around the globe," the IRENA secretary general said.
ADFD is a Government of Abu Dhabi national institution established in 1971 to assist developing countries by providing concessionary loans to finance development projects in those countries, as well as direct, long-term investments and contributions.
The fund has provided and managed more than US$18 billion since its inception to finance 424 projects in 71 countries around the world.