(Scroll for video and more photos)
Vincentians on Sunday turned out in large numbers in Fancy for the joint funeral of the five students who died in the minibus crash at Rock Gutter on Jan. 12, the second such mass funeral for students in 15 years.
The service was also a memorial to the two students who are still missing at sea, and presumed dead.
The 8-hour-long funeral and burial service included speeches and tributes from state and education officials, as well as personalised tributes to each of the students.
The singing, including the tributes in song, was joyful, mournful, and therapeutic.
https://www.youtube.com/watch?v=vkfCTGxLfm0
"The emotional pain that we have experience and [are] currently experiencing has crippled our senses to a point where it brings nothing more than grief," said St. Clair Da Santos, principal of North Union Secondary School.
Three of the dead students, 14-year-old Jamalie Edwards, and his brother, Jamall, 12, and Anique Alexander, 11, were enrolled at NUSS.
Their schoolmate 15-year-old Chanstacia Stay is missing at sea.
Racquel Ashton, 17, of the Georgetown Secondary School (GSS) and Glenroy Michael, 16, of the St. Vincent Grammar School also died when the van careened off a hill before plunging into the sea in the area that is located between Fancy and Owia in north-eastern St. Vincent.
The other missing student is Simonique Ballantyne of GSS.
Fourteen other passengers, 11 of them students, survived the accident.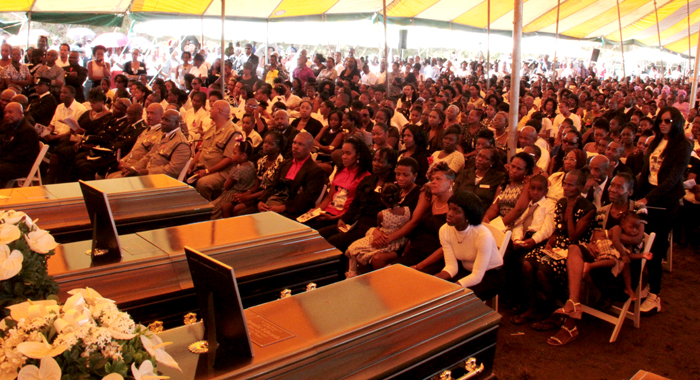 "My faith in religion is based on justice. And sometimes we question our faith and ask why. Why these students? Why the best? But the Lord knows best," Da Santos said, as a woman sobbed loudly.
"The students who were on the bus can be described as a group with exemplary demeanour. They stand out for the strength of their character and deportment. They drew from their reserves to become outstanding students. They always exemplified a positive school spirit," Da Santos said.
He noted that the students got out of bed at 4 a.m. to travel to school, adding that this was not "an easy task".
"They were the first set of students to arrive at school on a daily basis; sometimes the last to leave, depending on the time the bus returned to collect them," he said.
The principal described the survivors of the accident as heroes.
"These students, you are heroes. And I hope that you are gonna use this opportunity to do something positive with your life and contribute to nation building.
"Students, your memory will live on, and I am consoled by the fact that you all lived a life that was necessary. I believe you are in a far better place than this earth; no more sorry, no more pain," Da Santos said.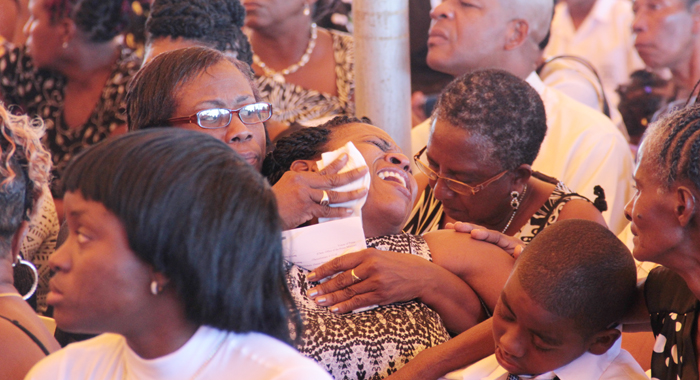 Principal of Georgetown Secondary School, Ronald Clarke, noted that the relatives of the students may have questions about why the students died so young and tragically.
"The question we should ask is 'Why did God give them to us in the first place?' God gave them to us so that we can be infected by the joys and laughter they brought into our lives; so that we can fully understand and experience what it means to be truly loved and to love; for us to understand what it means to appreciated someone and to be truly appreciated."
Principal of SVGS, Curtis Kings, said that Michael was what teachers would call "an easy to teach student".
"No one, no one can prepare for the loss of a loved one at such a tender age in such tragic circumstances. It is every parent, every family's nightmare. We hope, however, that Glenroy's parents and family, in fact, all the parents, and families of those who lost loved ones in that tragic accident, will be comforted by the outpouring of love and messages of support that they have received from the Vincentian and Caribbean people."
Minister of Education Girlyn Miguel expressed condolences on behalf of her ministry.
"We will journey with the families, and we will try to console them, but only God can give the healing," she said.
Miguel said that after mourners, and relatives of the deceased students return to their various homes "the pain will still be there for their immediate families.
"I ask our community to continue in prayer and for you, the parents, I want to ask you to remember the good times that you … had, the joy that you had when these children were born. But the Lord gives, and he takes away," Miguel said.
She noted SVG suffered a similarly tragic blow some 15 years ago. On Oct. 1, 1999 persons gathered in Marriaqua to bury five students who died when they were washed away by a river while sheltering rain under a shed.
"And so, we too had to go through a period of mounting," said Miguel a Marriaqua resident and former teacher.
"And I know we have received certain measures of healing, and you too will receive that healing. But you only have to hold on to … God," she said.
Leader of the Opposition Arnhim Eustace said there is poetry in the way Vincentians express empathy, in saying that they "enter into the feelings" of the bereaved.
"It seems to me that for Vincentians the world over, there is no separateness of the feelings of the children's parents, their families and their friends.
"We have not so much entered into your feeling, as your feeling has instead overwhelmed us," he said.
"… As Vincentians, today we are washed with pain. Our entire nation has lost these children. And while we do not and cannot stand in the midst of the feelings in that deepest part occupied by the children's parents, brothers, sisters and friends, please know that we are all here in the spur of those feelings too.
"How do we balance our despair at the loss of children with our profound gratitude for the survival of the others?
"And, make no mistake, we are unendingly grateful to God for the rescue of twice as many as died and are missing," he said.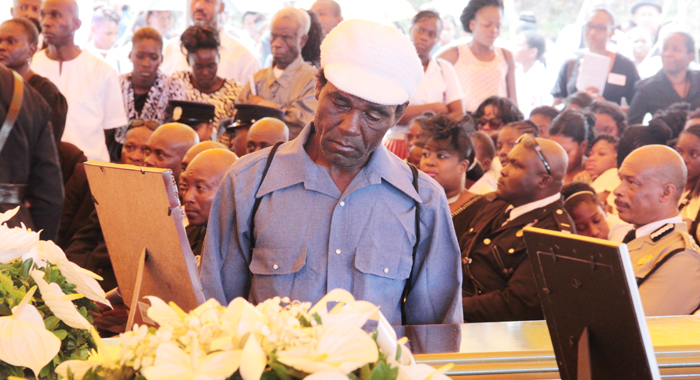 Prime Minister Ralph Gonsalves told the gathering that in their midst "are people who love their God, who love their children, who worked hard to bring them up in dignity".
He said the tragedy is "a test of our nation's resolve and our faith in Almighty God".
He said the in December 2013 the nation faced "a similar test" when 12 persons, including a member of his family died tragically as a result of severe weather.
"But, with the help of Almighty God, and with our own resolution, we have been able to meet that test to our national resolve, and we have been able to reaffirm our faith in Almighty God, and I am absolutely sure that tomorrow and the days henceforth, we will meet the test of our national resolve and our faith in Almighty God, not because of reason — because reason takes us only thus far — but because of the faith that we have in God, that he has promised us to be with us, that he will not forsake us, and that he will lift up his righteous right hand to help us in everything which we do," Gonsalves said.
Gonsalves, who said 10,000 persons attended the funeral, urged the congregation to care for those who survived the tragedy, noting that while seven persons died, 21 citizens boarded the bus, three of them adult, adding that his government is committed to contributing to their well-being.
Among the persons delivering tributes at the funeral were SVG's Commissioner of Police Michael Charles, and Deputy Commissioner of Police in Antigua and Barbuda, Joseph Hughes.
Parents and other relatives of each The students were buried in the new cemetery in Fancy which was consecrated after their deaths.
(See more photos from of the funeral below)