Taiwan's Ambassador to St. Vincent and the Grenadines, Baushuan Ger on Saturday hosted at his residence in Villa a reception in celebration of Chinese New Year.
Guests included the local Taiwanese community, composed mainly of embassy and other mission staff and their families, Vincentian graduate of Taiwan universities, and Vincentians who have participated in workshops, seminars and other short training courses in Taiwan.
"This is a very special occasion," Ger told the gathering.
"Some of you have stayed in Taiwan for many years, so you know the Lunar New Year is a very important event for the Chinese community everywhere, like your Christmas," he further said.
He noted that on Chinese New Year's Eve families usually return home and have a big meal together.
"So, this is something like that," he said at Saturday's event at which typical Chinese and Taiwanese food was served.
Ger, who arrived in St. Vincent in September and moved into the new residence in December, said he decided to have a special event at the residence that bring together the embassy staff, the expats, and guests.
"Taiwan and St. Vincent and the Grenadines have enjoyed a very long history of friendship. And we do hope that through you, the bridges between Taiwan and St. Vincent and the Grenadines, we can continue these kinds of very strong bonds," he said, adding that he hopes the event is the first of many to come.
He spoke of the 30-year diplomatic relationship between Kingstown and Taipei.
"And of course, to reciprocate this friendship, we also have done a lot of efforts here in St. Vincent and the Grenadines and this friendship is genuine and very long, and we do hope that through these efforts, the friendship can continue over the years."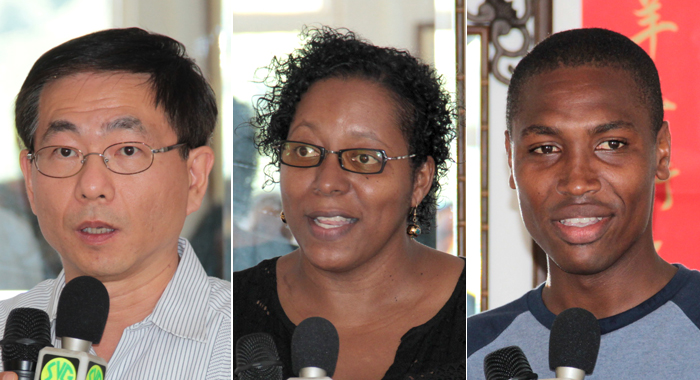 Speaking at the event, Gordon Shallow, president of SVG Taiwan Alumni Association, said that Vincentian graduates of Taiwan universities have a lot of friends in Taiwan, and some of them have spent Chinese New Year with Taiwanese families.
Shallow, also said that Prime Minster Ralph Gonsalves sometimes says that the relationship between both countries have gone beyond state-to-state cooperation to a people-to-people one.
"So, with that, I just want to say Happy Chinese New year to the Ambassador, to the people of Taiwan, those of you who are here," he said and expressed hope that this year, the year of the Goat in the Chinese zodiac, will be a prosperous one for the people of Taiwan and Vincentians as well.
Tasheka Haynes, president of Taiwan International Cooperation Development Fund (ICDF) Alumni Society, thanked the ambassador for the organising the Chinese New Year celebration.
Haynes said she had a chat with the ambassador last year and suggested that there be some informal gatherings like Saturday's
"I'm so glad that he is a man of his word. He said, 'Okay, as soon as I move into the new house and I am settled, we would have something; and here we are today. That means a lot, because we don't get enough time, sometimes to get together and mingle among ourselves in a more informal setting," Haynes said.
She noted that in addition to the university graduates, a lot of civil servants have gone on short courses in Taiwan.
"And it would be good to share your experience. I would like to see us get a bit more involved, giving back a bit more to the community, probably getting more involved in sharing our experiences with Taiwan.
"I know that we have a long friendship and I hope it would continue but I would want to see Vincentians who have had that opportunity get a little bit more involved, not just the students who went to do a degree programme," Haynes said.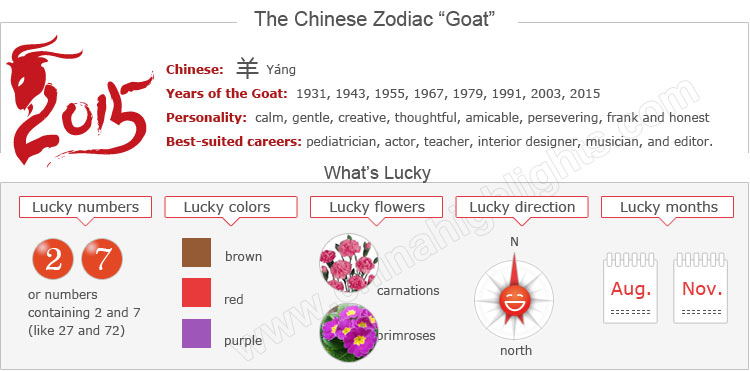 The Goat comes 8th in the Chinese zodiac. The 12 zodiac animals are: Rat, Ox, Tiger, Rabbit, Dragon, Snake, Horse, Goat, Monkey, Rooster, Dog, and Pig.
According to Chinese astrology, each year (starting from Chinese New Year) is associated with an animal sign, occurring in a 12-year cycle. For example 2015 is a year of the Goat.
Lucky Colours: brown, red, purple
Lucky Numbers: 2, 7
Lucky Flowers: carnation, primrose
Year of Birth: 1919, 1931, 1943, 1955, 1967, 1979, 1991, 2003, 2015, 2027
The Goat's Personality: Calm, Gentle…
People born in a year of the Goat are generally believed to be gentle mild-mannered, shy, stable, sympathetic, amicable, and brimming with a strong sense of kindheartedness and justice.
They have very delicate thoughts, strong creativity, and perseverance, and acquire professional skills well. Although they look gentle on the surface, they are tough on the inside, always insisting on their own opinions in their minds. They have strong inner resilience and excellent defensive instincts.
Though they prefer to be in groups, they do not want to be the center of attention. They are reserved and quiet, most likely because they like spending much time in their thoughts. Goats like to spend money on fashionable things that give them a first class appearance. Although goats enjoy spending money on the finer things in life, they are not snobbish.
The Best Jobs or Career for Goats
People born in the year of the goat prefer to work in a team. Their best work partners are Horses. They are not crazy about status and power. Unless asked, they won't ever volunteer for anything and act as leaders. Good career choices for goats are pediatrician, actor, daycare teacher, interior designer, florist, hair stylist, musician, editor, illustrator, and art history teacher. (Source)