By E. Glenford Prescott
St. Vincent and the Grenadines can look forward to receiving more benefits from world football governing body, FIFA if presidential candidate Prince Ali bin al-Hussein succeed in unseating current office holder, Joseph "Sepp" Blatter.
This was the commitment given by the Jordanian at a media briefing this week following a meeting with SVGFF president Venold Coombs, Sports Minister, Cecil "Ces" Mckie and other officials in Kingstown.
Responding to a question about what changes he will implement to help countries such as SVG, Ali said he would be moving to have the current Financial Assistance programme (FAP) increased to benefit developing countries.
Currently, member associations receive about one million US dollars annually from FIFA to assist with their programmes and technical development, but Ali said he believes that more can be given, especially to countries who do not possess the wealth to fund their programmes.
"I think whatever we can do to make national associations more sustainable we should do so. It should not be one system for all, since there are some countries which do not need that assistance, and that could be given to those who are more in need," he said.
Ali, a kin of the famous King Hussein of Jordan, is on a Caribbean journey to whip up support to depose FIFA strongman, Blatter, who is seeking a fifth four-year term after indicating that the fourth would have been his last.
However, Ali, who appears to be fighting an uphill battle to secure enough CONCACAF votes to beat Blatter, is also seriously handicapped by the indication that he may even struggle to get a majority of support from his own confederation, the Asian Football Confederation, led by Sheikh Salman bin Ibrahim Al Khalifa of Bahrain. Reports say that Salman, AFC President since 2013, is a strong supporter of Blatter.
According to reports, Ali, a good friend of UEFA boss Michel Platini, will look to draw on support from Europe and parts of the African Confederation.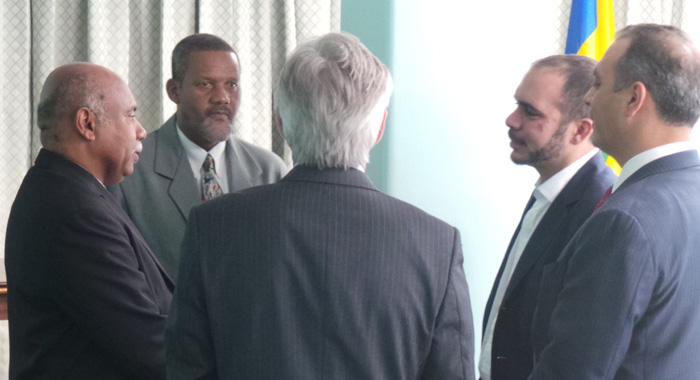 With his task seemingly a major one, Ali said he is still confident that he will beat Blatter, a Swiss national.
"I have full confidence in the member associations, and if they believe what I stand for and want change, I am confident that the change can be made."
Ali, who will be attending the CONCACAF Congress, said he is hoping to meet with many of the associations to put his case forward for the May elections.
On Tuesday, he gave what may be accepted as a vague commitment to provide possible assistance towards playing fields and other related areas.
Coombs, who was still mindful of the "Bin Hamman Affair", when someCONCACAF members were said to have received what turned out to be a bribe to support him in his candidacy against Blatter, is said to have turned down several invitations to meet with Ali and his team over lunch and dinner.
"I am a man who will not allow any doubt to be raised about me. Everything must be transparent. I will give no one any opportunity to speculate," Coombs said in explaining why he declined the invitations.
Coombs said it is quite normal and respectful to welcome persons like Ali who indicate their intention to visit and "that was all that was in the visit".