By E. Glenford Prescott
Salvan Browne stroked a brilliant century and spinner Kenneth Dember grabbed 7 wickets as Police Two took forts innings points from Carl Joseph Law Chambers ASCO in their drawn match at the Sion Hill Playing Field as the Premier Division of the National Cricket Championship continued at the weekend.
SCORES: Police TWO 324/6 &85/2, ASCO 122.
Police Two have had some of their better performances at the Sion Hill Playing Field, including posting the highest team total in local cricket history of 549/8 against Victors One in 2006.
On Saturday, they got off to a choppy start to be 85/3 in the 13th over with openers Marcus John (10), McLeon Williams (31) and number four Danson Andrews (17) given an early chance to Whatsapp and chat.
Browne, who batted at number three and not in his customary position at the top of the order, arrived with both his brother Dean and Roxie Browne in the attack for ASCO and quickly put aside brotherly love to crash Dean over cover.
And so the eldest of the Browne, despite bothered by a leg injury, set about inflicting a beating on kin and foe alike in an innings of ruthless brilliance.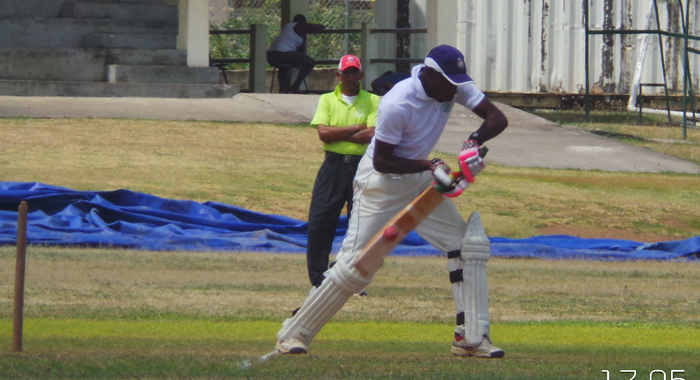 His was given the opportunity to unfurl his pet shots of the cut and the pull and did not disappoint. The ASCO bowlers appeared to be the main admirers of the display as they made every effort to give him balls in those areas which he accepted with great panache.
He, first in partnership with Kevin Abraham (29), added 87 for the fourth wicket before the latter was caught by Dean off Deron Greaves with the total 172/4.
Browne then found another ally in Dember and the pair put together 125 for the fifth wicket before he was caught off Kenvil Sam for 144 to make the score 307/5. He faced 159 balls and struck 17 fours and 1 six.
He was quickly followed back to the pavilion by Dember (60) 1 run later and in the same over bowled by Sam. Stumps were drawn 4 overs later with the lawmen happily placed at 324/6.
Dember, whose batting is said to have improved by leaps and bounds, struck 7 fours and 1 six in his innings at the ground where he has his highest to date of 83 made for Victors ONE against Lime Radcliffe in 2014.
Sam took 2/11 and Dean Browne took 2/94.
Police Two declared on their overnight score and quickly routed Carl Joseph Law Chambers ASCO for 122 in 29 overs as offspinner Dember returned his best figures of the season-7/43 from 10.4 overs.
He began his demolition job by hitting the stumps of ASCO's top batsman, Deron Maloney (8) after the batsman attempted a slog sweep with the total on 21. A second wicket, that of Greaves (6), went at 33 before there was a partial recovery between Kelsun DaSilva (28) and Dean Browne (39) who added 58 for the third wicket.
But from the fighting position of 91/2, ASCO made a spectacular "jack knife" in losing their last eight wickets for 31 runs.
The spectacle was even more jaw-dropping when 4 wickets fell while the score moved from 116/4 to 117/8 and the final 2 at 122.
Legspinner Elmore Alexander supported Dember with 2/29.
Despite holding a commanding lead of 202 runs, the lawmen refused to enforce the follow on choosing instead they said to give Williams and Browne the chance of increasing their aggregate in the race for most runs and denying Maloney who is in contention the opportunity to add to his tally.
The end result was that Williams (0) lofted a catch to deep midwicket and Browne (35) was run out by half of a pitch going for a second run.
With none of the objectives markedly achieved, play was called off with Browne's dismissal.