The 2015 timeline for the completion of the much-delayed Argyle International Airport appears to be "credible" Prime Minister Ralph Gonsalves says, but told the media that the airport can operate without a finished fuel farm or cargo terminal.
"I spoke to Dr. [Rudy] Matthias, [head of the International Airport Development Company] and he told me, he said I gave you these timelines Prime Minister, what I told the House [of Assembly], and these timelines appear to me to be credible," Gonsalves told the media this week, when asked if the airport was on track for completion this year.
The EC$700 million dollar international airport has missed several deadlines since 2011, including December 2014 and "mid-2015", which some persons interpreted as meaning June.
While construction of the terminal building was completed two years ago and the air bridges arrived in the country this week, other elements of the airport, including the runway, cargo terminal, fuel farm, fencing, and diversion of a river under the runway remain incomplete.
"The issue which I am working on is to have the Eastern Caribbean Civil Aviation Authority in place where work is being done with sufficient intensity from a regulations standpoint that fairly after we complete everything, that they are doing their work on an on-going basis so that they can say yes, nothing is needed to be done there further, nothing to be done there and so on and so forth," Gonsalves said.
"And we don't expect any problem in that regard. It's only that I don't want a time lag; and that I can't give any precise time on. But, in terms of the completion, I expect that by the end of the year we will be finished with it," he said.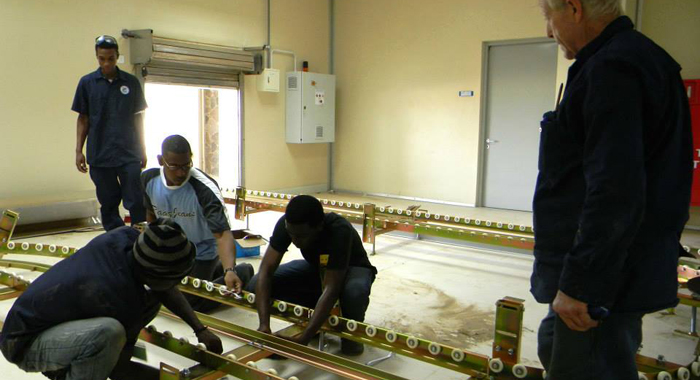 Gonsalves said there are things that are taking place at the same time at the airport.
"And this is what a number of persons don't appreciate. The paving is taking place at the same time that the work is being done with the culverts at the river and I don't know when last you went there, you will see the work is substantially complete. But you will have a small piece to cover it over, even if you pave everywhere else, you will have to come to pave that, but that wouldn't take a long time," he said.
Gonsalves said that the installation of the solar system doesn't have to be complete for the airport to be operational, adding, "because you have electricity".
"Even the cargo terminal building you don't have to be finished with that for the airport to be operational. Rubis is doing the fuel farm, and Rubis says even if you are not finished with that at the time when you are ready to open, I have alternative arrangement I can transport the fuel from Arnos Vale.
"I spoke to the Rubis people myself about that. Matthias had advised me but because it is an important question, I made sure that I got to Rubis themselves to hear. I didn't expect Dr. Matthias to mislead me but on matter which are so important, I want to hear it also from the assurances which are given," the Prime Minister told reporters.
Gonsalves has said that Vincentians will elect a new government by December, ahead of the March 2016 deadline.
He said he is confident facing the electorate in light of some statements made by the opposition about the airport.
"… I am very pleased going into an election where the Leader of the Opposition says it wouldn't be finished before 2020.
"I'm also very pleased to hear him say that they will stop all operations, carry out an extensive study, and decide what they are going to do. I am also very interested to hear their lead spokesperson on airport, that is to say Glen Stuart, say in New York, while Eustace is saying we will study it and we will finish it by 2020 — I don't know how much more money you will have to spend to do over things which you do already did if you ain't using them — but Stuart says that no plane will ever land there."
I-Witness News understands that concerns are already being expressed outside of political circles about the possible deterioration of the terminal building, which has not been used since it was completed.
"So I am really happy for all of those positions. I listen to them. I haven't commented on them yet, but you will hear me more and more on those matters," Gonsalves said of the statements by the opposition.
Gonsalves, however, said that whether the airport is open before or after the elections, the people will know that he has built something that others said couldn't be built and that he built it for the youth and the future of the country.