By E. Glenford Prescott
Young people in St. Vincent and the Grenadines are being encouraged to return to the days of frequenting the playing fields, backyards or the idle plot of land "to play" in an effort to increase the pool of resources available for national teams.
This advice came from former national athlete, noted local surgeon Dr. Lennox Adams as he delivered the feature address at the St. Vincent and the Grenadines Football Federation (SVGFF) Awards Ceremony at Frenches House on Friday.
Adams, a respected sports administrator who spoke on "Let's Play a Game", had the audience transfixed as he spoke in a language that many appeared to grasp, judging from their nods of approval during his address.
"It is clear that enough of our young people are not playing anymore and this is going to have a negative impact on the talent pool available for selection to our national teams, whether be it football, cricket, basketball or track and field," he said.
He underlined his point by giving the examples of his birthplace of Stubbs and that of Sion Hill, possibly SVG's best known sporting community.
"We in Stubbs played a lot and when we did we produced. And we not only produced, we produced over twenty cricketer who represented St. Vincent and the Grenadines, the Windwards and the West Indies at various levels. But conversely, when we stopped playing we stopped producing. So there was a correlation between playing and producing…
"It was a similar thing with that excellent community of Sion Hill, which was a force to be reckoned with in many sports and produced some good sportsmen and women but when they stopped playing, they stopped winning and they, therefore, must also return to playing," explained.
Adams said that playing sports brings about genuine bond and association but not playing could force person into alliances such as becoming part of gangs which has possibly no sincere affection but is only an association of convenience that is fragile and fickle at best.
He said that while he has no data to prove such, there may be some who will attribute the increase in gangs and gang warfare to the fall off in the playing of sports by the young people.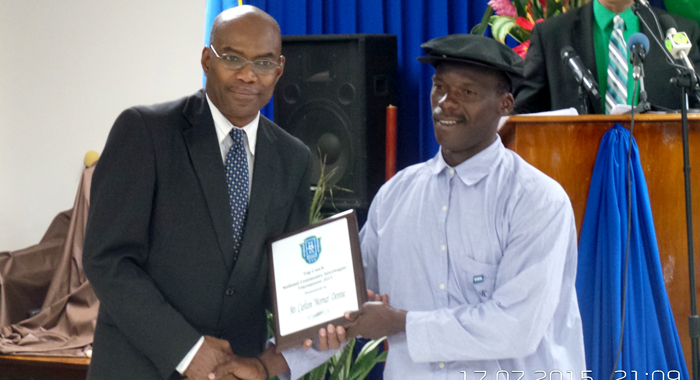 However, while refusing to support fully this theory, he appeared still open to the suggestion as he attempted to juxtapose the scenario and the time frame of the 70s, 80s, 90s, to the current period.
He said some parents see sweating as something bad and, therefore, would avoid having their children take part in sports and these children invariably become slaves to technology by always being around the television playing games or the laptop and other such devices listening to music or chatting.
The former triple jumper said that he remembered as a youngster growing up competing on the playing field not only with boys his age but girls as well but this is no longer the case since, unlike those days, there now circumstances that weigh heavily against such occurrences taking place, comments which brought smiles from the older members of the audience and grins from their younger counterparts.
In urging the public to return to "playing a game", Adams also asked that a great deal of emphasis be placed on academics since, he said, it provides the opportunity for scholarships and also offers them something to fall back on when their days as athletes are over.
"There are a lot of opportunities out there once you do well in balancing your sports with your studies and, therefore, it is imperative that you pay close attention to your school work as you focus on winning medals. I, and a lot of others, have benefited from beating books and doing well in sports. You must, therefore, study long and play hard," he advised his audience.
Adams left St Vincent and the Grenadines in 1986 to pursue studies in medicine at Ouachita Baptist University in the United States, and excelled both in the classroom and in track and field. He was the inter-collegiate champion in the triple jump, both indoor and outdoor, in 1987 and 1989.
In 1989, the Adams was the university's Athlete of the Year, and was the US NIA champion at the indoor triple jump in the top division in 1987, 1988 and 1989. Outdoors, he was the champion in 1988 and the silver medallist in 1989 when he reportedly lost by "a quarter on an inch".
Adams was the first head of the National Olympic Association, now the National Olympic Committee, and was instrumental in this country becoming a member of the Olympic movement with initial representation at the 1988 Seoul Olympic Games.
He was recognised in 2012 when the NOC made him its first inductee in its "Hall of Fame". He also served on the local body of track and field both as general secretary and later as president.