Hundreds of persons on Sunday mourned with the Johnson clan of Spring Village as they buried three family members who died when a car plunged over a cliff in Coulls Hill on June 28.
But while three persons were buried on Sunday, it was in fact the fourth family members lost in tragic circumstances in the past few weeks.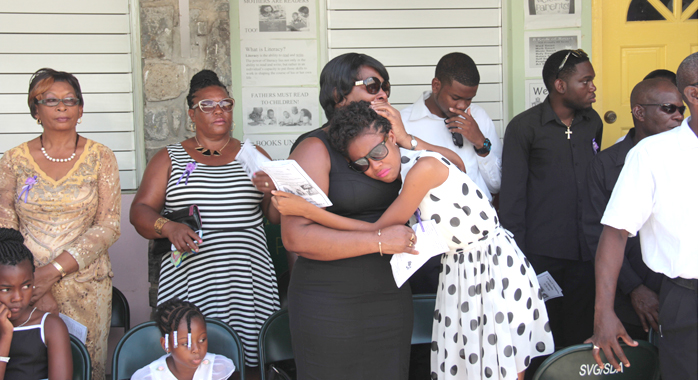 George Johnson, 89, his daughter, Vinola Icyna Ollivierre, 65, and Ollivierre's grandson, Leon Jr. Denzil Johnson, 22, died while returning home from Chateaubelair where they attended the funeral of their relative, Shardine Monica Johnson, who was murdered in that North Leeward town on June 7.
Two other persons, Kemral Williams, 24, the driver of the vehicle, and Neville Charles, 45, survived the crash.
"Today, loved ones, I know the hearts of the relatives are grieving, but I want to bring you comfort today," Bishop Ashton said.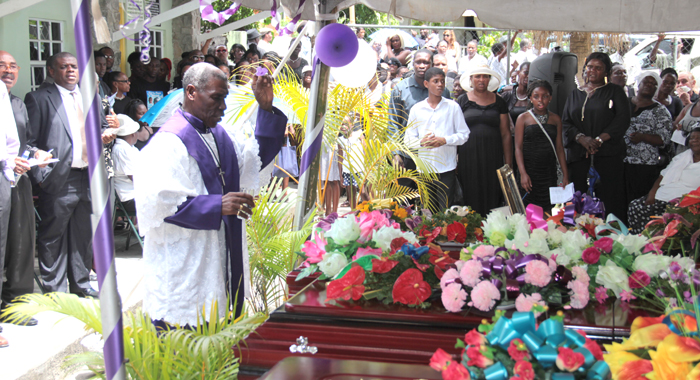 He pointed out that in John 14, Jesus, speaking to his disciples, told them that he will leave them temporarily.
"That was a sad occasion for the disciples as Jesus said I am going to leave you for a moment. Today, these three loved ones leave us, but not for a moment," the cleric said.
He noted that Jesus told Thomas "I am the way, the truth, and the life: no man cometh unto the Father, but by me."
"Loved ones, I want to say to us that death is a must.
"… we may live, but … we have to die some day. And regardless to what position we hold, we have to die…
"I want to urge us this evening, let us put our trust and our confidence in God because God is the one who can destroy our soul and our body at the same time," Bishop Ashton said.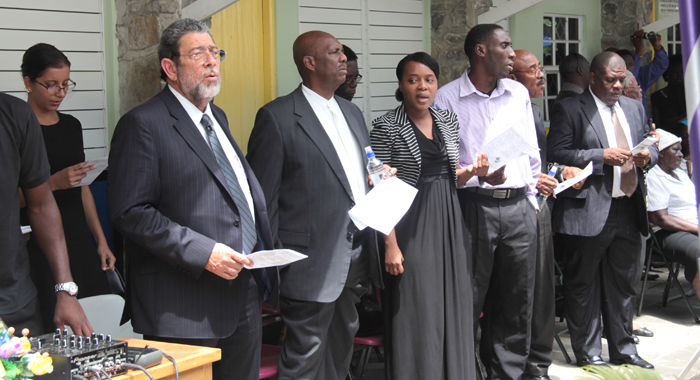 The funeral service, which took place at the Spring Village Methodist School, heard tributes from fellow villagers, work colleagues, friends, and religious families of the deceased, and politicians.
Prime Minister Ralph Gonsalves spoke of the magnitude of the deaths.
"To have three persons from one family going is an awful tragedy. And we have had from a youngster of 22 to a senior citizen of 89 years. I can just imagine the horror of their death as the vehicle careened off the road going to Troumaca Bottom."
The car fell several hundred feet from Coulls Hill before coming to a stop on the road below close to Torumaca Bottom.
Gonsalves said the nation is grateful to God for the passengers who survived.
"And in our memorial today, we must give thanks for those who are saved," he said.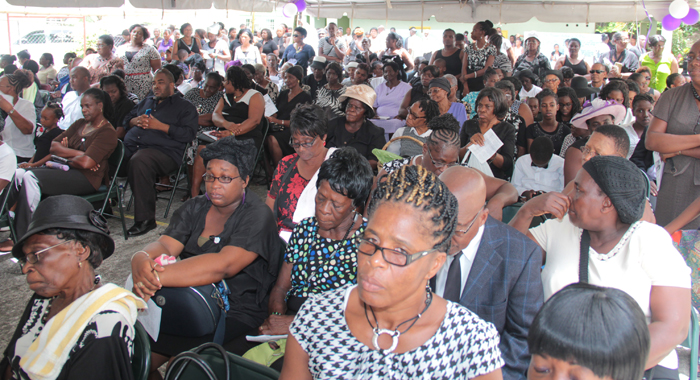 Leader of the Opposition Arnhim Eustace said that given all that the family has gone through, they must be a very strong one.
"I don't believe there are many families in St. Vincent and the Grenadines who have had to bear so much pain in so short a time. I really can't recall a single family having to bear that amount of pain.
He said while there might be the temptation to ask "Why me?" the developments are God's work.
"We have no say or no control over that. He has made the ultimate decision and believe it or not, he has made it in your interest. That is the nature of the God that we serve. We cannot pretend to understand. Our role as Vincentians, as ordinary men and women, our role is to do whatever we can to give support to this family. We cannot reverse what has happened, but we can make their lives a little easier as the weeks and the months go by," Eustace said, and urged all persons at the funeral to continue to show love and support to the family.
"They are going to need it. Every one of them is going to need it," he said and urged that the family be remembered in positive ways and whatever possible be done to assist in their wellbeing.
Carlos James, the ruling Unity Labour Party's candidate for North Leeward, said it is a time of mourning not just for the Johnson family, but also for the community of Spring Village and the entire constituency.
"By the presence of our political leaders here, it is an indication that nationally, our country is also mourning the tragic loss of these three wonderful lives," he said at the funeral, which was also attended by Anesia Baptiste, leader of the Democratic Republican Party.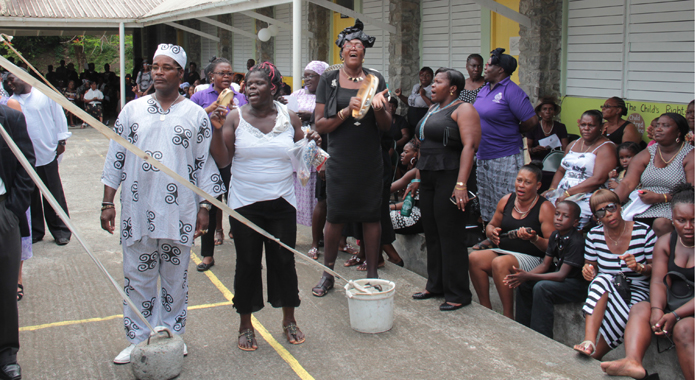 James also appealed to the community to continue to show love and support to the Johnson family.
Member of Parliament for North Leeward noted that the constituency was mourning yet another tragic death.
He said that the news of the car crash, coming after the funeral in Chateaubelair, was shocking.
"But today, I know that the Johnson Family will continue to comfort each other. And, as speakers before me said, that the community of North Leeward, as well as the wider community, will continue to lend their comfort as well, will continue to be with them as we encourage them to grow from strength to strength.
"It is not something easy to [have] lost so many family members in such a horrible manner. But as someone said a while ago, God knows best and we as mere mortals cannot question the work of word of God. We just have to live by it," Matthews said.
The Johnson three were buried on Sunday even as residents of Fancy struggle to come to terms with and search for answers after a minivan crash at Rock Gutter on Jan. 12 that claimed the lives of seven students, two of whom have not been recovered.