St. Vincent and the Grenadines (SVG) is among three of the five Eastern Caribbean Telecommunications Authority (ECTEL) member states that are yet to reach the international benchmark for affordable fixed broadband Internet.
SVG is also yet to reach the United Nations' Broadband Commission for Digital Development's 2015 target for broadband connections at the household level: 40 per cent.
The Broadband Commission for Digital Development says 5 per cent of income per capita is a good indicator of whether broadband is affordable in a particular country.
Only Grenada and St. Kitts and Nevis in ECTEL have met that affordability target.
"It means that in the other three states, that is, Dominica, St. Lucia and St. Vincent, we still have a lot of work to do in terms of getting the price of broadband down so that it is more affordable for more persons," Cheryl Hector, ECTEL's Senior Financial Analyst told reporters at the launch of two ECTEL publication on broadband availability and affordability in its member states.
Hector told the launch in Kingstown that fixed broadband connection among households in SVG and Grenada are approaching 40 per cent.
Around 60 per cent of households in St. Kitts and Nevis have broadband connections, and just over 40 per cent in Dominica.
"Broadband is really the frontier for economic development in any country and in particular in small developing states where we don't have many natural resources, and where we are at a disadvantage in terms of the capacity to do some things that can be done very easily in developed countries," Hector told reporters.
She said broadband is an opportunity to help developing countries to level the playing field as it provides opportunities for employment, investment and economic development in the region.
"But for us to benefit from broadband, people have to be able to access it," she said.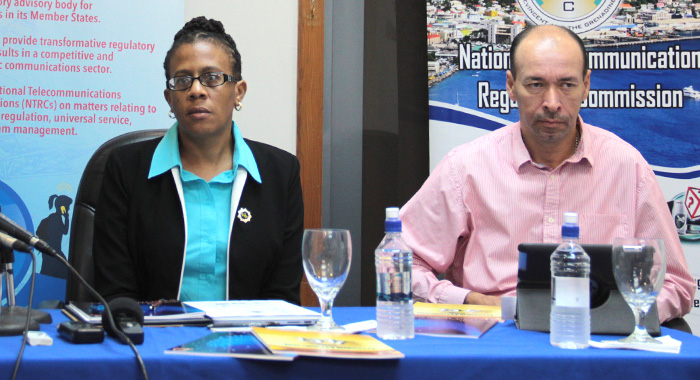 Hector said that in addition to availability and affordability, access is linked to ownership of computers or tablets that allow persons to experience the maximum range of benefits of broadband.
Sixty per cent of persons in ECTEL own a computer, while 30 per cent own tablets.
Hector said broadband is fairly   widely available in all ECTEL member states either through fixed or mobile connection, with zero per cent of the persons surveyed in SVG saying it was not available.
Affordability is a challenge, Hector said, adding that affordability is dependent not only on the price of the service but also its price in relation to a person's income.
Just about half of the persons survey within ECTEL said they think broadband is affordable.
In SVG, 52 per cent said that fixed broadband is affordable, while 54 per cent said mobile broadband is affordable.
In terms of usage, about 45 per cent of the persons surveyed in SVG said they use broadband, but Hector noted that it would be easier to use a service if one has it at home.
"The goal is to make it that broadband can be accessed if not at your home, then at the community level."
She said usage was higher, around 60 per cent, among persons under 15 years old.
Speaking at the press briefing, director of SVG's National Telecommunications Regulatory Commission (NTRC), Apollo Knights, said that broadband Internet is one of the most important issues that the NTRC is looking at this time.
He said the reality that only 40 per cent of Vincentian households have a broadband connection is "a real troubling fact.
"And I put it in the context that if you can imagine 60 per cent of our households without water or electricity at this time," he said.
He said if that were the case, it would be considered a disaster and a lot of resources would be dedicated to changing this in quick time.
He noted that water and electricity connection rates are in excess of 90 per cent.
"And we see broadband as something as a utility," Knight told reporters, adding that in some countries it is seen as a right.
He said the low levels of broadband connection is something that the NTRC wants to address and has developed a national broadband plan, which has been sent to the Ministry of Telecommunications and Technology.
The documents will also be discussed at town hall meetings across the country before being sent to the Cabinet.
The release of the ECTEL publications was part of the 15th anniversary celebration of the formation of the sub-regional regulatory body.