Head of the International Airport Development Company (IADC), Rudy Matthias says the company uses prudently all monies it receives to build the airport, carded for completion this year.
Matthias on Thursday used the terminal building at the Argyle International Airport and the new terminal building at the V.C. Bird International Airport in Antigua to show how Vincentians are getting "good value for money" for the Argyle airport, which is estimated to cost EC$700 million
"Every so often, we in St. Vincent and the Grenadines, we Vincentians, sometimes tend to think that great things are happening elsewhere and nothing good is happening in St. Vincent … But the truth is, the opposite is exactly the case," he said at a ceremony where U.S.-based Vincentians donated US$10,000 to the project.
Related:
"In many regard, we are doing far better than what happens in many of our sister countries in the Caribbean and in many countries in the world," Matthias said.
He said the IADC is building a 9,000-foot-runway airport from scratch that will cost US$224 million.
Of that amount, US$60 million is for the acquisition of the site, including compensating property owners.
This means that the IADC is actually spending US$164 million to build and retrofit the airport, said Matthias, who attended the inauguration recently of the new terminal building in Antigua.
That terminal building, he said, was built with Chinese funds and mainly with Chinese labour at a cost of US$98 million.
It has 240,000 square feet of floor space, about 105,000 square feet more than Argyle; four jet bridges — twice as many as Argyle; 46 check-in positions (20 more than Argyle), and a sophisticated baggage handling system.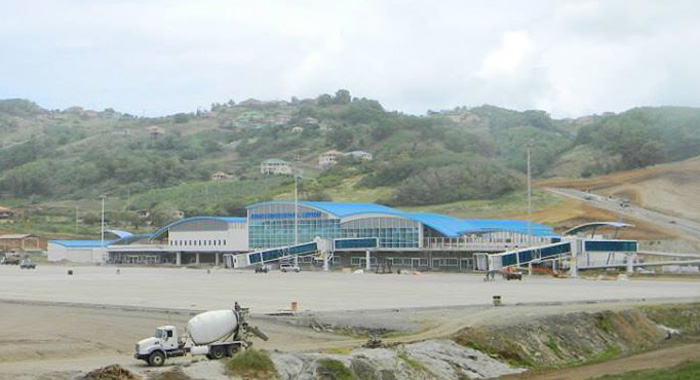 The terminal building that was built at Argyle cost US$37 million to construct and retrofit.
It has 135,000 square feet of floor space on three floors, two jet bridges, 26 check-in positions, and two simple baggage systems in domestic and international terminals.
"So you can see their facilities are more than ours — in some respects, twice as many as ours. But with simple calculations, you will see that their cost is 2.6 times ours…" Matthias said.
"Now, I am not suggesting that Antigua did not get a good price for their facilities. But I just want to juxtapose what they have done with what we are going, so that Vincentians can get a good appreciation for the extent we are going to control cost in getting the good facilities we have at Argyle.
"Prudence is a word that we understand very much at Argyle and everything that we do at Argyle is to ensure that we get the best facilities at the smallest price," he said.
Matthias said officials in Antigua say that at peak hour the terminal building in Argyle will allow them to handle 1,700 passengers comfortably.
This compares to 1,000 at Argyle.
The facility in Antigua will allow the airport to handle two million passengers a year. Argyle's will handle 1.5 million comfortably annually.
"So we can compare them and I think when you look at the numbers carefully, you will see that we have really done at Argyle an excellent job in getting good value for money," Matthias said.