Scroll for video
Member of Parliament for North Leeward Roland "Patel" Matthews says he has evidence that his challenger, first-time candidate Carlos James of the ruling Unity Labour Party's (ULP), was fined in the nation's courts for a criminal offence.
"I have in my possession a copy of a receipt of a certain amount of money that was paid to the Magistrate's Court in Kingstown in the year 2003," Matthews told I-Witness News on Sunday, one day after calling James a "criminal".
"My thing is, the common understanding, if you go to court and you are guilty, you pay, you are fined, you are confined, or you are on a bond. Now, the fact that you were charged monies, it is evident that you committed an offence; you were found guilty and you paid. That is my layman's view of it," Matthews said.
He told I-Witness News he has "a pretty good idea" of the offence that resulted in James being fined.
Speaking at his New Democratic Party's (NDP) rally in Redemption Sharpes Saturday night, Matthews, who is seeking a second term as MP for North Leeward, said:
"… I am coming up against a criminal in North Leeward. I say that without no (sic) apologies because when you are given five charges in the court and you have to pay, you are a criminal.
"And when you come to North Leeward and you talk about leadership, tell the people that you are a criminal.
"Say that to the people and ask the people for some kind of mercy. But one thing, the people of North Leeward will not do, they will not elect a man who has a criminal record, who is famous for beating other people, to be elected as their MP."
Related: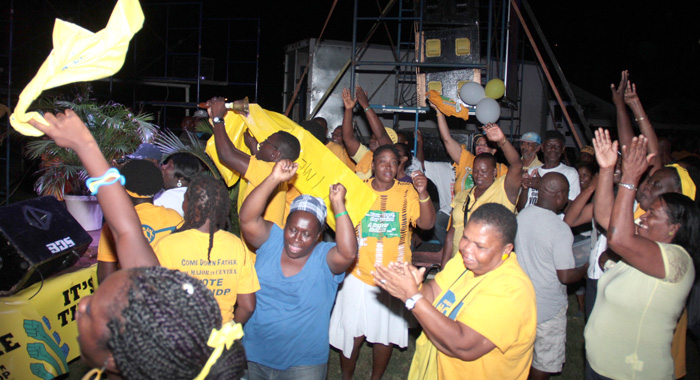 Asked Sunday night to comment on Matthews' statement, James told I-Witness News: "I have not heard the comments from Patel Matthews or any recordings. When I get to hear that, I will respond. I am waiting to hear what exactly he is referring to."
But sources in the know tell I-Witness News that Matthews is referring to a Dec. 13, 2002 incident in which James was arrested at the Kingstown Bus Terminal allegedly for assaulting a police officer, resisting arrest and using indecent language.
He was at the time a reporter at Searchlight newspaper.
One source, who asked not to be identified in this report, said that some staff members at Searchlight were drinking at their offices at Lower Kingstown Park that "black Friday" afternoon.
They then came out onto the front steps, and James, apparently as part of the horse playing, took a cutlass from a colleague's car and hit the colleague a "plan" with the tool.
The incident is said to have scared some Girl Guides who were passing by on their way to the Girl Guides Headquarters and triggered a reprimand from a senior member of staff at Searchlight, who was part of the spree.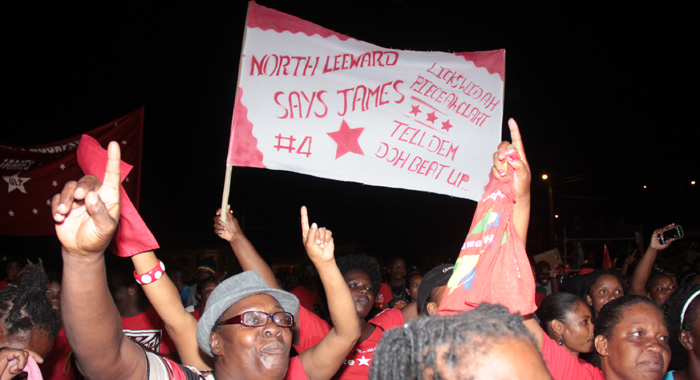 James and the colleague who he allegedly struck then left in that colleague's car, with James hanging out of the passenger window, the source said.
They drove to the Kingstown bus terminal, where the driver was reportedly reprimanded by a police officer over some traffic violation there.
There was an exchange between James and the police officer — who is said to have originated from James' home village, Troumaca — which escalated, leading to the charges.
The source said James was granted bail after editor of Searchlight then, the late Norma Keizer, intervened on his behalf.
I-Witness News understands that the matters against James were called in court late one afternoon and he was reprimanded and discharged on some of the charges but was fined on at least one.
Searchlight did not report on the incident involving its employee.
I-Witness News was reliably informed that the matter reached the attention of the leadership of the Unity Labour Party some time after James expressed interest in becoming one of its candidates.
Persons who knew of the conviction are said to have raised questions about its implication on James' eligibility as a candidate.
According to Electoral and Constitutional law in St. Vincent and the Grenadines, any person serving a term of imprisonment or a sentence substituted for a term of imprisonment of one year or more shall be barred from being a representative or senator.
In the lead up to the 2010 general elections, activist Margaret London withdrew her candidacy after questions were raised about whether two charges brought against her in the early 1980s could have prevented her from running against Prime Minister Ralph Gonsalves in North Central Windward.
Related:
'investigate Carlos James' residency'
Matthews, who will seek a second consecutive term as MP for North Leeward, told the rally Saturday night that he has been championing the cause of the people of North Leeward in Parliament.
He further called on election authorities to investigate James' voter registration.
"You could imagine a person registered to vote in West St. George from the time they become eligible to vote has transferred themselves to vote in North Leeward, where they are not living?
"That is also a criminal act. And I send a message loud and clear to the powers that be tonight: investigate Carlos James' residency and how he become eligible to vote in North Leeward. I want them to do so because it seems as if we have sounded the alarm many weeks ago and they are refusing to act on it…" Matthews said.
https://youtu.be/A_2v-bN8myk