Prime Minister Ralph Gonsalves listed the "imminent opening and operation" of the long-delayed international airport at Argyle among the "15 stars" — 15 election promises — as the Unity Labour Party (ULP) seeks a fourth consecutive term in office in elections on Dec. 9.
"… only we can do that," Gonsalves said of the EC$729 million airport, first announced in 2005 that has been under construction for eight years and has missed construction deadlines annually since 2011.
"We build it when they say we couldn't build it, they oppose us at every turn and now the harvest is about to take place under the Unity Labour Party government," he said to loud cheers on Saturday at the rally at the Grammar School Playing Field, where he also announced the 2005 election date.
The government had previously said the airport would be complete by year-end, but critics, citing the scope of work yet to be done, have said that this is highly unlikely.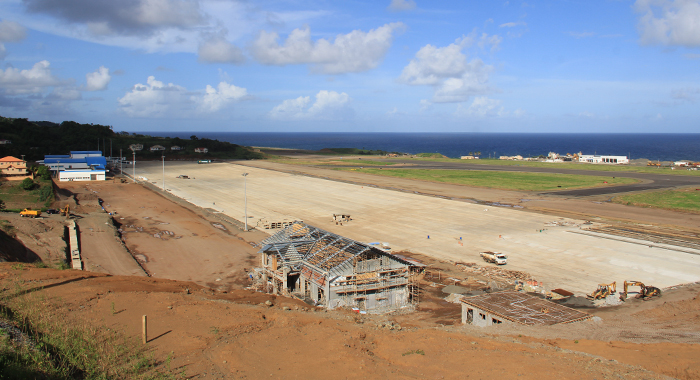 Gonsalves is hoping to lead the ULP to an unprecedented fourth consecutive term in office for a Labour government in St. Vincent and the Grenadines (SVG), although his party has registered declining support in every election since it came to office in 2001.
SVG has witnessed a widening political divide over the past decade.
Political hostilities are now at a point where journalists have been taunted at ULP rallies, including a camera crew from a regional media house who packed up their equipment for a short period of time after becoming unable to endure hostile treatment by ULP supporters as the crew began to set up their equipment at the rally on Saturday.
Gonsalves has said that some journalists are yet to get the message of Labour, a statement that independent media practitioners have interpreted as an attempt to get non-aligned media professionals to toe the ULP line.
At the rally on Saturday, he said that addressing the political divide was the 15th star on which the ULP will focus if returned to office.
"And this last star, it connects with the way we began, and the theme of love. We will be building upon the work that [Minister of National Reconciliation] Maxwell Charles has done in national reconciliation. We will be further initiating massive confidence-building measures or reduce significantly the unwanted political divisiveness in our country and to aid the process of reconciliation, love and unity among our people," Gonsalves said.
The ULP has retired Charles, MP for Central Leeward, after one term in office, choosing instead to call former Central Leeward MP, 73-year-old Louis Straker out of political retirement to carry the ULP's banner in the constituency.
But the number one star in Gonsalves' list is the further creation of jobs and wealth, followed by the push to zero hunger and the further reduction of poverty.
"By the end of our next term, not one single man, woman or child is going to go to bed hungry in any night in St. Vincent and the Grenadines," Gonsalves said.
He said that if re-elected, his government will deliver 12 megawatts of geothermal energy by the end of 2018, within an overall plan of the utilisation of renewable energy, adding that this will make the country more competitive, "create more jobs and wealth and make electricity cheaper for you in your homes.
"And the NDP (New Democratic Party) opposed the bill for geothermal energy," Gonsalves said.
Gonsalves mentioned the relocation of the Port Kingstown to Rose Place, Kingstown and the relocation of the cruise ship berth to Arnos Vale, when E.T. Joshua Airport is decommissioned.
He said that there will be further modernisation of the Milton Cato Memorial Hospital, the nation's main healthcare facility, and the relocation of some its departments and enhanced delivery of healthcare at an acute referral hospital to be built in Arnos Vale on eight acres of land already selected by the World Bank, which, he said, is ready to finance the design and building of the new hospital.
Gonsalves said the seventh star will be the consolidation and deepening of the housing and education revolution.
There will also be the starting up of the building of a modern city at Arnos Vale when E.T. Joshua Airport is decommissioned, after Argyle International Airport begins operating.
"We signed a memorandum of understanding with a group out of Trinidad for a big commercial entertainment centre with a small boutique hotel in addition to what we are having with the cruise ship pier and we are putting there a 50-berth marina.
"That is for the new city at Arnos Vale," Gonsalves said.
He said that if returned to office, his government will roll out "the most ambitious programme ever of road construction and rehabilitation, including bridges and the building of sea and river defences".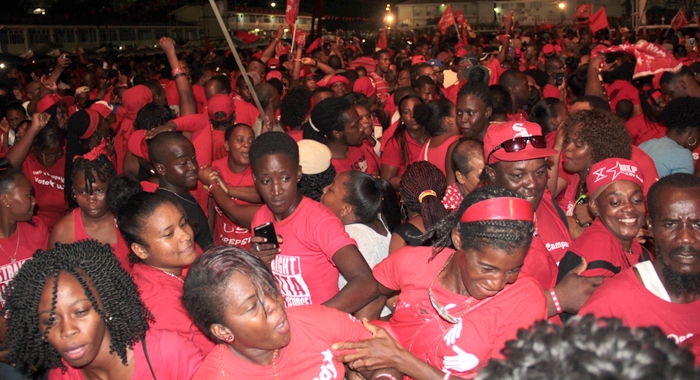 He said this will be facilitated through the use of legacy equipment from the construction of Argyle.
"And I have signed and put up for draw down over 400 million dollars from the European Union, the World bank, the Caribbean Development Bank, the government of Mexico, the Kuwaiti Fund, the OPEC Fund, the Saudi Fund, Taiwan, and the Government of St. Vincent and the Grenadines," said  Gonsalves, who is also Minister of Finance.
The construction of a national stadium, a ULP election promise in 2001, which it had shelved, has returned to its list of areas of focus.
Kingstown will also get some attention if the ULP is re-elected, with Gonsalves saying that the nation's main city will be uplifted and re-developed.
Gonsalves said there will be further building of resilience to climate change.
The 13th star will be the development of significant tourism plants at Mt Wynne-Peters Hope, Gonsalves said, adding that an MOU has been signed already and other entities are interested in coming in.
"Canouan is advancing; Union Island – on the hundred acres of lands which we got back; Mayreau and Bequia. And, of course, with all we are doing in the medical services, more people are going to come to our four medical schools," Gonsalves said, mentioning cruise and yachting and nature tourism.
Gonsalves said his government will facilitate major developments in agriculture, fisheries, manufacturing, assorted services, including ICT.
He told the rally that "at a personal level, I come to you not like somebody who fly by night.
"I say with all modesty that almighty God can give to me that I have been beaten on the anvil of experience, I have been forged in the cauldron of struggle. Almighty God has blessed my head and has given me the understanding and the wisdom and the opportunities to bring all of my life's experiences and training and education to serve the people."
Gonsalves noted that he is the only persons in politics in SVG today who has contested every election since Independence in 1979.
He further noted that he is longest serving Member of Parliament and is the longest serving prime minister continuously in the Caribbean.
He said one cannot buy his training and experience off a supermarket shelf like cornflakes.
"And I am here to give further service to you. I am not a perfect man anymore than David and Paul. I do not come to you with any hypocrisy, no holier than thou attitude. I come to you as a man who I know is blessed by God. But I am human being and you have to hold my hand and you have to help to lift me up. And where I am stumbling, you can't let me fall. You make me stronger for the journey ahead, knowing that I have been given an obligation with has come from almighty God," Gonsalves said.