The ruling Unity Labour Party's (ULP) candidate for North Leeward, Carlos James, Friday night fired his gun in Petit Bordel to quell what he described as a "a rain of missiles, mostly bottles" being fired at ULP supporters in the area.
James told I-Witness News on Saturday that ULP supporters were at a BBQ at the shop of ULP supporter called "Marhias "Officer" Nanton when the incident occurred.
Nanton's shop, which James says has been painted red and is officially a ULP hangout spot, is located along the street and a few yards away from a shop belonging to MP for North Leeward, Roland "Patel" Matthews of the main opposition New Democratic Party (NDP).
James said ULP supporters were having a good time — adding, "Even some NDP supporters came up" — when someone he described as an NDP supporter "came up an instigated something".
"I didn't see, but they came up and basically approached one of the persons who was there in the crowd, basically," said James, a lawyer and first-time candidate.
"… from what I would have observed, a little kind of off guy, drunkie, probably send them up there and they probably just wanted to provoke a situation and as a result of that, they used the opportunity to — where all those bottles come from? They probably had bottles down there stored with plans to do something like that," James said, adding that the persons firing the bottles were at Matthews' shop.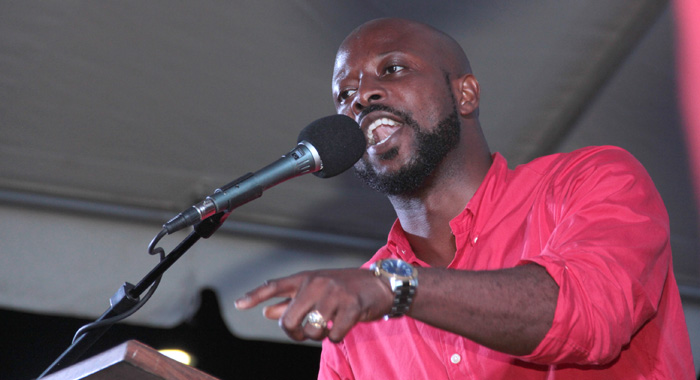 "And one supporter of the NDP, I believe, came up and instigated something, which later transpired into a rain of missiles, mostly bottles, descending on the crowd."
He said that most ULP supporters sought refuge inside Nanton's shop.
"The missiles continued for about 10, 15 minutes. Police were called in and I don't understand — I am not knocking the police, but you are in Chateaubelair and taking nearly 20 minutes to come around to Petit Bordel, which is just a five-minute drive," James said.
He said while they were there, the "missiles", which he described as sounding "like rain on galvanise", continued.
"That is basically what it was. It was one of those incidents which could have escalated into a more serious incident," James said.
"While waiting on the police — I called them about 50 million times to come, they continued firing the missiles."
Asked if reports on social media that he has discharged a firearm was true, James said:
"From what I explained transpired, where in about 10 minutes of constant bottles and so on, we had to take an action which would have removed the crowd. Everybody had to settle and so on. So, I would have discharged a warning shot and so on," said James, who owns a licensed firearm.
"Well about one or two shots in the air and as a result of that, the incident, more or less, quiet down. There wasn't any bottle or so on and the police came immediately after."
James appealed to his supporters to remain calm in the aftermath of the incident.
"It is quite unfortunate, because prior to what transpired, everybody was having a good time, both red and yellow," James said.
"I think the concern is because a lot more people in Petit Bordel are now coming out showing red and they are coming out in the road and in the street and in the bars and proclaiming for Labour, I think that is probably a concern.
"People are uncomfortable with it in Petit Bordel. But it is a democracy and I think people have the right to support whichever political party and candidate they want to support.
"But you will hear all sorts of stories from this, but I can tell you Labour supporters were under attack, basically, and it was an unwarranted attack," James said.
"When we were finished, the amount of bottles we had to sweep up there was quite telling of what transpired — a rain of missiles. And that is something that I am concerned about but I don't want my supporters to be too ruffled by that and to remain calm."
James said persons were struck by bottles and some were injured, though not seriously and police detained a man who they later released.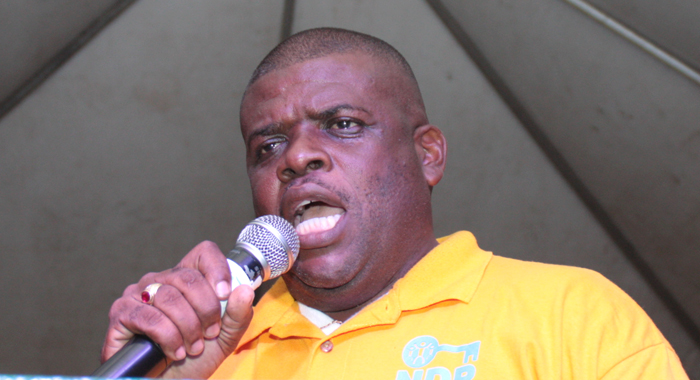 In a separate interview on Saturday, Matthews told I-Witness News that he was not at home when the incident transpired.
He, however, said he was told that there was "push and tug" between a man and a woman from different parties "and after the push and tug, the lady probably informed her boyfriend who came and pelt two bottles in the vicinity of the (Matthews') shop where the guys was standing."
The MP said that he was told that persons at his shop reacted.
"When I came there, I met what I would describe as a remnant of the crowd on both sides."
He said a few persons showed him minor injuries from broken bottles.
Matthews, however, told I-Witness News that on Saturday morning a pregnant constituent asked him to take her the hospital in Chateaubelair saying that when the gunshots were fired she ran and fell in a gutter and was feeling pain on Saturday morning.
Like James, Matthews appealed to constituents to resist violence in the election campaign.
"I know that this election is going to be fought hard by both parties and I am asking supporters of both sides, especially the NDP supporters of whom I believe I have some level of control, to desist from violence," Matthews said.