Morale is high among the St. Vincent and the Grenadines senior men's national football team, "Vincy Heat", as they prepare to take on Guatemala Tuesday (today) in a World Cup Qualifier, three days after going under 6 goals to 1 to the United States.
"What we've tried to do with this team is lift the level of belief in this team," U.S.-based Vincentian coach, Ezra Hendrickson, told a media briefing on Monday.
He said the technical staff has focused on players' belief in themselves, the team, and what the coaching staff is trying to accomplish.
"This goes even before the U.S. game. So that has not changed," Hendrickson said.
"The psychological aspect of the team is very good. I think we've gotten them to a stage where they believe in themselves and everything that we are doing," said Hendrickson who has come home to help his country with its World Cup preparations.
"So, it's (morale) very high and I think you will see that tomorrow when we step on the pitch against Guatemala. We are not gonna look like a team that is wounded, as you said, or just lost three days ago 6 to 1. We are at home, the players, obviously, are going to be more comfortable," he said in response to a reporter's question.
On Friday, six minutes into the match against the United States in Missouri, Vincentian Oalex Anderson, who plays in Seattle's second team, received a long ball down the left, raced on to it, cut inside on to his right foot, beat Geoff Cameron, and bent a lovely shot past goalkeeper Brad Guzan.
But the United States equalised five minutes later and found the back of the net again in the 29th, 31st, 51st, 58th, and 74th minutes to seal the match as the Vincentians struggled to cope with the 10 degree Celsius weather in front of 43,433 soccer fans, the largest crowd for any U.S. national team game in the state of Missouri.
Vincy Heat has come in for some criticism from its fans, and Hendrickson noted that it is sometimes easy for players to listen to "the outside distraction, outside disbelief", adding that this can affect players.
"These players were comprehensively prepared for this game," the former national footballer said, adding, "Throughout a game, there are mistakes that are made."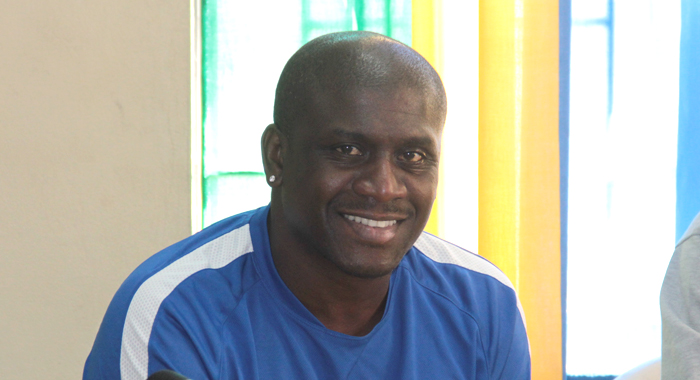 The technical staff of the SVG Football Federation has been helping the players to adjust to football at the World Cup level.
"I tell them you can pay 89 minutes and 10 seconds of good soccer, but for that 10 seconds you lapse, you may not pay for it in Sion Hill, but out there you pay…" Henrickson said.
He also addressed the performance of the team on Friday, saying that the team had a plan.
"We think the strength of our team is in our attackers, the speed of Oalex, McBurnette, Slater and those guys is a big part of our team," Hendrickson said, adding that the strategy was to drop off a little at the circle in the U.S. half and then pic up from there on.
"It worked successfully in the first five minutes. Using that strategy directly resulted in the goal."
However, the coach said that the Vincy Heat gaol so early in the match might have shocked some of the players, causing them to veer away from the game plan.
"I think we surprised ourselves and it seems as if some guys were caught in disbelief and it took us a while to get grasp of the game again," Henrickson said.
He blamed this on inexperience.
"It's a very young team. I'm sure that no one has played in front of 8,000 people before," Henrickson said, but added that the performance of the team shows that it is getting closer to the level of the United States and other teams in the Confederation of North, Central American and Caribbean Association Football (CONCACAF) teams.
"But there is still a ways to go," the coach admitted.
"We have the natural talent but we just need maybe a little bit more players out training everyday on a professional level."
He said that while Anderson has only been in Seattle for about eight months, there is "a big difference" in his level of confidence compared to his teammates.
"There was no fear. There was no shellshock. He just played. And when you train on the professional level every day, day in and day out, it helps."
Hendrickson sought to assure the nation that all is not lost despite the team's performance in the United States, adding that, for the most part, the response from the Vincentian public has been good.
"This is not a home and away two-game series between two teams. It's a group of four. So, it's not like we just playing two games, we've gone and lost the first one, 6-1, and we are coming home now having to make up five goals. That's not the situation. We do have five other games to play."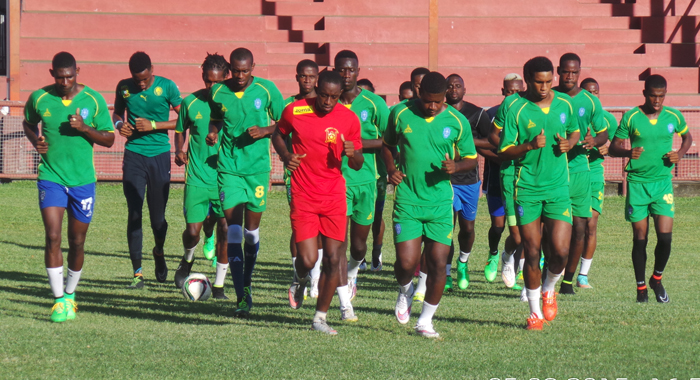 He said the game against the United States in the United States is the toughest that any team in the group will paly.
And after the trouncing last week, Hendrickson said he wants the team to focus on the positive.
"Now we've gone there, we see what it takes. Now we can continue to teach the players what it is going to take to play on the road."
Hendrickson said that from this group, 10 points would probably get SVG into the next round.
"So that means you have to win all your home games and then try get a point on the road, which, I think, we can do in Trinidad or do in Guatemala, if not get all three.
"But what we are gonna do and make sure we do is stay positive and get full 9 points at home," he said.
But while the U.S. game was the "biggest" in the group for Vincy Heat, today's match against Guatemala is the most important the coach said.
"This is the game that you have to win. You have to get full three points, because, if you don't, if you just pick up a point, now you have to go on the road and pick up three points."
Speaking at Monday's media briefing, president of the SVG Football Federation, Venold Coombs, congratulated the players, saying, "I think we ought to be proud of our players.
"I think that coming against a team, whose budget, I heard from the president, is US$150 million, a mightily, economically strong country with a huge budget and population, I am proud of our national players."
He said that the Vincentian goal was the best in the game.
"It is true that our technical staff needs to do more work, but, what one needs to know is that the greatest of input into something is the greatest of funding you can get. Once you have the economic muscle, no matter your size, you are going to get a lot of things done," Coombs said.
"I am very proud of our players. I salute them. I am very proud of our coaches, very proud of our technical staff," he said.
Today's game begins at 3 p.m. at the Arnos Vale Sports Complex.