A prominent member of the main opposition New Democratic Party (NDP) has put the children of Prime Minister Ralph Gonsalves on notice that they will feel the full weight of political life once they enter the political fray.
"You need to pay attention to this. You need to pay attention to this. Isis is walking now in Central Kingstown with Technicolor Jackson in Green Hill and when the people answer their door and look out, this is how he introduces Isis: 'This is the girl Douggie De Freitas wants to destroy," MP for Central Kingstown, St. Clair Leacock, told a meeting in the constituency this week.
One of Gonsalves' sons, Camillo Gonsalves, is Minister of Foreign Affairs, and the Unity Labour Party's candidate for East St. George. His sister, Isis Gonsalves, a lawyer, recently appeared in a video accusing the NDP of lying about her father. Storm Gonsalves, another of the Prime Minister's son has been engaged in activism on social media on behalf of his father and the ULP.
"So I say, Ralph, you have now brought your children fully into politics and they will feel the full weight of political life," Leacock said.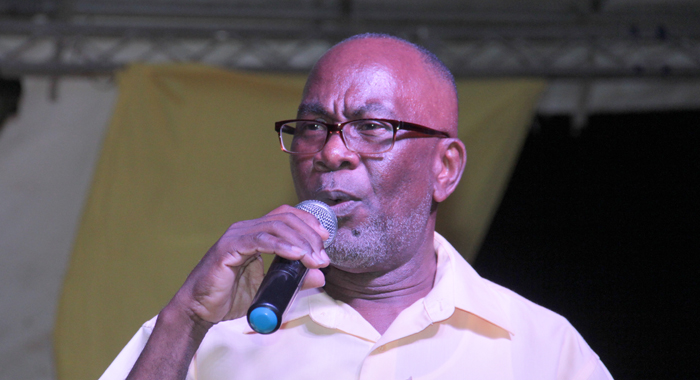 He said the Storm "tackled me a few months ago.
"I didn't answer him. I answered you, the father, because you shudda rebuke your son. Isis is a big woman; she say you do no wrong. You have not as a father gone to her and say, 'Not so fast, my dear young lady. I have in fact done a few wrongs.'
"Check it. And I said to him in Arnos Vale. If you don't stop from this denial, the bowlie (calabash) will buss," Leacock said, using a colloquial expression meaning that hidden things will be exposed.
Isis has appeared in a video saying that the NDP is lying about her father but did not identify the "lies" that she accused the opposition party of speaking about the Prime Minister.
"I say this much to Isis tonight: Like your father, I, too, have children, but not one of my children can work in St. Vincent and the Grenadines because they are my children. Not even my grandchildren will be able to come back here if your father remains in office. You think it's right that you could work here and I, who have done more voluntary work in this country than your father can't have my children and grandchildren work here?"
Leacock said that when his wife, Margaret Leacock, a retired educator, had gotten a job with UNESCO Gonsalves said they "cannot employ the wife of a senator to that position.
"Isis, did you know that? Did you know that at VINLEC I worked for a salary of $106,000 a year, over $8,000 a month, your father gave me two hours to leave VINLEC and go home and hand over everything. I have never begged you and your father for a job since that and the good lord has blessed me. Today I am still standing here," Leacock said.
Speaking at the same meeting, broadcaster and NDP activist, Douglas "Douggie" De Freitas noted that he had responded to Isis's video in which she said people were lying about her father.
"I don't have a problem [with her] saying support her daddy because she wants him to remain as Prime Minister. But when she says that people are lying on her father, the facts stand," said De Freitas, who is a cousin of Prime Minister Gonsalves.