Performing artiste Lornette "Fya Empress" Nedd told the main opposition New Democratic Party (NDP) Friday night that she would no longer be performing at their youth rally in Barrouallie on Saturday, as contracted.
I-Witness News was able to independently establish that the artiste did give the party 24 hours notice of her change of mind.
"I want you to understand its (sic) my family we talking about," she told a person involved in the NDP's campaign as she told them of her decision via social media at 7:45 p.m. Friday.
However, as she backed out of the agreement, the artiste also indicated that she did not wish to appear on any political platforms this campaign season.
"And I prefer to stay off both
Political stages," she further said, one night before she took to the ruling Unity Labour Party's (ULP) platform to respond to what Prime Minister Ralph Gonsalves described as "falsehood on the Internet" by the NDP.
Fya Empress, a former national soca and calypso Ragga Monarch in St. Vincent and the Grenadines (SVG), returned home on Wednesday at the invitation and expense of the NDP for a repeat of what both had expected to be her stellar performance during the 2010 election campaign, during which she sang a song endorsing the NDP.
A source in the know told I-Witness News that that the Tobago-based Vincentian artiste arrived in St. Vincent on Wednesday and rehearsed with the band on Thursday.
But on Friday, she began expressing reservation about performing, citing reasons related to her family.
The source said that the artiste was told that she would sing at the end of the political rally in Barrouallie and did not have to endorse the NDP.
She, however, stuck to her decision.
The NDP announced Fya Empress' withdrawal 24 hours after she notified them of it.
In an "announcement" on its Facebook page at 7:44 p.m., the NDP said:
"We regret to announce that one of the contracted performers who was to appear here tonight has withdrawn at the last minute; after her family had come under pressure and threats of victimisation by the DYING regime of Ralph Gonsalves.
"We stand in solidarity and sympathy with Fyah Empress, who dearly wanted to perform here tonight.
"This latest action by this government emphasises the fear and intimidation with which they have sought to rule.
"Fortunately, the era of fear and victimisation ends on December 9th."
But Fya Empress turned up at the ULP's rally in Calliaqua Saturday night, where Gonsalves said he was "surprised" to see her.
"I say surprised because she was not coming here, but the NDP has put some falsehood on the Internet and they are saying certain things about her, that she has been intimidated and threatened not to perform and she has decided to come because it is so unfair to say such a thing," Gonsalves said as members of the ULP platform placed a red article of clothing over the artiste, which she removed.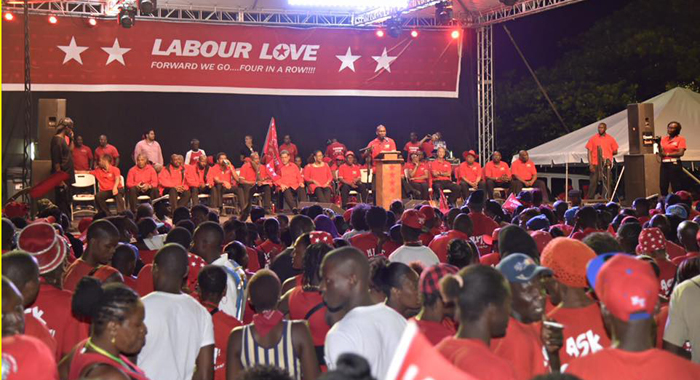 "… they say so many false things that she said, that she has to come here to tell the people of St. Vincent and the Grenadines why is it that she did not go down in Barrouallie with the NDP," Gonsalves said as the artiste waited to take to the microphone.
When it was her turn to speak, Fya Empress said:
"I was not supposed to be here tonight. Matter of fact, I was hired to sing for the NDP. I decided to make a choice, which was my own, and I want you all to know that it was my own choice, because, at the end of the day, family comes first," she said.
"When I got my call to come to St. Vincent, my very first thing was to wait and see what my mother and my father would actually say. So, when they called, I asked to speak to my father and his words were, 'I don't really want to talk to you right now.'
"And that was coming from my dad, me being a first-born. So you must know how I feel about that. Family comes first! So what I am here tonight to say is that 24 hours ago, I have given the NDP notice that I would not be performing because of my family. But they chose instead to talk about victimisation.
"Let me say here tonight and I know they will hear it loud and clear that I was not victimised in any way and my family has not been victimised in any way by the ULP."
The artiste, however, did not endorse any of the parties contesting the Dec. 9 election.
"On election day, my people, vote for what you want," she said, adding, "Family comes first!"
I-Witness News understands that the artiste refunded the NDP for her plane ticket on Monday.