The New Democratic Party (NDP) is claiming that it won the Central Leeward seat and Wednesday's general elections, contrary to the results that electoral officials announced Wednesday night.
Preliminary results published on the government's website show that the incumbent unity Labour Party held on to the eight seats it had in the last Parliament to secure a fourth consecutive term in office, while the NDP won the remaining seven seat.
The results also show that the ULP's Louis Straker won Central Leeward, securing 2,496 votes, compared to 2,182 for the NDP's Ben Exeter.
Related:
But the NDP said in a Facebook post after the announcement of the results that they are "confident that we have won the general elections based on figures received by our various polling agents.
"Our figures show that we won the Central Leeward seat by 6 votes, which means that we won the general elections by 8 seats to 7," the NDP said.
"It is our understanding that the Unity Labour Party of Ralph Gonsalves is claiming victory.
Any such action is a brazen attempt by a dying regime to hold on to power against the wishes of the people.
"We in St. Vincent and the Grenadines will not let this injustice stand.
"We are calling immediately for a full investigation into the late night activities in Central Leeward and upon behalf of the ppl (people) of St. Vincent and the Grenadines we reserve all our rights in the matter," the NDP said.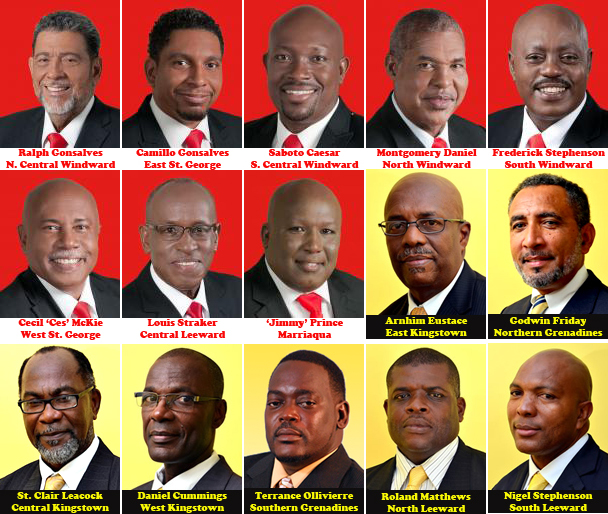 In a subsequent statement, the NDP said the "official count is 7-7 with a recount for Central Leeward seat at the Layou Police Station.
"We are asking everyone who believes that the Hon. Arnhim Eustace is the best leader this nation has to offer, that he has your best interests at heart, that he genuinely wants to see SVG move towards prosperity and that we are ALL ONE PEOPLE then make your way to Layou tomorrow morning BEFORE 8 am. And let's show what a mighty people we are and that we will NOT give in to dictatorship!
This is our stand for democracy and for a FREE and FAIR elections," the party said.
The ULP, in an earlier statement, celebrated victory and announced that it had requested a recount in North Leeward, where the NDP's Roland "Patel" Matthews retained the seat won by seven votes over the ULP's Carlos James, a first-time candidate.
In South Leeward, the NDP's Nigel "Nature" Stephenson held on to the seat, beating first-time candidate Jomo Thomas by 119 votes, according to figures published on the government's website Wednesday night.
The state-owned Agency for Public Information said Wednesday night that Gonsalves will be sworn in as Prime Minister at Government House 1:30 p.m. Thursday.