Soca artiste, James "Jamesy P" Morgan, brother of Pastor Nigel Morgan, who along with his wife, Althea Morgan, is seen in a video holding down a man while their daughter pours hot water on him, has condemned the act.
The ""Puff Puff N Pass" artiste, who is also a cultural ambassador for St. Vincent and the Grenadines, broke into tears while speaking to Janice Caesar, mother of the burn victim, 37-year-old mason Cuthbert "Mafia" Victory, in Caruth Village, Mesopotamia on Thursday.
Jamesy P apologised for the incident, saying that is inexcusable.
The burning incident occurred on Saturday in a gutter along the public road near Nigel Morgan's house in Hopewell, Mesopotamia.
It came to the attention of the nation on Wednesday when a clip of the incident was uploaded to social networking website, Facebook.
iWitness News reported on the incident just after midnight Wednesday after interviewing Victory and the Morgans separately Wednesday night.
Jamesy P, who lives in Cane Garden, on Thursday, sought the assistance of iWitness News in locating Victory.
Victory was in Kingstown when Jamesy P visited and the artiste spoke with Victory's mother, expressing his disgust at the development.
"I saw the thing on Facebook and I recognised the road and then I said this looks like the road in front my brother's house. And then I saw my brother came into the picture, I was like, 'What kind of thing is this?' It really shocked me," Jamesy P told iWitness News after his conversation with Caesar.
"I'm just reading comment because I haven't spoken to anyone in my family. Nobody called me and I haven't spoken to anyone really. So, I am just basically trying to put one and one together and all that," he said, adding that he found out about the incident like much of the nation, from Facebook posts and media articles.
"If you ask me, that's premeditated. Water takes time to hot… It's can't be condoned. That ain't right. We ain't grow up like that. It is not right. It ain't right," Morgan said of the incident.
"I've come to look for that youth genuinely as a person. It ain't have anything to do with being Jamesy-P or entertainer or no ambassador. It ain't have nothing to do with that. It is just me as a human being," he said.
Jamesy P told iWitness News that he and his brother have the same mother and grew up together in the same house.
"One thing I can say is I've always known him as a Christian, and, where spirituality is concerned, there are a lot of things that I grew with and I had learnt from him from the cradle, it is going to go with me to my grave.
"Spirituality is a thing he has always instilled in me from a youth. So when I see these things. I have to question what could move him to do these things," the artiste said.
iWitness News understands that Nigel Morgan conducts a children Christian ministry on the ground floor of his house.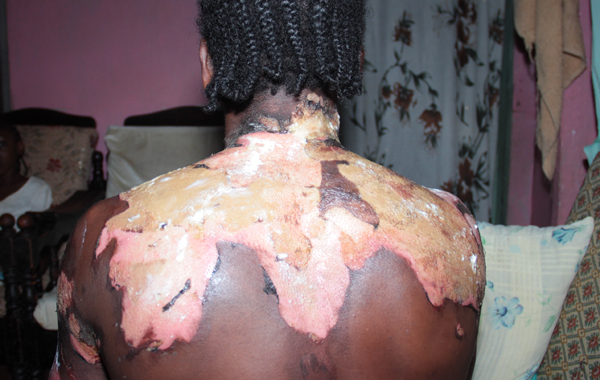 Jamesy P said he is willing to make a monetary contribution to Victory to help him with his medical bills, but noted that this is not intended in anyway to compensate for the wrongs committed against Victory.
However, his attempts to speak with the injured man via telephone did not go well, with Victory saying he doesn't want to see or speak with anyone from the Morgan family.
Meanwhile, Caesar told iWitness News that she feels bad about the incident, but was glad that Jamesy P came to visit.
She noted that he had apologised and said she is quite satisfied and would appeal to her son to speak to the artiste.
"He cannot [be] blamed, because it is not him. It is his brother…"
Nigel Morgan told iWitness News on Wednesday that his family is engaged in "spiritual warfare", "prayer warriors are praying about the incident, and that God will reveal the other parts of the video after the prayer warriors have completed their praying.
His wife said there are three other videos of the incident, and suggested that these would give a more complete picture.
She also told iWitness News that Victory had spat at her and slapped her.
It has been reported that the Morgans were taken into police custody Thursday morning, but iWitness News was unable to verify this through calls to the Police Public Relations Department, the Criminal Investigations Department and the Mesopotamia Police Station.
Pastor says pouring hot water on man was 'spiritual warfare'