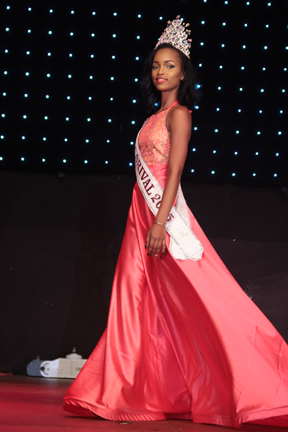 The Carnival Development Corporation (CDC) says that it cannot afford to pay for Miss St. Vincent and the Grenadines and Miss Carival 2015, De Yonté Mayers' participation in the Miss Universe pageant.
Mayers hinted her displeasure with elements of her reign as she made her final walk as Miss Carival on July 1, less than one month after a new Miss SVG was crowned.
"As I leave, I wait patiently for promises made to be fulfilled and for the opportunity to represent St. Vincent and the Grenadines in international pageants," Mayers said.
At the post-Vincy Mas 2016 press conference this week, it was noted to the CDC that Mayers had hinted at dissatisfaction with some elements of her reign.
In response, chair of the CDC, Denis Ambrose, said that Mayers had opted not to participate in the Miss Jaycees 2015 pageant in Antigua.
"Because, of course, she would [have been] competing with some of the same competitors whom she … faced at the Miss Carival and, of course, going there to compete with the same competitors and perhaps if you are not successful, it may put you in a very difficult position, very uncomfortable," Ambrose said.
He told the media that Mayers requested to participate in the Miss Universe pageant.
He noted that the CDC had facilitated Shivern Peters and Laverne Fraser's participation in that pageant
"But all this is based on the CDC's financial standing. For 2016, CDC being the franchise holder for Miss Carival, we affiliated De Yonté's request by making inquiries when the pageant was going to be held and getting all the necessary forms and documents so that we could have her sign them up.
"We even said to her that the CDC was not in a financial position so if sponsorship could be sought, we had no problem at all. And we have been facilitating that. Nothing has come of it to this point," Ambroise said.
"So, it is not that we have not honoured [her] request, it just means that there were some peculiar situations in regards assisting her, facilitating her request to participate in Miss Universe 2016," he told the media.
Miss Carival 2015 still waiting 'for promises made to be fulfilled'