Minister of Agriculture, Saboto Caesar has identified primary socialisation as a constraint to youth involvement in agriculture in St. Vincent and the Grenadines (SVG).
Caesar, who grew up in rural St. Vincent, said his father was a banana farmer and is still a farmer "of some sort".
But for many decades, parents would tell their children there is no economic future in bananas or agriculture, the minister, who is a lawyer, told a validation workshop in Kingstown with key stakeholders to present the draft Youth in Agriculture Policy, the accompanying action plan, and the research findings and recommendations.
Caesar said that his father told him that he (the father) did not get the chance to get a secondary education and therefore, he didn't want his son to work as hard as he does in agriculture.
The minister said he was taught in rural St. Vincent that success means academia and not agriculture.
The Caribbean Policy Development Centre has been contracted by the Government of SVG to finalise the Youth in Agriculture Policy and to prepare an accompanying action plan under the European Union supported Banana Accompanying Measures (BAM).
The BAM is expected to complement the on-going programmes of both the Government and the private sector for the production, marketing and distribution of agricultural produce.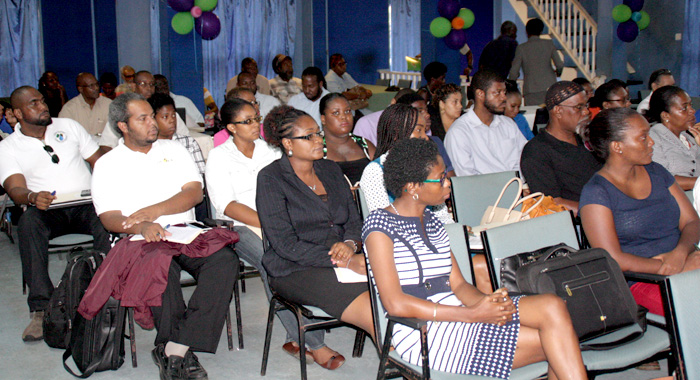 Caesar told the workshop that one of the first things needed to be done to convince youth that there are bright prospects in agriculture "is that we have to carefully package the financial and economic viability and prospects of the agricultural sector.
"And we have to package it differently. We cannot package it with a man on the hillside with a hoe or somebody with … three bunches of bananas or a sack of dasheen on their shoulder. We have to see and promote agriculture as an avenue for important and increased revenue earning."
Caesar said he had spoken that morning with 28-year-old investor Nick Bernard who is coming to SVG in the next three weeks.
He said Bernard is a marine biologist but works with one of the largest agriculture producers in the United States.
Caesar said that Bernard's earnings are significant, but in SVG, there are many persons who were taught that agriculture is not something they should focus on.
"There are many opportunities in the agricultural sector which are opened to young people which I would like to encourage the youth of St. Vincent and the Grenadines, and not only of SVG but of the OECS and of CARICOM member states to begin to look towards.
"There is a place in the agricultural sector for academician–persons who specialise in certain areas, but there is a critical and urgent need for young traders," he said, mentioning those who want to do it individually or want to work with institutions.
Caesar said that it is repeatedly emphasised that people have to eat, adding that this places the agricultural sector at the heart of the existence of civilisation globally
"That is the new discourse that has to begin and has to be packaged in a very convincing and pragmatic narrative so that to ensure that we can facilitate the types of mindset to move forward."
Caesar noted the difficulties in transporting agricultural produce across the region.
"So no matter what you want to produce in St. Vincent and the Grenadines, to get it to Grenada or to St. Lucia is a problem. How can they encourage persons to get into agriculture and get into production when they can't move what they produce and they have to focus on a micro market here in St. Vincent and the Grenadines with all the competition from goods coming for overseas?"
He said the OECS Secretariat is working with the Food and Agricultural Organisation and the Ministry of Agriculture to put together the first indigenous fleet of vessels for the transportation of agricultural commodities within the sub-region.
The plan is to have vessels move from Grenada to Tortola and to have a regular schedule where persons in each island can start to produce and market in a timely fashion and have good moving through the region.
The minister noted the US$480 million food import bill within the OECS.
"This is the kind of conversation after we have done this level of research that we have to now find young persons and train, tool or re-tool a cadre of young, like-minded persons to get into the opportunities which would lead them to tap into making professions and jobs out of their trade."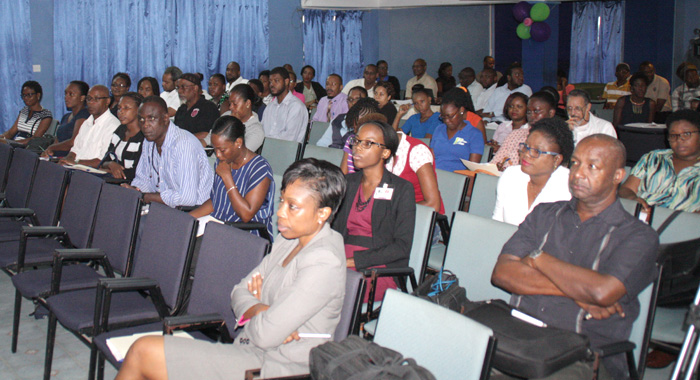 He said there is a hindrance in the society that can be defined as an obsession among the youth that focuses on an inward look.
Many young people leave SVG, attend university, but the ownership of the academics is really in its implementation, Caesar said.
When students return with their degrees, what are they doing with these degrees and how are they translating them into aspects of production, Caesar said, and used iWitness News and its Executive Editor, Kenton X. Chance as an example of a Vincentian who was trained overseas and returned home and implemented his training to create employment.
"The question is, with this cadre of young person who, during their primary socialisation, were taught that agriculture was a bad thing, how can they tap into their academics so they take agriculture to a next level while earning significant revenues for their livelihoods
"The Vincentian young man or young woman, we have to be brave, we have to become adventurous, we have to dream and have realistic dreams; we have to work closer together," he said, adding that there is a thriving division among young Vincentians regarding academic qualification, geographic area of residence, and social class.
"And I am not seeing the types of synergies among young people to come together at the table to say … let us sit down and see how we can tap into this $480 million…
"Very rare you find persons sitting down speaking about how we can harness the new opportunities in agriculture," Caesar said.
He, however, said that when someone else makes an effort and becomes successful, " we start hating them, we start pulling them down…"