A number of prominent members of the main opposition New Democratic Party (NDP), including the new Leader of the Opposition, Godwin Friday, and one of his defeated challengers for that position, Member of Parliament for West Kingstown, Daniel Cummings, on Monday praised outgoing party president Arnhim Eustace for reviving the NDP, which he has been leading since October 2000.
The praises came as Eustace hosted his final weekly radio programme as president of the NDP, which he will relinquish at the NDP's convention on Sunday.
In a call to the programme, Friday, an NDP vice-president, thanked Eustace for the support and guidance given to him when he was a junior member in the Parliament, after his election in 2001.
"Sitting there and listening to your advice and coming along and being able at this stage now to assume the role of Leader of the Opposition in the Parliament of St. Vincent and the Grenadines," said Friday, a lawyer, whose colleagues last week voted him in as Leader of the Opposition, a post he took up on Monday.
"It is a big responsibility. I know it. I see it close up from working with you but I will give it my very best and I believe that I am up to the task and I am glad that my colleagues have shown the confidence in me," he said of his new appointment.
"Now, we will convince the people of St. Vincent and the Grenadines that that confidence is well placed and provide the representation that they deserve and they expect from us…" said Friday, who garnered five of the seven votes, while Cummings, and Leacock — who many had seen as Eustace's successor — only captured one vote each — presumably their own.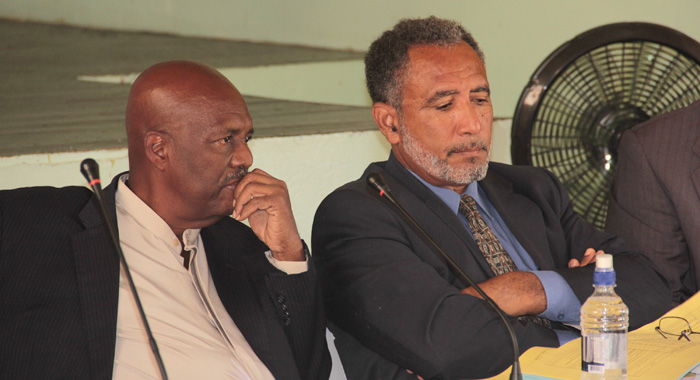 In his call to the programme, Cummings told listeners that his advent into politics had its genesis in what he understands to be Eustace's core philosophies
"The high ethical and moral standard by which you not only hold yourself and your family but others who work with you as a team, too, and which you aspire that our country could uphold as the norm," said Cummings, a former senator who is into his second term as MP for West Kingstown.
He told Eustace that he sees him as "a person who understands the practicalities of a country benefitting across the board when you apply the highest standards of morality and integrity in public life."
Cummings, who was manager of the Central Water and Sewerage Authority for a number of year before entering politics, said the gains at the state-owned company — widely regarded as one of the most reliable and efficient in the country — had to do with "acting in the norm" and allowing everyone an equal opportunity regardless of politics, religion or colour.
"And I want to thank you, Mr. Eustace, for demonstrating to our people that that is the only way to live," Cummings said, adding that he is convinced that the majority of people came to appreciate what Eustace stood for and voted twice for him to be prime minister.
He was referring to the NDP's claim that the ruling Unity Labour Party (ULP) stole the December 2010 and 2015 general elections, in which they were returned to office for a third and fourth consecutive term by a one-seat majority.
"But on the other side, you have a set of people who believe in dwelling in an benefitting from corruption at all levels and they have no qualms about stealing an election and taking away the will of the people and not cheating you (Eustace), cheating the people of St. Vincent from having you as prime minister of this country. History, sir, will serve you very well," Cummings said.
The NDP has gone to court over the results of the December 2015 elections, which regional and international observers say reflected the will of the electorate.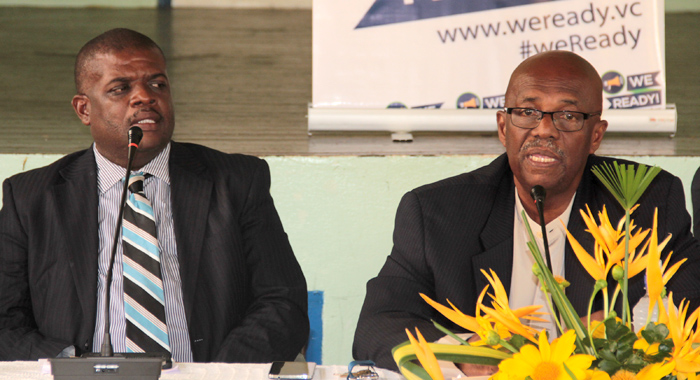 Also singing Eustace's praises was MP for North Leeward, Roland "Patel" Matthews, who Eustace has moulded in politics.
"I just want to big you up," said Matthews, one of the NDP's youngest lawmakers.
The former teacher said he recalled that when he started in competitive politics in 2001, Eustace asked him to work in his office after that electoral defeat.
"I must say that prior to entering Parliament, I did learn a lot of the parliamentary procedures," Matthews said, adding that, thanks to Eustace, he can make sense of the 700-page Estimates of Income and Expenditure.
"And I want to thank you for the way you carry out your training with us, in a very informal manner and I say to a lot of people, without your guidance, a lot of us who are MPs now would not have been able to hold our own. You have never written any speeches for us, you have never told us what to say," Matthews said, adding that, on the contrary, Eustace just emphasised the NDP's principles on certain things.
"And you, basically, have given us that opportunity to explore and be all that we can be in terms of parliamentarians…" said Matthews, who along with MP for South Leeward Nigel "Nature" Stephenson and MP for the Southern Grenadines, Terrance Ollivierre, initiated the discussions that led to Eustace stepping down as opposition and party leader.
Matthews said that Eustace has made a big sacrifice for the country and everyone is eternally grateful "Without you, I believe we would have descended into chaos on many occasions but you were able to be the big man as you kept us all on track. I want to say again, you will always be my boss. You have done well in terms of making the New Democratic Party the positive, the strong-based party that it is today."
Eustace came to the helm of a shambolic NDP as then Prime Minister Sir James Mitchell prepared to bow out of politics after 17 years in office and amidst an agreement to call early election, his hand having been forced by vigorous protests by the then opposition ULP in early 2000.
Matthews said that he believes that without Eustace's guidance and experience, the NDP might have been in disarray today.
"But you have always been there to steer the ship and you have given us of your time and experience. So, I want to say thank you very much for what you … have done for me personally and the party as a whole. And, as you gradually scale down your political activity, I know you would continue to be a guiding force to all of us and St. Vincent and the Grenadines as we try to make this country a better place," said Matthews, who is into his second term as MP for North Leeward.
Also on Monday's programme, NDP spokesperson, Vynnette Frederick, a former senator under Eustace's leadership, credited the 72-year-old politician for her entry into politics at age 18.
"This giant of a man called Arnhim Eustace taught me 'tations and so many wonderful life lessons from being involved in politics on the front line," said Frederick, a lawyer, who failed to win West St. George for the NDP in 2010 and has opted out of electoral politics since then.
"I have said and will continue to say that history will look back and see that St. Vincent lost a great opportunity to give him the reins of power for longer than he had it to chart our course towards prosperity for all," Frederick said of Eustace, who inherited the prime ministership from October 2000 to March 2001, ahead of elections that the NDP was expected to lose.
She described Eustace as "genuine, authentic, real and somebody who feels for people truly; not just for photo opportunities or looking to make that good picture out there."
Frederick, who is also a constituent of East Kingstown, which Eustace has been representing since 2001, said that Eustace is there when residents are at their lowest.
"You don't just hear from him when things or good or when you have accomplished something wonderful. You hear from him when things are low, when you are down. When you're facing tragedy, death, he is such a strong presence or support, always knowing the right things to say or even when words and not necessary — when he just needs to listen."
She told listeners that she also knows Eustace outside of the glare of politics and thinks she is one of the persons who would remember the laugher, the nonsense talk when you need it too.
"You are such a wonderful persons, genuinely and the politics of St. Vincent and the Grenadines, you read it right from the get go when you told us that we needed to hold on to one another, to be kinder and gentler and to approach politics without the venom, the divisive hatred that has been the modus operandi of those on the other side…
"Your example has been so totally different… You are an example of a Vincentian who has come back to St. Vincent, contributed and lifted a political party from the doldrums — it was in the doldrums, there is no question about that — and you have made it stronger, more democratic, you have led its institutions to thrive. The New Democratic Party is better off for the leadership you have shown," said Frederick, who was widely seen as one of Eustace's most trusted aides.
"You will be missed as a Leader of the Opposition, but we still have the benefit of your support and your wise counsel. And I am happy that I had the opportunity to learn what I have learnt about politics under your tutelage," Frederick said.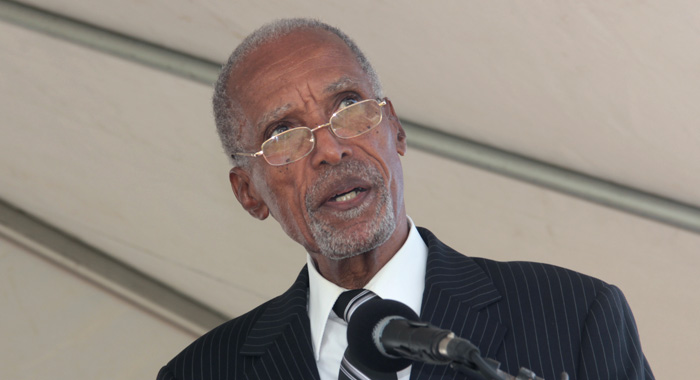 Former MP for West Kingstown, John Horne praised Eustace for reviving the NDP. (IWN file photo)
And, John Horne, who was a longstanding Member of Parliament and MP for West Kingstown when Eustace eclipsed him and his colleagues to become opposition leader NDP president, described Eustace as "a man who has tried his best to guide this country in an honest, upright, practical path".
Horne paid tribute to Eustace's parents, saying they would be proud that he stayed the course — the way he brought them up.
He said Eustace was thrust into leadership at a time when the NDP was at its lowest ebb and, as a result, Eustace took the fall when it was known and felt that the party could not win.
"The question remained, and has been debated ever since, 'Why was the handover delayed to the extent it was?'" Horne said.
He said Eustace should take consolation in the fact that right always triumphs over wrong. "Your integrity, your moral rectitude cannot be challenged by anyone. Your adherence to principle is clear for all to see," said Horne, who told Eustace that he wanted to admit and would say to the world, "I have had your back always, and I will continue that way."
Horne, however, said that this did not come merely from Eustace's political existence. "It came from an abundance of trust and confidence in you and a reputation such as this one is not achieve overnight and cannot be assumed. It comes from the example you set, your decorum and how you conduct your day-to-day activities and your life in general."
He noted that Eustace has been criticised for not having charisma.
"It is charisma, too much charisma, that has us in the mess we are in at this point in time. So, I say, there is no skin off your nose, Mr. Eustace. You've done well; you have been principled; you have forsaken things in the interest of your country… Whatever may be said, your record is clear; you can stand tall. I am proud of what you have done and you can be assured that whatever role in life you assume, … as a friend, I will be there with you, my friend. All the best."
Speaking at the end of the programme, Eustace said he has "no regrets about the change I have made", a reference to stepping down as leader of the opposition and head of the NDP.
He promised to speak in detail, Tuesday night (tonight) about the decision and what he thinks is in store for SVG.
"I'm looking forward to the new leader of our party making a difference and that will be determined at the convention on Sunday. We have a new Leader of the Opposition already…" he said.