The refurbished Mental Health Centre at Glen, which Minister of Health, Sen. Luke Browne, said has internal finishings that excel "some of our most luxurious hotels and resorts", re-opened on Tuesday without the critical service of a psychiatrist.
St. Vincent and the Grenadines (SVG) has been without the services of a psychiatrist since late 2014.
In his address to mark the re-opening of the Mental Health Centre, Browne noted the recent development in which a teenager who had been referred to a psychiatrist is believed to have murdered four persons before he was able to see the mental health professional.
Browne told the gathering that in his address to mark World Mental Health Day 2016 on Oct. 10, he mentioned the link between substance abuse and mental disorders.
"Unfortunately, this point was amplified to the highest pitch by the recent fit of frightful violence against innocent people that sent shockwaves throughout our land," he said on Tuesday.
He was speaking of the case in which Jurani Baptiste, 18, of Sandy Bay, who is said to have a history of mental illness brought on by substance abuse, is believed to have killed four persons on the night of Nov. 13.
Baptiste has been charged with one count of murder in relation to the deaths.
Browne said: "We do not gather here today under any illusions about the important need to continuously address mental health issues. We believe in the truth of the mantra that there is no health without mental health."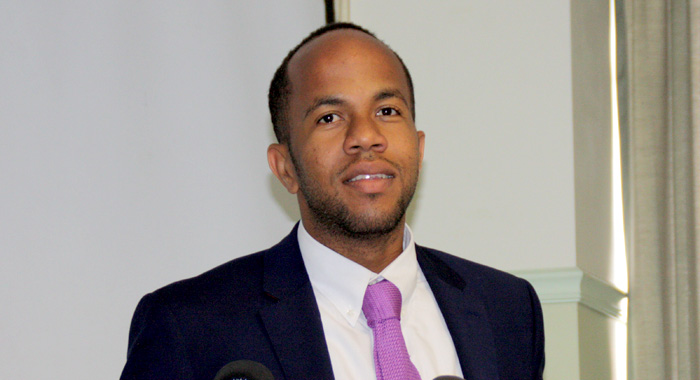 The health minister said he wanted to inform the public that his ministry is doing its best to ensure that the nation has the healthcare personnel required to address the needs of persons with mental health challenges.
"One of the positions which currently needs to be filled is that of a psychiatrist. There was, in fact, a psychiatrist on staff until late 2014 when she left to take up employment elsewhere on the local scene at a medical school. The search for a replacement since then has been hamstrung by a chronic and regional and international shortage of doctors formally trained in this specialist branch of medicine," Browne said.
He said the government seem to be "on the verge of an important recruitment breakthrough and it is our hope that our ministry's success in this matter will redound to the credit and advantage of the state.
"In the meantime, I thank our officers who have been standing in the gap and holding the fort," Browne said.
Speaking at the same event, Prime Minister Ralph Gonsalves said the government has budgeted an annual salary of EC$116,868 plus travel, housing, and entertainment allowance for a psychiatrist.
"And we can't get somebody for a $117,000. You hear what I am telling you? And this is why we are trying to work out, immediate arrangement with somebody who is in Barbados to come as a consultant two weeks a month or something like that until we can get a permanent solution."
The Mental Health Centre was refurbished at a cost of EC$4 million under a European Union-financed project.
In the interim, mental health services were provided at a temporary facility in Orange Hill.