The Canadian firm that plans to build a resort and villas at Mt Wynne-Peter's Hope has about half of the $60 million that the construction of the project is expected to cost.
Joseph Romano of PACE Developments told iWitness News on Thursday that the project is "self-financed for now".
"There is no mortgage on the property. Cash was paid and we have a large chunk to start the service," he said in an interview after the ground breaking ceremony for the project.
The company has paid the government of St. Vincent and the Grenadines EC$7 million for 36 acres of land in the former agricultural estate.
The construction of the resort and villas is budgeted to cost about $60 million, he told iWitness News, adding, "So we will see how it goes.
"We have about, I'd say about 50 per cent right now. These are reserves from our company over the years."
He told iWitness News that PACE Developments has 40 years of development experience in Canada and has done a resort, hotel and golf course in Florida.
"We are very excited about working in St. Vincent."
Romano told iWitness News that there is an arm of Pace Developments that has experience in management of resorts.
He, however, told iWitness News that he did not know what that arm is called.
"I don't know off-hand. I don't. Sorry," Romano said and later explained that the company is 40 years old and he has been with them for eight.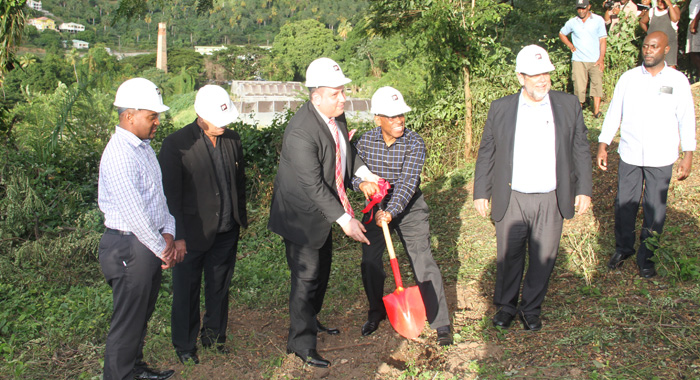 In his address at the ceremony, Romano said that his company is "truly humble at the opportunity to develop a first-class facility right here on Peter's Hope".
He said the development has been negotiated for over two years and PACE Development is truly happy to finally begin construction.
"Today marks a groundbreaking celebration. But, it comes with a responsibility and a promise to build a project that all Vincentians will be proud of and can participate in. That responsibility is to all of you," Romano told the gathering of government officials, dignitaries, and citizens.
He said that his company has had an advance team in St. Vincent for about a year.
"And we feel that we are in touch with everyone's concerns. First, we will not impede any public access to the beach," he said to applause and a few "amens".
All beaches in St. Vincent and the Grenadines are public, but residents of Canouan in the southern Grenadines have been advocating for almost two decades for unimpeded access to beaches in the island's "developed" north, where resorts are located.
Some persons have expressed concerns that a similar situation could develop at Peter's Hope.
"Second, we will hire locals for construction," Romano said.
"Third, we will run the resort with Vincentians workers who will have opportunities to advance within the organisation. Fourth, the hardworking farmers and fishermen will be respected and sought. And fifth, we will be implementing a training facility for the future employees of the Black Sand Resort.
"These are promises we are making to you today and promises we will keep."
Romano told the ceremony that Red Tag Vacations in Canada has committed "one hundred per cent to the Black Sands Resort and to the country and islands of St. Vincent and the Grenadines.
"I assure you that PACE Developments and the Black Sands Resorts will not let you down," he said.