A few persons turned up at Peter's Hope on Thursday to register their objection to the construction of a resort there by foreign investors.
The government has sold to Canadian firm, PACE Developments Inc, 36 acres of land for EC$7 million for the construction of a resort and villas.
The ground-breaking ceremony for the development was held Thursday and was attended by Prime Minister Ralph Gonsalves and Joseph Romano of PACE Developments, as well as a number of dignitaries.
A small number of protesters holding placards gathered at the main road near to the gap leading to the ceremony.
Among them was former media worker, Bernard Joseph, who held a placard that said, "We tired eating crumbs we want cake now".
He told iWitness News that the slogan is from a calypso by Black Messenger in the 1970s
"For some time, I have been writing in the local press about the proposed development, quote-unquote in Mt Wynne-Peter's Hope. My thing is that I am not against foreign investments. Let me state that upfront. But what is being proposed for here can be done elsewhere. I think [for] that being proposed here, there is a better alternative."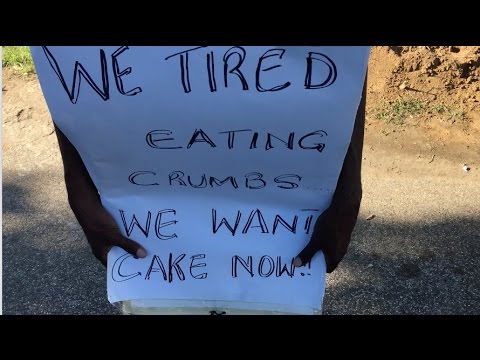 Joseph told iWitness News that he has written articles about the development in the Searchlight newspaper.
"So, basically, I am here to basically enforce what I have been writing about and what I will be writing about in the future."
He said that the lands can be used to build a complex for entertainment, sports and amusement complex "which would basically showcase the creativity of Vincentians.
"The important thing about it, what I am proposing will be owned by us, mainly the creative people," he told iWitness News.
Joseph suggested that the project be constructed on Isle a Quatre or Petit Mustique, two uninhabited, privately-owned Grenadine islands that are for sale.
"Why I proposed those, I've seen what they have written and what I've seen the investors proposing, basically is what those two ventures are about. I am not sure they know about them, because in business, you might have an idea and you discover that somebody has a similar idea and then you look to see whether you can in any way collaborate. I am not sure that in any way happened.
Also on the picket line on Thursday was political activist and former supporter of the Gonsalves Unity Labour Party administration, Luzette King.
"I am here to register my protest against the sell out of our patrimony. Interestingly, when I stand here and look back to 2000 when Ralph Gonsalves would have been on this side of the argument, but now he seems to have forgotten those days and taking every opportunity he can –even though his regime is an illegitimate one," King told iWitness News.
"We are still awaiting the results of a claim that the election was fraudulent and despite that, he and his team, they are very busy selling out," she said.
Another man on the protest line who did not give his name said he lives in Canada.
He held a placard that said "Tell Ralph massa days done".
He told iWitness News that he supports the protest "because what is going here with the government is wrong… In Canada, what is happening here can't happen in Canada."
iWitness News noted that the investors are from Canada.
"I'm living in Canada too so I don't mind where they are from, but what I see going on here, I don't support it," the man said, adding that he has many reasons but did not want to give his reasons.
Meanwhile, iWitness News noted to Joseph the small turn out at the protest.
"I would have come here alone," he said.
"That is not what it is about. Because as I said, basically, once the message goes out and once persons in the future know that there were Vincentians who were willing to come out and say, 'Look, this should not be done, that is what is important to me," he told iWitness News.