Shortly after being crowned Miss SVG 2017 around 12:30 a.m. Sunday, Jimelle Roberts visited the grave of her "guardian angel in heaven", who she said gave her the edge over the six other contestants in the competition.
Roberts, along with some of her friends and supporters, including Miss SVG 2014, Shadeisha George visited the grave of 24-year-old Karissa Donielle Clarke, of New Montrose, who died of cancer on May 2 and was buried in the yard of St George's Cathedral in Kingstown on May 24.
The newly crowned Miss SVG visited her friend's grave sometime after telling reporters in a post-show interview, "I think she was the edge for me to really go and do this because I know that had she been here, she would have been here supporting me tremendously.
"And you know, support from a best friend is extremely important. With the almighty God on my side, I am Miss SVG 2017," Roberts said.
Results at a glance:
Miss SVG 2017: Miss Flow, Jimelle Roberts
First Runner-up: Miss Mustique Co. Ltd. Nicolleen Lewis
Second Runner-up: Miss Jergens, Christal Oliver
Best Interview: Miss Jergens, Christal Oliver
Best Eveningwear: Miss Mustique Co. Ltd., Nicolleen Lewis
Best Talent: Miss Flow, Jimelle Roberts
Best Swimwear: Miss Mustique Co. Ltd., Nicolleen Lewis
Most Community Spirited: Miss Mustique Co. Ltd., Nicolleen Lewis
Miss Congeniality: Miss Kendra's Aluminium Products Ltd., Darisean LaBorde
Miss Photogenic: Miss Kendra's Aluminium Products Ltd., Darisean LaBorde
Other contestants:
Miss QuickCash, Bryanna Hadaway
Miss Agricultural Input Warehouse, Brittney Oliver
Miss Metrocint Gen. Insurance Co. Ltd, La Donna Yorke
Roberts, a 24-year-old teacher, of Belair, who was sponsored by telecommunications provide, FLOW, edged out the other contestants on consistency, having won only one of the four judged categories of the competition: Best Talent.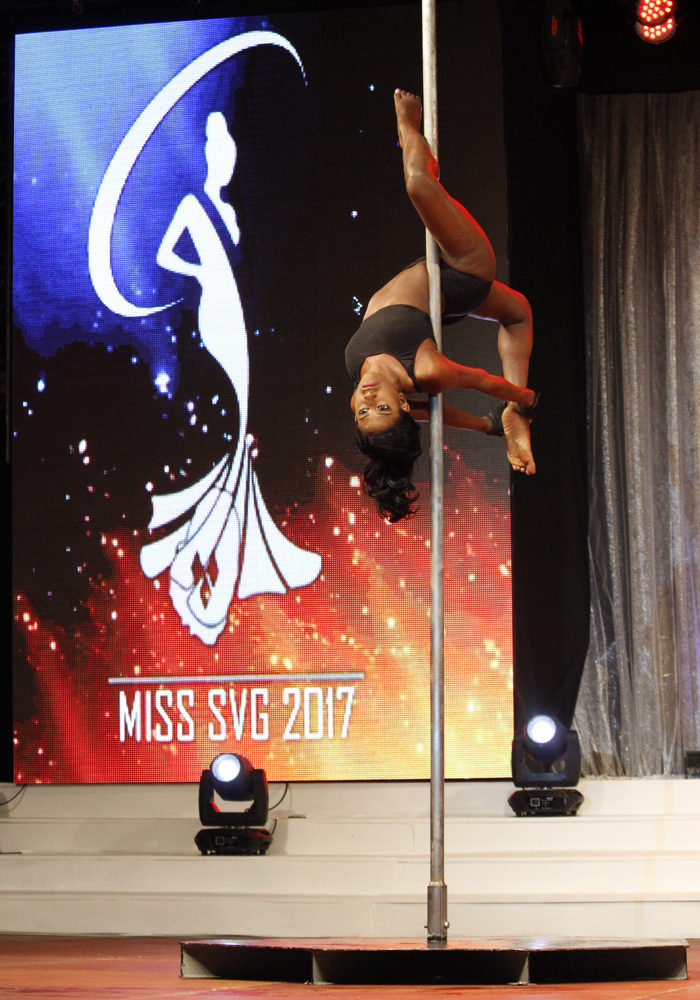 Her talent was what some social media users suggested was a controversial poll dance that Roberts used to highlight the plight of women victims of human trafficking, who are often forced into sexual and other forms of economic exploitation.
The presentation began with a carefree Roberts being abducted by a man as she took selfies with a mobile phone while going shopping.
Her abductor forced her to dance on a pole, which Roberts begins doing with what some patrons considered a little too much proficiency for someone who had just been forced into such a situation.
During the post-show interview, Roberts was reluctant to talk about the origins of pole dancing, but offered that it came "from the idea of stripping."
She, however, said that pole dancing has evolved into a sport, noting the 2016 International Pole Sports Federation's application to the International Olympic Committee to be recognised as a fully-fledged sport.
A part of Robert's talent presentation that left some patrons confused was when she returned to pole dance — with even more vigour and vitality — immediately after overpowering her captor, who had initially forced her to become a pole dancer.
Roberts, during her post-show interview, offered this explanation:
"Well, actually, I overpowered my captor and it's the idea of this is who I am now and it is no more — it is instilled in me, it has been in me forever.
"And, unfortunately, that is what happens with human trafficking. Girls are trafficked and although they have flee (sic), mentally, they are still enslaved; they are still captive by these persons."
In her biography, published on her Miss SVG page on Facebook, Roberts says she was exposed to the art of dance from age 3 and the art form has given her the ability to express herself and to display her creativity.
She is a senior member of the Arabesque Dance Company and has taken part in many dance festivals across St. Vincent. She has received numerous medals and certificates, including Most Outstanding Duet in the 2012 KCCU National Dance Festival.
Roberts won the judges' nod in the Talent category of the competition, in which, unlike previous years, each of the four categories carried a maximum of 25 points, leaving the show open to any contestant who was consistent enough.
Further, in this year's competition, a different panel judged each category of the competition.
Consistency being key to winning became clear when Nicolleen Lewis, who won the Swimwear and Eveningwear categories, placing first runner-up.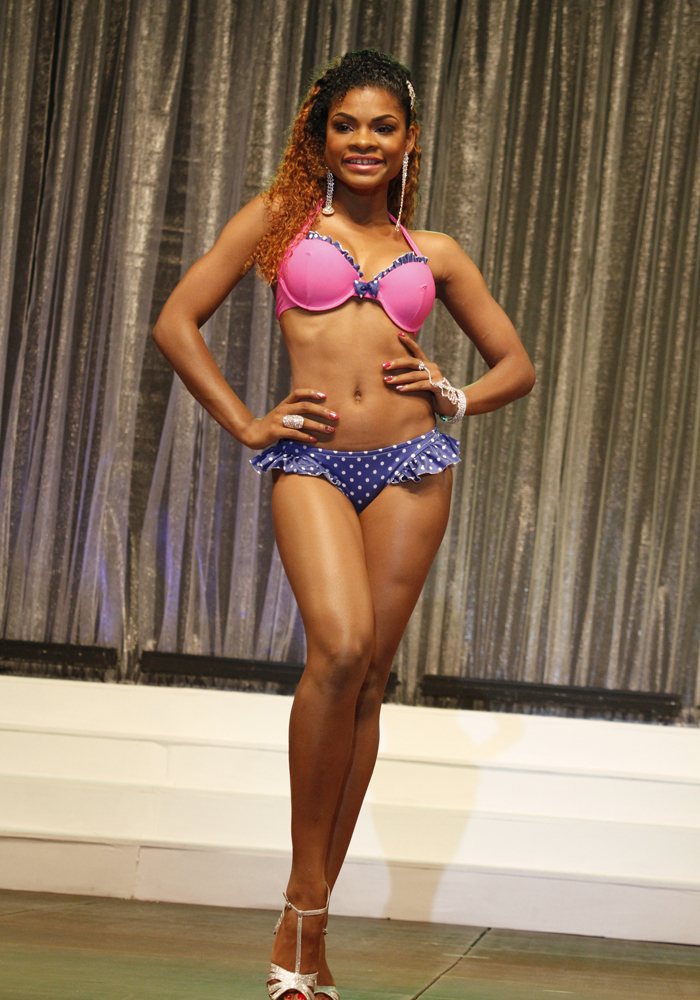 Lewis was adjudged best in swimwear at the show. (iWN photo)Lewis, 19, of Fancy, was sponsored by Mustique Company Ltd. She was also adjudged Most Community-Spirited. However, winning this made no contribution to her tally.
Roberts told reporters that she was pleased with her performance Saturday night.
"I am elated right now. I am extremely happy. It's all surreal but you know, I am happy that I put the hard work in and it has definitely paid off tonight."
Asked if she was surprised by the victory, she said, "Well, like I said, the hard work paid off and I am just happy about that… You enter these shows with expectations but you can only prepare to do your best."
She told reporters that she thinks that things went as she had planned.
"I have the crown. So, obviously, it did," she said.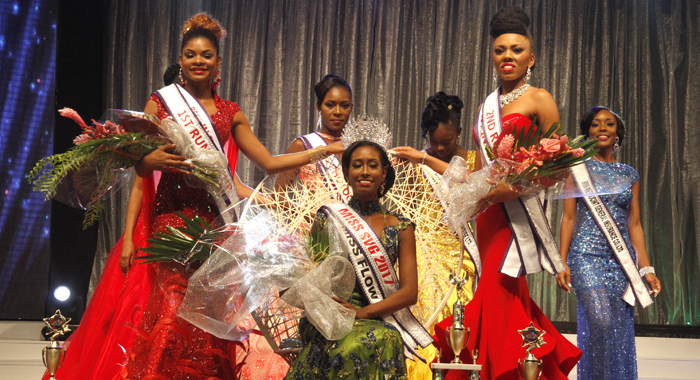 Miss SVG 2017, Jimelle Roberts and other contestants in the show. (iWN photo)Roberts, however, was diplomatic when asked about who she thought was her biggest challenger going into the show.
"I would have competed with six other girls and they are all competitors. There was very stiff competition this year but I am just happy that I was able to persevere and become Miss SVG this year," said Roberts, who will also be remembered for winning the Miss SVG crown on the 40th anniversary of Vincy Mas being changed from a pre-Lenten to a summer festival.
Roberts said that during her reign she intends to continue her empowerment platform "and just be a great ambassador for St. Vincent and the Grenadines".
The Empowerment Campaign, which is sponsored by ECGC, was also a new element associated with the Miss SVG pageant.
The campaign was used as a platform for the contestants to highlight issues affecting women in St. Vincent and the Grenadines, but was not presented on the night of the pageant nor was in any way judged as part of the pageant.
While Roberts has won Miss SVG on the 40th anniversary of the change over of Vincy Mas, she will not have the chance of becoming Miss Carival this year.
The Miss Carival pageant, dubbed by the Carnival Development Corporation (CDC) as the most prestigious beauty pageant in the Caribbean, was shelved this year to allow the CDC to determine the best way forward for the 30-year-old show.
Roberts told reporters she is actually looking forward to "the rest and relaxation for Miss Carival.
"And I don't feel cheated because, hopefully, I will be able to represent St. Vincent in Miss Jaycees later on," she said.
Roberts holds a bachelor's degree in English language and linguistics from the University the West of England.
She intends to use the EC$80,000 university scholarship she won on Saturday to study speech and language therapy and become a speech and language therapist.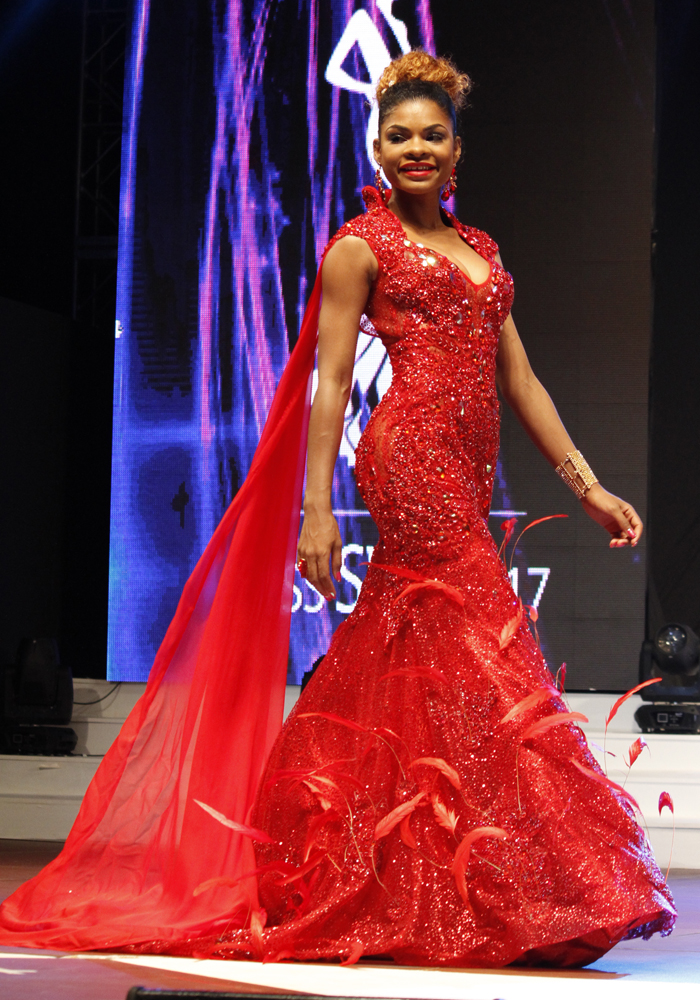 Second Runner-up went to Christal Oliver, a 26-year-old resident of Glen, who was sponsored by Jergens.
Oliver also won the Interview category of the pageant.
Her biography-based question was:
"You are currently pursuing studies for a Bachelor of Science in management studies but you are hoping to change your course of study to fashion design, manufacturing and entrepreneurships. What are the reasons that have sparked this change in your focus?"
Oliver responded:
"From a very early age, I have always interested in sewing and creating things with my hand — hands. I decided to change courses because fashion is something that I am very passionate about. And I believe that with fashion success wouldn't come easier and I believe that with a degree in fashion design that I can make a change in St. Vincent and the Grenadines and I see a lot of opportunities for that here in St. Vincent and the Grenadines. It is an integral part of our carnival and I think that as a woman I can be empowered to make that change."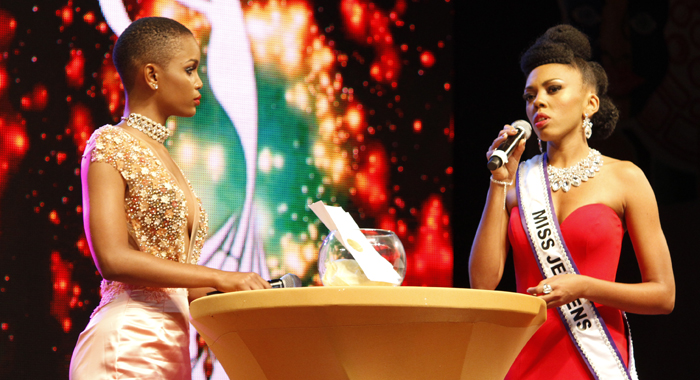 The question that she chose randomly was:
"The Caribbean (sic) Single Market and Economy promotes free movement of skilled Caribbean nationals among member countries. Do you see this as an advantage or disadvantage to St. Vincent and the Grenadines? Give reasons for your answer."
Oliver responded:
"I believe that this is an advantage for St. Vincent and the Grenadines. As an entrepreneur, I have been privy to the fact that we must always take opportunities and this is an excellent opportunity for me as a fashion designer to take my brand to other countries. The CSME allows free movement of trade and people and I think that with this we can take our products to all the countries in the Caribbean."
Among the contestants was Miss QuickCash, Bryanna Hadaway, 20, of Sally Springs, who had hoped to become the third generation of her family to win the crown, a feat attained by her grandmother, Dhaphney Frederick, and aunt, Nicole Hadaway.