When businessman Jaimason Samuel decided to get into the restaurant business, he thought long and hard about a suitable name.
Then it occurred to him. He already had the name for some three decades: Manna.
"Manna" is Samuel's nickname. The nickname traces its origins back to a restaurant that his family operated in Kingstown in the 80s.
The restaurant opened against last Thursday, June 1, at the former Highway Trading Building in Arnos Vale.
"I was searching for a name and it took me a while and I said, 'wait, we have a name,'" Samuel told iWitness News.
"As a matter of fact, everybody calls me "Manna'. All through school days, that's where I got the name from, the family business. So I said, 'You have the name all the time, why don't you just use that?' So I decided to go with the name.'"
Samuel told iWitness News that he decided to open the restaurant because "it was needed in the country.
"We are trying to do something different, offer something different and it's a restaurant that was opened by my family about 30 years ago so I brought it back," said Samuel, who family also owns Food Basket Bakery.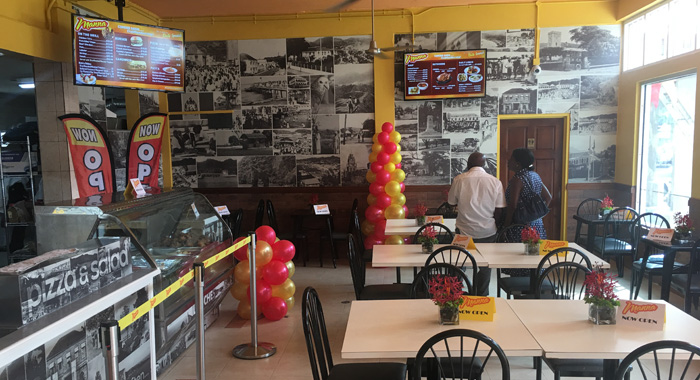 "It was a well known restaurant in the 80s so I just decided to revamp it, modernise it and reopen it," he said of Manna.
Speaking of what makes the restaurant different from what was already on the market, Samuel told iWitness News, "Our menu, for sure.
"We offer a variety of stuff — grilled stuff, we offer pizza, we offer burgers. What's different about the menu will be the taste and the quality.
"I know that you can go to other restaurants and get basically everything that I am saying but the taste and the quality, consistency, all of these things are what is going to make us different; and the prices as well."
Manna opened with a staff of eight, in addition to some of Samuel's chef friends, whom he met during his business travels.
Those international chefs have decided to help Samuel get the restaurant going.
Two of these chefs would be with the restaurant for a couple of days, while some of them will stay for a couple of months, with skills transfer as part of the plan.
"Our plan is basically to open other locations in other Caribbean islands and even [further afield]," Samuel told iWitness News.
He said another thing that sets the restaurant apart is the interior décor.
"I wanted to do something that shows patriotism so I decided to look for old, vintage pictures and select a few, contacted my design team and let them create a mural that I could put on the wall. It is creating a buzz among people who are trying to figure out where those locations are."
Samuel said that Manna closed in the 1990s between of a legal issue not including his family or the restaurant.
There is also located near to Manna an outlet called "Cravings", which Samuel said is "the sweeter side of Food Basket [bakery]".
He noted that the bakery is known for its breads and cakes and has been in business for over 25 years.
"That aspect of the business is going to deal with pastries, donuts, cheesecake, the sweeter side to Food Basket, basically. That's what it is going to be dealing with."
As an aspiring businessman, Samuel credits his parents, Calvert Samuel and Patricia Leacock, with his business acumen.
"Any business thing that I know and wisdom, I gained from them. I am still learning every day. I try to familiarise myself with things, take courses, do a lot of reading, do a lot of research.
"It took me three years of research and development to actually get this project going… And then we did everything out of pocket as well. We didn't borrow any money so we took our time."
He said the menu took about a year to develop and included a lot of discussions with consultants.
"And still, I know it is going to take a lot more tweaking because the customer is who is going to set the menu. And what the customers, request, we are going to try to offer and give to them."
He noted that the location seems to be in their favour.
"That seems to be the word. I really hope it plays out that way," Samuel said.