The man charged with the attempted murder of a woman who was set ablaze in Biabou on Sunday told iWitness News on Tuesday that we would know on Sept. 4, whether he, in fact, committed the crime.
"Yo' go know. The 4th ah September. Yo' go know the truth and nothing but the truth," Pedro Ashton told iWitness News as police were about to transport him to prison after his arraignment in Kingstown.
Ashton, a 33-year-old labourer of Biabou was charged that on Aug. 13, 2017 at Biabou, with intent to commit murder on Monique Clarke, of Biabou, he did an act which is more than merely preparatory to the commission of the offence.
Clarke is a 44-year-old domestic of Biabou, and mother of two sons, one 14 and the other around 20.
She told her sister, Iesha Richardson, that a man that she (Clarke) has a relationship with set her afire as she was lying in her bed wrapped in a sheet after refusing to have sex with or give money to the man.
Ashton was not required to plea to the indictable charge when he appeared before Magistrate Bertie Pompey at Kingstown Magistrate's Court.
Prosecutor Station Sergeant of Police Elgin Richards objected to bail, telling the court that the virtual complainant suffered first- and second-degree burns to 85 per cent of her body.
Richards told the court that Clarke had suffered burns from her head to lower extremities and was still in a critical condition at the Milton Cato Memorial Hospital.
Pompey ordered that Ashton be remanded in custody until Sept. 4 and transferred the matter to the Serious Offences Court in Kingstown.
Richardson told iWitness News earlier on Tuesday that medical personnel at MCMH told she and Clarkes other sisters on Monday that Clarke suffered second- and third-degree burns.
"… if she survives, she has a long, long — as in they [emphasised] the word 'long' — way to go, if she survives the ordeal," Richardson told iWitness News, citing information relayed to her by doctors.
"She is swollen, her left eye is burnt, so she is not seeing out of that eye," Richardson said.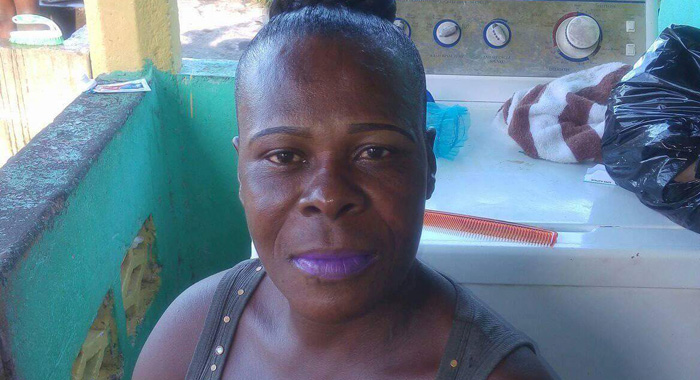 Richardson told iWitness News that she keeps asking the doctors about her sister's chances.
"They are kind of tight-lipped but I am not stupid. I am not a stupid person. I read and I can see and I know what my sister is saying and the pain. They keep giving her pain medication. I don't know if it's morphine. They are giving her something to put her to sleep. She is in immense pain.
"She can't eat, she is in bed, she can't move, she pees through a tube, they feed her through a straw with some juice every now and then," Richardson told iWitness News.
She said one of the doctors told her there isn't much that they can do for a burn victim.
"We just have to hope. They said all they can do is try to lessen the possibility of her being infected — the wounds.
"Her left arm is completely burnt, her neck, her face, her back, both of her legs and her feet.
"I asked the doctor if she will heal and he said she will be scarred for life, if she survives. There is a possibility that she can pull through but she is going to take a long, long time," Richardson told iWitness News.