The family of the woman who was set afire in her bed Sunday morning have been told that if she survives, she will have a very long road to recovery.
The woman, 44-year-old Monique Clarke of Biabou, was set afire in her bed, reportedly after she refused to have sex or give money to a man with whom she has had an abusive relationship for the past two years.
Clarke's sister, Iesha Richardson, told iWitness News on Tuesday that her sister told her that she was set ablaze as she was lying wrapped in a sheet in her bed.
"If I didn't know her, I wouldn't be able to recognise her," Richardson told iWitness News as she described the extent of her sister's injuries.
She said medical personnel at Milton Cato Memorial Hospital (MCMH) in Kingstown met with Clarke's sisters on Monday to outline her condition.
"They told me it's a mixture [of 3rd- and 2nd-degree burns] and if she survives, she has a long, long — as in they [emphasised] the word 'long' — way to go, if she survives the ordeal.
"She is swollen, her left eye is burnt, so she is not seeing out of that eye," Richardson said.
She told iWitness News that she keeps asking the doctors about her sister's chances.
"They are kind of tight-lipped but I am not stupid. I am not a stupid person. I read and I can see and I know what my sister is saying and the pain. They keep giving her pain medication. I don't know if it's morphine. They are giving her something to put her to sleep. She is in immense pain.
"She can't eat, she is in bed, she can't move, she pees through a tube, they feed her through a straw with some juice every now and then," Richardson told iWitness News.
She said one of the doctors told her there isn't much that they can do for a burn victim.
"We just have to hope. They said all they can do is try to lessen the possibility of her being infected — the wounds.
"Her left arm is completely burnt, her neck, her face, her back, both of her legs and her feet.
"I asked the doctor if she will heal and he said she will be scarred for life, if she survives. There is a possibility that she can pull through but she is going to take a long, long time," Richardson told iWitness News.
She, however, said that she suspects that "something is wrong" because doctor no longer allow her to be alone with her sister in the private room where she is being cared for.
"Yesterday (Monday), while I was there, they asked us to vacate and they said when I come, I can bring the juice for her and give the nurse them. I can't go in the room."
Richardson said that while she was at the hospital on Monday she saw a lot of healthcare professionals going in and out of the room and every so often her sister will scream out.
She told iWitness News that she was the first person allowed to see her sister after she had received medical attention.
"'Please tell them what happened to me because I am going to die'," she said her sister told her.
She said Clarke told her that she and the man with whom she has a relationship went to a karaoke event in Biabou.
Clarke returned home before the man was ready to do so as she had to prepare her 13-year-old son for a summer activity the following morning.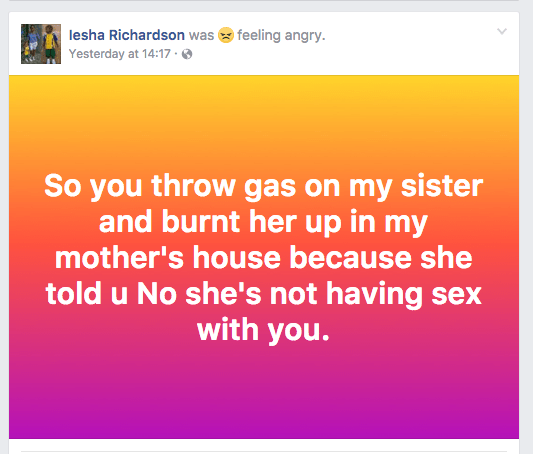 Richardson said Clarke's son told her (Richardson) that he had checked the time on his tablet when his mother and stepfather came home and it was after midnight.
She said that it was normal for her sister to go to the karaoke event.
Richardson said that her sister has filed numerous reports with police about abuse she has suffered at the hands of her lover, who is her junior.
However, police have not been able to press charges as Clarke did not return to them the medical injury forms they issued her, saying that the man would apologise and blame his behaviour on his drunkenness.
Richardson said Clarke told her that she had a $20 bill for her son to attend the event Sunday morning, and the man wanted her to buy something with it, but she declined.
When she got home, he sat on her bed and repeatedly asked her for the money and to go back to the karaoke event, but she declined.
The man then proceeded to request sex, and Clarke also declined, her sister said, telling iWitness News that Clarke told her that when the man is drunk he would want to have sex three and four times.
"He made many requests for the money and to get intimate with her but he was intoxicated, not highly but it is a norm."
Richardson said Clarke told her that she wrapped up herself in a sheet and told the man to go where he was going.
He then began threatening her, telling her, "Go ahead; ah done tell yo' a go kill yo' one ah these days" and requested that she return to the karaoke event with him.
At that point, the noise was getting too loud so Clarke's son, who was in the next room, called out to the man and told him to stop with the noise.
However, instead of stopping, the man lowered his voice, but the son could still hear him.
The man again told Clarke that if she was not giving him the money, she should have sex with him, but she again refused.
He then told her, "Ok. Arwe go see who bad tonight. Arwe go see who bad tonight. Everything me ask you ah no, no."
Clarke then turned her back and the man went out of the room.
At one point, she felt a liquid being poured on her and she turned around and asked the man why he was wetting her down with water.
"By the time she could turn around, he done light the matches and throw it and she is entangled in the sheet. So it took her like couple minutes to get out the sheet and her hair was already on fire…
"And the son in the next room said he felt the heat. That is to tell you how rapidly the bedroom went up in flames."
Richardson's nephew told her that by the time he got out his room after hearing his mother screaming, she was already in the yard where there are buckets of water stored and she had managed to throw a bucket of water on herself.
Her also helped to extinguished the flames.
Clarke's boyfriend was at the gate telling her, "OK. Yo' feel yo' bad? Me show yo' who badder tonight."
Clarke was able to make it to the house of a neighbour, who told Richardson, that she came there after 4 a.m. screaming.
Clarke went to the Biabou clinic, but it was closed, reportedly as the staff nurse in on vacation. Police at the Biabou Police Station, located nearby,  took her to the health centre in Mesopotamia, where she was initially treated before being transported to the MCMH by ambulance.
Clarke also has an older son, who is around 20 years old but has been living with his father since he was a child.
Police have ruled the crime against Clarke as attempted murder and said Monday that a young man is in custody assisting with their investigations.