About a dozen persons protested outside the Milton Cato Memorial Hospital (MCMH) in Kingstown on Monday to register their demand for "better healthcare facilities".
A number of the protesters are associated with the Frontline protest that has been going on since Dec. 10, 2015 outside the Electoral Office in Kingstown.
The protest began one day after the general election in which they claim the Unity Labour Party stole the vote to return to office for a fourth consecutive term.
Luzette King, who is head of the Frontline protest, told iWitness News that the state of healthcare in St. Vincent and the Grenadines was highlighted in the July 14 letter that social and political activist Oscar Allen, 75, wrote to hospital officials, two weeks before he died at the MCMH after undergoing surgery to his large intestine.
King noted that in his letter, Allen had expressed concerns after his urgent surgery was postponed twice because two of the three anaesthesiologists at the hospital had fallen ill.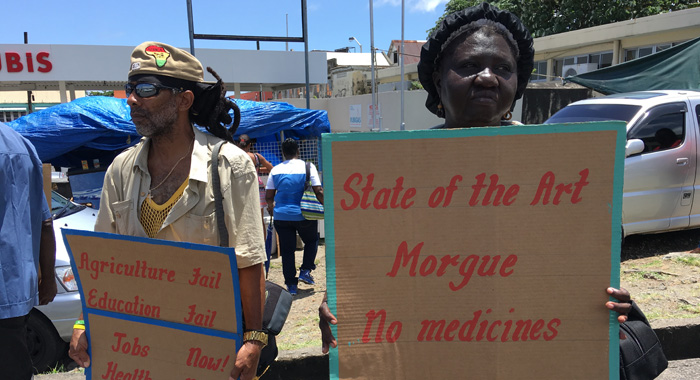 Asked if surgery being postponed because of professionals falling ill is a true commentary on the nation's healthcare system, King told iWitness News that as far as she knows, Allen was first hospitalised in February and she believes his surgery was postponed for the same reason.
She pointed out, as Allen did in the letter, that the second time, he was already prepared and waiting for the surgery in an outer room of the operating theatre when it was postponed.
"If you are going to put somebody through that, no matter what it takes, you should find an anaesthetist," King told iWitness News.
"In fact, after Oscar died, they started running around looking for an anaesthetist in Trinidad, Cuba and whatever. Somebody somewhere should have known the first time that Oscar — and I am sure it wasn't only Oscar — when he couldn't have the operation the first time, you call him in to have surgery and you are telling me you weren't prepared. Does that make sense? No. It doesn't."
King told iWitness News that she returned from London on Thursday and was informed on Saturday that the protest was going to take place.
"But in any case, while I was away and heard about Oscar, I was going to come down here me alone. It just happened that other people came along."
King said that the protesters are hoping that the demonstration would be one of many activities to get rid of the ULP government, which she described as an "illegitimate regime of bandits.
"They are bandits; a people who don't care."
King said that the picketing of the hospital will become part of the Frontline protest and they will mount their demonstrations either outside MCMH or outside the Electoral Office "until we get a change of government".
She noted that in the lead up to the December 2015 elections, the main opposition New Democratic Party outlined its plans to build a state-of-the-art hospital, but the ULP mocked the plan, saying that the design was from Farmville, an online game.
"Now, they are boasting [about] a state-of-the-art morgue. They ain't talking about hospital you know; state-of-the-art morgue!" King said.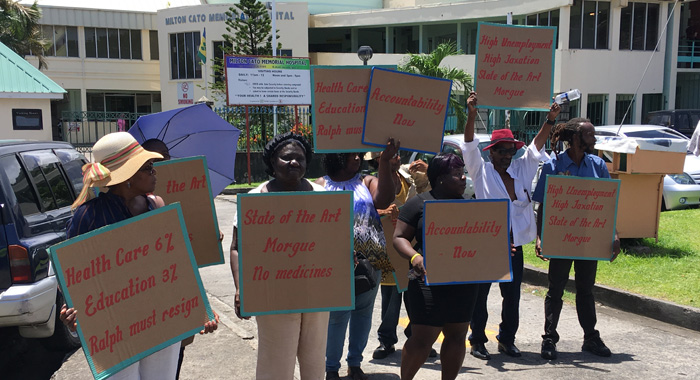 Also picketing on Monday was Ackisha Hamilton Johnson, who is also an activist for the NDP.
"I am here to show my disgust. The state-of-the-art morgue is a failure," she told iWitness News, referring to the hospital.
Last week, in a tone deaf appearance on Star FM, which is owned by the ULP, MCMH administrator Grace Walters and Director of Special Projects in the Ministry of Health, Audrey Gittens-Gilkes, bragged about the "state-of-the-art morgue" at the hospital, even as the healthcare facility was coming under increased scrutiny.
At the protest on Monday, calypsonian and NDP activist Robert "Patches" King told iWitness News that he has not been hospitalised at MCMH for the past two decades or so, not because he is rich, but because he has alternatives.
He, however, said that last week he visited a colleague who was warded there and during the visit, another patient had to be moved at the Male Surgical Ward because rain was coming through the roof and wetting him.
"My grandson was in the hospital sometime ago. We had to carry pillowcase, sheet, pillow, toilet paper for him in the hospital."
King further told him that an elderly woman who is now deceased had asked her to pick up some mediation at the hospital pharmacy.
"I think it was 10 cents for one. They didn't have it. I think it was for diabetes and hypertension. I had to go to the drugstore to get it," King told iWitness News, adding that she had also heard other people say that when they go to the hospital for surgery, they have to get medication at private pharmacies.
Health officials have defended the facility amidst the most recent onslaught of criticism, saying that while it is not perfect, it is not as bad as some persons make it out to be.