The government of St. Vincent and the Grenadines on Monday announced five pillars on which its relations with Taiwan will continue.
The announcement by Prime Minister Ralph Gonsalves comes as Taipei and Kingstown mark 36 years of unbroken diplomatic ties, and one year after the main opposition New Democratic Party (NDP) said it will switch diplomatic relations from Taiwan to China, if elected to office.
Gonsalves said this will be a campaign issue in the next general elections, constitutionally due in March 2020.
The NDP, however, has said that it believes that Vincentians could be asked to elect a new government later this year, as the Gonsalves government tries to stave off the legal challenges that the NDP has brought, challenging the result of the December 2015 general elections.
Gonsalves said: "We have a good policy in maintaining and strengthening the relationship with the Republic of China (Taiwan). The next time we go the polls, among the things that the people have to decide is one set of people who want to change the relations and go elsewhere and one who wants to stay with Taiwan and the friendship which we have had over the last 36 years."
After a meeting with Taiwan's Vice-Minister of Foreign Affairs, Der-li Liu, who was on an official visit to SVG, Gonsalves reaffirmed his Unity Labour Party administration commitment to maintaining ties with Taiwan.
He, however, spoke of a need for more trade between Taipei and Kingstown and for more Taiwan investment in SVG.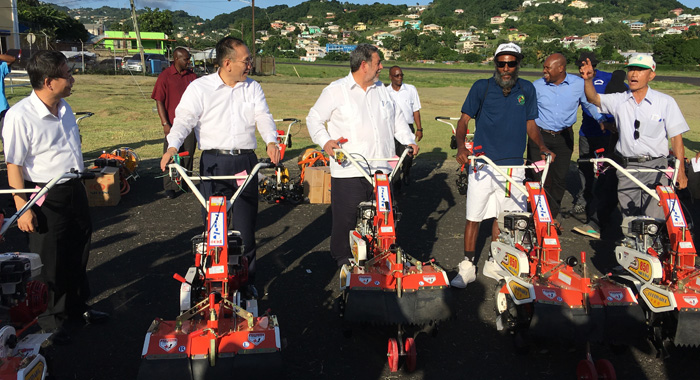 Speaking in Arnos Vale where Taiwan donated eight buses and 24 pieces of agricultural equipment to SVG, Gonsalves said that the first pillar of the relationship is the diplomatic relations, while the second is the people-to-people friendship.
'The manifestation of those relationships are clear," he said, adding, "There are many persons here who were students who have degrees granted through study on scholarships in Taiwan."
The prime minister said farmers have also benefitted from Kingstown-Taipei ties, and will continue to benefit with the 24 pieces of equipment presented at the event.
He further said there are medical missions from Taiwan to St. Vincent, noting the particular relationship between Milton Cato Memorial Hospital in Kingstown and Taiwan's, Changhua Christian Hospital.
"We have a multiplicity of people to people relations. There are others, but these are among the most important ones."
Physical infrastructure co-operation, is the third pillar, Gonsalves said, noting Taiwan's contribution to the construction of the Argyle International Airport, whose terminal building Taipei funded, and also the Taiwan-funded Rabacca Bridge, which connects the communities north of the Rabacca Dry River to the rest of the country.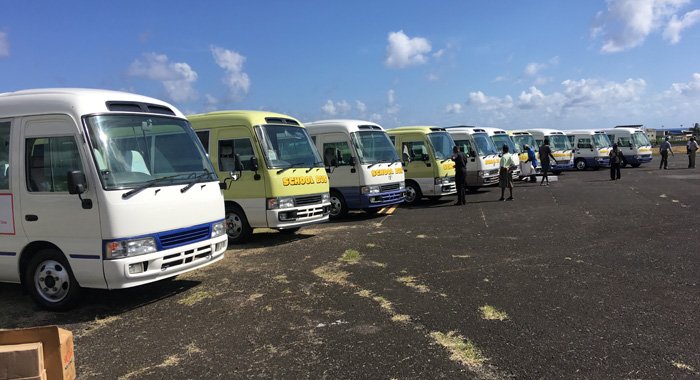 The fourth pillar, the prime minister said, is about private sector investment in SVG.
"I made the observation that although we have diplomatic relations with Taiwan, we have more investment in St. Vincent and the Grenadines from the People's Republic of China and that's an area which we need to strengthen."
He said, even in the Chinese restaurant sector, he does not know any of the operators who come from Taiwan.
"And we can do with a good Chinese restaurant from Taiwan. I'm hoping, because we are building our tourism and we expect that we will buy a lot of fruits and vegetables from our farmers."
The prime minister further said there are opportunities for manufacturing and agro-processing and information communication technology as well as hotel construction in SVG.
"We have a lot of good lands on St. Vincent and in the Grenadines.  The state itself owns significant portions of land and we can enter partnerships with investors from Taiwan who want to build hotels here, for instance. And once you begin to build hotels you have to make sure that the Taiwanese, when they reach the United States of America, they can get down here very easily so that the airlift will improve."
While Argyle International Airport began operating in February – after a six year delay – there is still not yet any regularly scheduled or charter commercial flights to international destinations.
"We have to make a determined effort for investment," Gonsalves said.
He noted that Taiwan and the United States and China have investments in each other's jurisdiction, saying that is understandable, given the sizes of their populations and economies.
China considers the self-governed Taiwan a renegade province and has threatened to use force if the nation pushes for de jure independence.
"But we have been good friends since 1981, reliable. So, we would like to see some of your business people come to St. Vincent and the Grenadine and invest here."
Gonsalves said that he knows there are Taiwan entities that invest in SVG, mainly in the construction industry.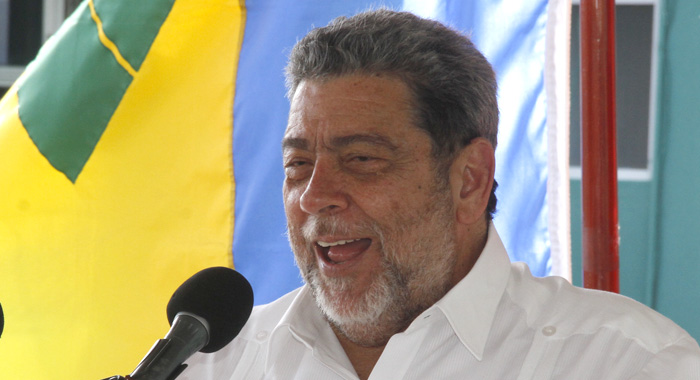 "But I think we all agree that we must do more. It's not easy but we did something together with others, which they said was impossible. We built the Argyle International Airport. So I don't like people telling me it's not possible, that it can't be done. I don't believe that. Once there is a will, there is a way. We can do it."
The fifth area of co-operation is trade, Gonsalves said, adding that neither Taiwan nor SVG buy enough from each other, adding that there is no reason why that can't be done.
"And that is why I am happy to hear that the president has sent the message to say they want to buy more from St. Vincent and the Grenadines, including agricultural products and manufacturing products and the investment will work hand in hand with it."
He said that Taiwan has been very active very north of the Rabacca Drive River in eastern St. Vincent and noted the arrowroot industry in that district.
"Well, you don't know about arrowroot but you know about engineering and you know about starches. And we have a good starch. We have to improve the quality of our factory… And right now, we have over 500,000 dollars of starch, which we would like to sell to Taiwan tomorrow morning.
"It's not a gift from you to me or me to you. It's a business transaction and we can work out an arrangement on an annual basis as to how much starch you want to buy from us. And the more you want to buy, the more we will plant and the more we can invest in the equipment. So, you are happy and we are also happy. That's how we have to grow this relationship further."
Gonsalves said he is pleased that the president of Taiwan has enunciated these principles.
"And we embrace them. In fact, they are principles which we have worked together on," he said.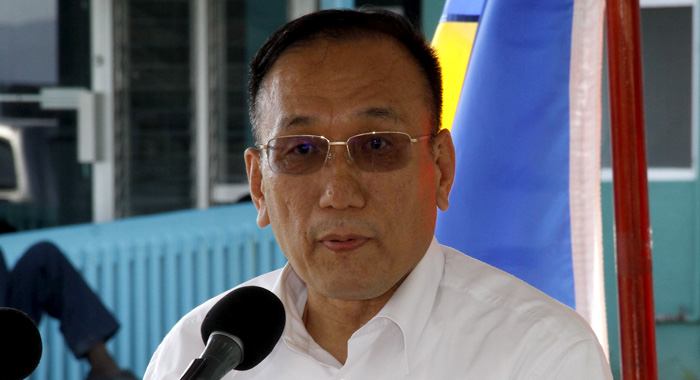 Speaking at the presentation ceremony, Liu noted that Taiwan and SVG are this month celebrating 36 years of  "cordial and strong friendship this month.
"Over the years, our friendship has been mutually beneficial. We have conducted various successful cooperation projects not only in the field of infrastructure, as we can see in the case of the construction of the Argyle International Airport, but also in agriculture, health care, ICT, scholarships, human resources, and so on," he said.
The vice-minister said that SVG has also been very supportive of  Taiwan's bid to participate in the international organisations such as the United Nations and its Specialised Agencies.
"On behalf of the Government and People of the Republic of China (Taiwan), I would like to express our sincere appreciation to the solidarity exhibited by St. Vincent and the Grenadine," Liu said.
He said Taiwan cherishes its cordial relations with SVG.
"We have been a proud partner in the process of the sustainable development of St. Vincent and the Grenadines.  I would like to take this opportunity to reassure to you of our commitment to further strengthen our fruitful cooperation and friendship," he said.