The Grenadian man and his co-accused who this week pleaded not guilty to possession (272lbs) of marijuana with intent to supply it to another could be in jail until Jan. 29, 2018 before knowing their fate.
Senior Magistrate Rechanne Browne-Matthias on Wednesday denied bail to the Grenadian, Denrol Walker, while Vincentian David Hepburn was granted EC$120,000 bail.
The two pleaded not guilty to the charge when they were arraigned at the Serious Offences Court in Kingstown on Monday, even as their co-accused, Grenadian Elvis Isaac Moore, pleaded guilty.
But Moore will also have to wait until Jan. 29, 2018 to hear what sentence the court will hand down.
When the matter came up on Wednesday, Walker and Hepburn maintained their not guilty pleas, resulting in the issue of bail arising.
Senior Prosecutor Adolphus Delplesche objected to bail for Walker, noting his nationality.
He said he was not objecting to Hepburn's bail, but asked the court to ensure there is sufficient surety, a reporting condition of at least twice per week, that he surrenders all his travel documents, and that stop notices be placed at ports of entry and exit.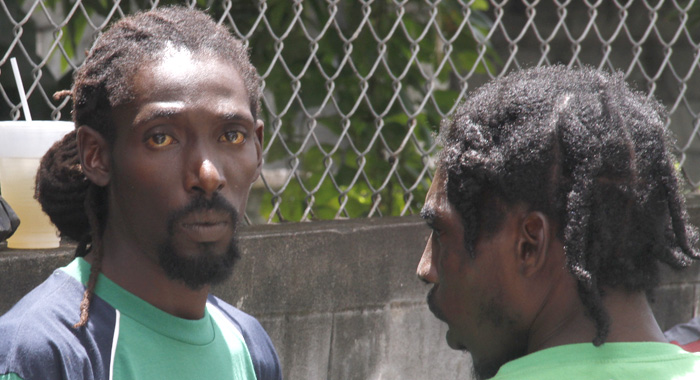 In response, defence counsel Grant Connell told the court that in considering Delplesche's application, the court must overcome the barrier of denying citizens of the Organization of Eastern Caribbean States — to which Grenada and St. Vincent and the Grenadines belong — their freedom.
Connell told the court that it is not automatic that because someone is a "foreigner" bail is denied him or her.
He pointed out that Vincentians have been granted bail while on gun charges in Barbados.
"This is bush. This is locally grown marijuana. It is just a question of what the surety will be," Connell said.
He told the court that the drug is valued at EC$110,000, adding that if someone wants to sign as surety in the sum of EC$250,000 and the accused abscond, that will be more money in the national coffers.
Connell asked the court to consider the amount of books for students returning to school and medicine for the hospital that the government can buy with EC$250,000.
"He ain't kill anybody… It is not that dreadful drug called cocaine… We have to break down psychological barrier," Connell said, adding that a part of Grenada is actually in St. Vincent and if one snorkels too far in the Grenadines one moves from one country to the other.
He further told the court that Hepburn "is a farmer of legal greens" and is readily accessible by the police.
The defence counsel told the court that his Vincentian client is not from a family of great means," adding that this must be considered when setting bail.
In response, Delplesche noted to the court that he never called the Grenadian a foreigner, adding that the Caribbean is one but persons live in different jurisdictions.
In addition to granting Hepburn bail in the amount of EC$120,000, the magistrate also ordered him to report to the Vermont Police Station on Mondays and Thursdays between 6 a.m. and 6 p.m., surrender all his travel documents and seek the permission of the court to leave the jurisdiction. She also ordered that stop notices be placed at ports of entry and exit.
The crown is alleging that Coast Guard personnel intercepted the men with the drugs off Johnson Point, Kingstown on Thursday, Aug. 31.The compressed drug was reportedly in taped packages in nylon sacks.