By Kenton X. Chance
No one knows how Jesgil Letteen's life might have turned out had her parents sent her to secondary school when she passed the entrance examination two decades ago.
But today, as a 33-year-old mother of two teenagers, she is practically homeless and has tolerated domestic abuse for the last seven years just so that she can have a roof over her head.
However, after an episode Tuesday night in which she was beaten twice — including once after police had responded — she has called it quits on the relationship and is determined to seek after her own happiness.
Letteen was the woman who was beaten with a cutlass in San Souci Tuesday night as she held a 2-month-old in her arms, which is what a witness told iWitness News deterred her attacker from chopping her.
She said that throughout the relationship, her jealous boyfriend would repeatedly accuse her of being sexually involved with guys that she might talk to.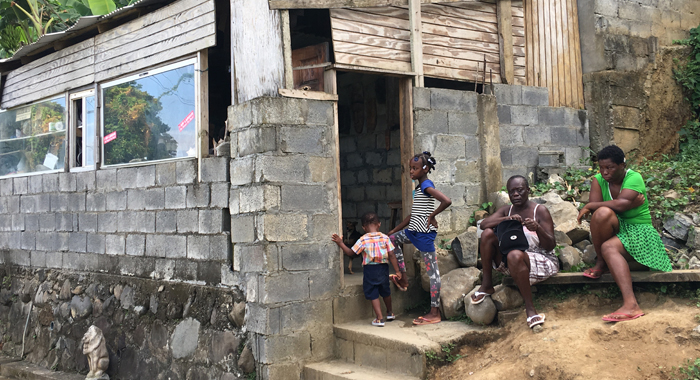 Letteen is originally from Chapmans, Georgetown, but is living in Diamonds with her boyfriend.
On Tuesday, Letteen was at a friend's house cooking with them, and when her boyfriend came by, he saw her giving some flour to another man.
Her boyfriend left and returned in the evening, and accused her of not cooking for him.
Letteen, however, said that this is not the case, saying that she had gone home to cook for her boyfriend and after Tuesday night's development, the pot of food actually spoiled in the house.
When Letteen's boyfriend returned to her friend's place — where a shop is also located — Tuesday night, he began to curse at her.
"Last night, he ah gi' (give) me a whole heap a stinking wud (hurtful words), me gi um (him) back wud, the girl call police because he lash me in me head with a cutlass," she recalled in an interview on Wednesday at the scene of Tuesday's development.
Letteen's friend, Keisha, who called the police, is sister of Monique Clarke, the Biabou woman who died on Aug. 22, nine days after being set afire in her bed, reportedly after refusing to have sex with or give money to her boyfriend.
Clarke, a 44-year-old mother of two, suffered second- and third-degree burns to 85 per cent of her body — from her head to her lower extremities.
Her boyfriend, Pedro Ashton, a 33-year-old labourer, also of Biabou has been charged with her murder.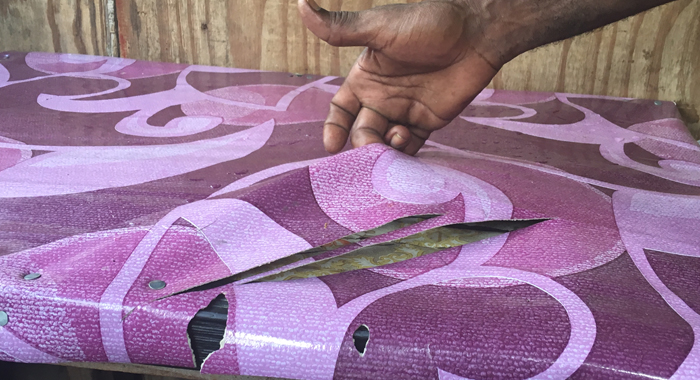 Letteen did not suffer any physical wounds in the initial attack Tuesday night. She told iWitness News that the police responded and gave her medical injury forms.
But when the police left, he returned and pulled her out of the building and began hitting her in her head with a cutlass, resulting in an injury that took three stitches to close.
Her boyfriend was in police custody in Georgetown at the time of the interview.
Letteen admitted that it is not the first time that her boyfriend has beaten her.
On her right hand, she carried the scars of a previous incident when he struck her with a rum bottle, resulting in several cuts.
But having secured a place from her friend to stay for now, she is resolved that it will be the last.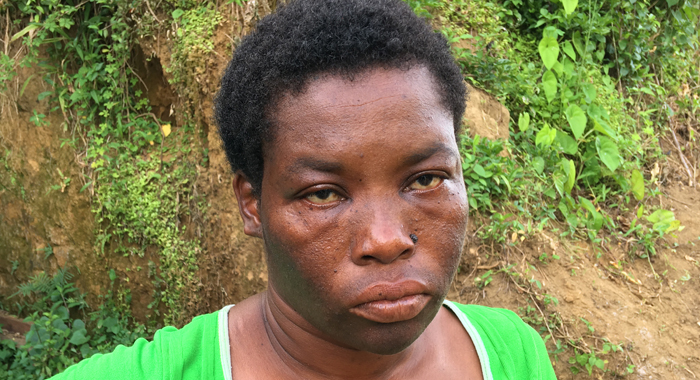 "If you understand, if like when me go to the government for help [ I get help, things will be different]… Me could tell alyo (you all) that, me homeless. We have family but them nah for me (not supportive of me). Me go and beg for help, them doh help me. If me ha' me own place, we wudda (would have been) be good," Letteen said.
The older of Letteen's children will turn 17 on Oct. 12 and passed four of the six Caribbean Secondary Education Certificate subjects she sat this year. The younger child, turns 12 on Oct. 12, and enrolled at Georgetown Secondary School this month.
Letteen said she has repeatedly gone back to the abusive relationship because she has nowhere else to live.
But not this time.
"Me done mek (make) me statement ah Colonaire [Police Station] round there," she said, suggesting her intention to follow through with any charges that might be brought against her boyfriend.
Further, she is scared that he will attack her again.
Early in the interview, tears began flowing as the woman spoke about her experience.
They were an outflow of the physical and emotional pain of domestic abuse.
"Me nah lie to yo'  (you) long time me want fuh (to) express meself to people. People go see things happen and they nah go know what me does go through. Them ah say me ah go do this and me ah (will) go back but within myself, me know that if me have somewhere of my own, me go be a happy person."
Asked about her education, Letteen made a shocking revelation.
"Me nah really go secondary school because my father dey (is) in America and at de (the) time me doing Common Entrance and thing, first time, me fail; second time, me go back, me pass."
At that time, when she wrote the primary school examination that determined which of the nation's primary school leavers would move on to secondary school, Letteen was living with her aunt, who is deceased 17 years now.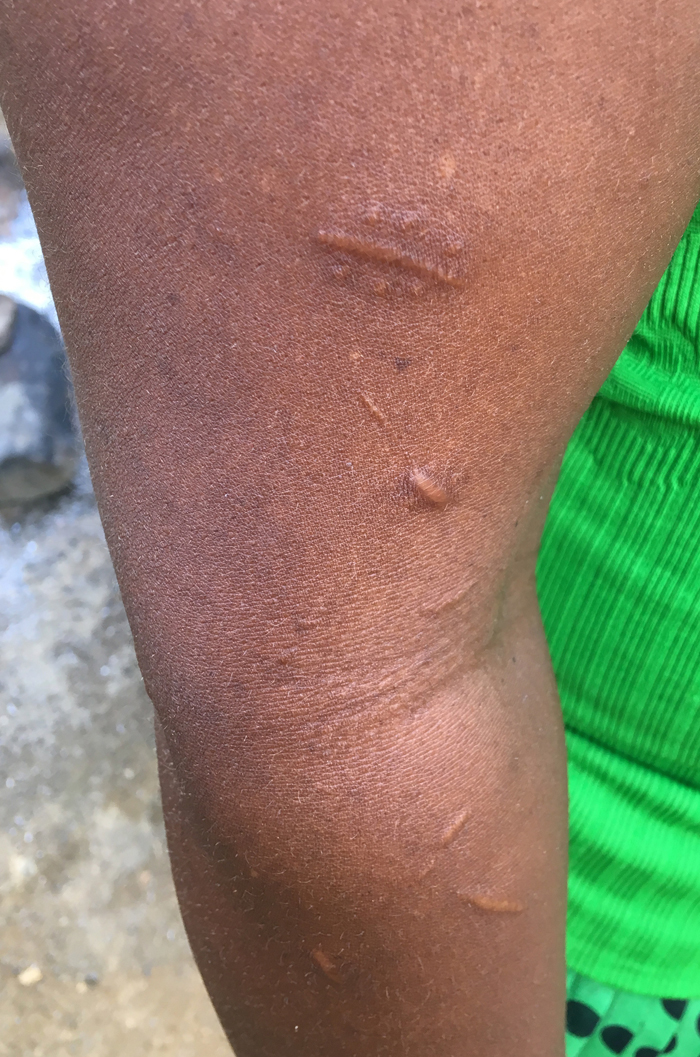 "She tell him (her father) me been pass to go Girls' High School, he say he nah send girl pickney (children) ah high school, when yo' send them ah school, dem ah come out with belly (pregnant). So is right dey (there) me drop out ah school because me (my) mother wasn't in a position to help me with my schooling," Letteen said.
She can't recall what was her position in the national exam two decades ago, but Letteen told iWitness News that she scored 80 for maths, 75 for English and 60 for general paper.
Later in life, she also attempted to further her education.
"Me used to go evening classes and thing. Me bin apply to do subject and me nah geh money fuh do them, me just [quit]," she said.
She was interested in English, maths and principles of business.
In 2006, Letteen went to Canouan and was employed as a construction worker.
She came back to St. Vincent at the end of that year to ensure that her daughter was well taken care of.
She said that she used to work for EC$700 a fortnight, and out of that, she would send EC$350 for a close relative to take care of her daughter.
Letteen said that sometimes, days after sending the EC$350 at the end of the fortnight to her relative, the relative would call requesting more money, and she would go into her savings and send it.
But while in the southern Grenadine Island, Letteen would receive calls saying that the relative was not taking good care of her the child.
"… when I came over, my child wasn't in the condition that I expect my child to be. So when I came over and see the situation of my child, I decided I am not going back in Canouan," Letteen told iWitness News.
"When I came over the ending of 2006, I came over with $4,000 because I used to throw sue-sue hand and I been have a friend down there who helping me pay my rent and give me a little change. He work[ed] with the company."
With that money long gone, Letteen relies on the intermittent job among road cleaning crews and does other odd jobs for a living.
Keisha, Letteen's friend, is resolved to do what she can to help the woman and told iWitness News that she has already identified a place for the woman to stay in the interim.
She showed iWitness News chops that the woman's attacker left on the furniture inside the shop during his rampage.
"He was going to chop her but when he realised that she had my baby in her hand, he just plan her with the cutlass," she said, using the colloquial expression for when someone is struck with the flat side, rather than blade of a cutlass.
Letteen was one of two women injured by their lovers Tuesday night, the other being a woman in Biabou who was chopped on the hand, allegedly by a man with whom she is said to have been involved in a relationship that ended some time ago.
The incident occurred just one night after 23-year-old Simonia Da Silva died after being stabbed repeatedly during a mob attack outside her home in Fairhall, resulting in a murder change being brought against three teenaged females.
There has been increased focus on the issue of domestic abuse in St. Vincent and the Grenadines since radio personality, Colin Graham, then a potential candidate for the main opposition New Democratic Party, admitted, after his girlfriend, Iyah Jacobs made a post on social media, that he had abused her.
He has since withdrawn himself from further consideration as a candidate.
But shockingly, in St. Vincent and the Grenadines in the year 2017, years after the entire nation acknowledged that each citizen, regardless of their education, socio-economic status, political affiliation or physical condition, has a life to live, Letteen repeatedly jeopardised her very life because she has no place to live.