Accused murderer Veron Primus, on Friday, refused to ride in the pan (back) of a twin-cab police pick up.
The development came as Primus and other accused persons were being transported from the Serious Offences Court in Kingstown to Her Majesty's Prisons, about a quarter mile away.
Primus was earlier on Friday committed to stand trial for the November 2013 murder of 33-year-old real estate agent, Sharleen Greaves.
A police officer told Primus and a prisoner to whom he was handcuffed to climb into the pan of the vehicle, but he refused, saying, "I am not riding in the back."
The police officer again told Primus to climb into the pan, and he said, "I have a medical condition. I am not riding in the back."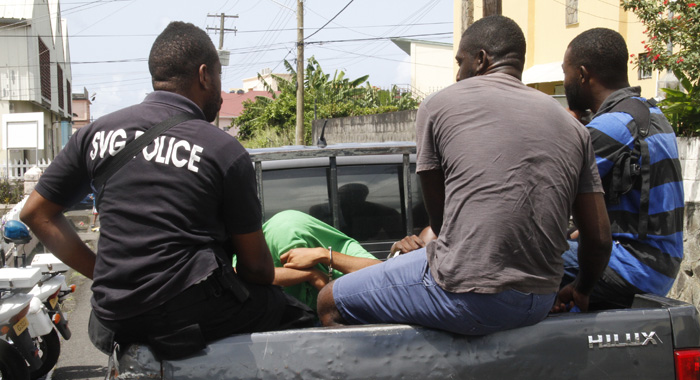 A few seconds later, another police officer, who was standing behind Primus, said, "Come, come, Veron" — an indication for him to sit in the pan of the vehicle.
"Come what! You know my medical condition! I'm not riding in the back, man!" Primus snapped.
The three prisoners, along with a police officer, then sat in the back seat of the twin cab vehicle.
Many persons, including police officers themselves, have questioned the practice of police officers riding and transporting prisoners in the pan of their pickup trucks.
In early July, lawyer Carlos James objected in vain as his client, Police Constable Ettian Charles — who was charged with stealing EC$74,000 in cash from the Postal Corporation in Kingstown — was made to ride in the back of a police pickup while he was being transported from the same court to Her Majesty's Prisons, where he was being remanded.
As part of his objection, James, who is also Deputy Speaker of the House of Assembly, asked who would be responsible for his client were he to fall from the vehicle and be injured.
Meanwhile, insurance coverage for police officers riding in the pan of their pickups was one of the issues that executive members of the Police Welfare Association were discussing in leaked voice notes that have resulted in three of them — including their president, Sergeant Brenton Smith — being brought before the Police Orderly Room on a number of disciplinary charges.
An insurance executive told iWitness News on Saturday that police must grant permission and an insurance provider must agree to cover persons riding in the back of trucks in order for them to be covered in the case of eventualities.