The central committee of the main opposition New Democratic Party (NDP) has ratified its West St. George constituency council's nomination of lawyer Kay Bacchus-Baptiste as their candidate in the next general elections.
The NDP announced on Monday that its central committee unanimously ratified Bacchus-Baptiste's nomination.
"The Party welcomes Mrs. Bacchus-Baptiste as a great representative of the people," the NDP said.
NDP president and Leader of the Opposition, Godwin Friday also welcomed Bacchus-Baptiste's candidacy.
"The people of West St. George have chosen well. Kay is someone they can trust to work hard and deliver for them and the country. I know that she will work endlessly, not just for the people in West St. George but also to ensure that we fulfill our vision of creating a country that works for all. We should never lose sight of the fact that we are one nation, one people, one Vincy!" Friday said, according to an NDP statement.
Commenting on her ratification, Bacchus-Baptiste expressed her delight in being given the opportunity to represent West St. George.
"I have a vision of 'breaking barriers – building the future'. When I think of barriers, I mean unemployment of youths in West St. George, poor roads in the constituency, and most of this because the constituency is plagued with a lazy representative and a government that doesn't care," she said.
"I have hit the ground running, I've been on walkabouts in the constituency, and I've also had a town hall meeting on Thursday, October 5th. My approach is not to sit in my office and fool myself that I know what the people want, but rather to go out and meet them, find out from them the issues in their communities and together we develop solutions."
"Bacchus-Baptiste is a lawyer who spent much of her life doing service for the people of St. Vincent and the Grenadines and it is for this reason that we are going 'All the way with Kay'," the NDP said.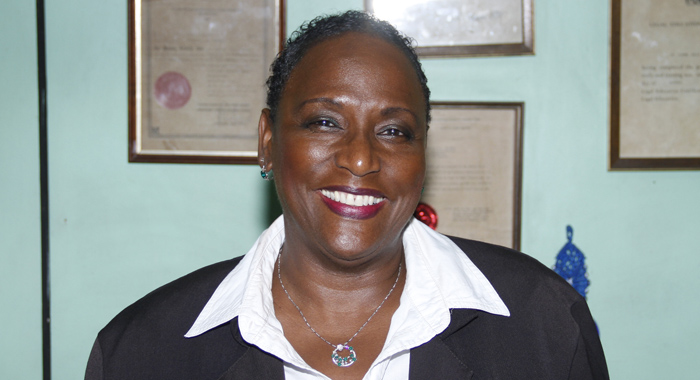 Bacchus-Baptiste will replace Sen. Jules Ferdinand as the NDP's candidate for West St. George.
In the 2015 general elections, Ferdinand, a first-time candidate, failed in his bid to unseat the ruling Unity Labour Party's Cecil "Ces" McKie, who secured a second term in office.
Ferdinand, a lecturer at the University of the West Indies in Trinidad, has announced that because of his class load this year, he will not contest the next elections, which he said he and his party expect to be called ahead of the March 2021 constitutional deadline.
Bacchus-Baptiste is the wife of the NDP's Lauron "Sharer" Baptiste, who was the party's candidate in North Windward in the December 2015 general elections.
According to the official results, Baptiste lost to the ruling Unity Labour Party's Montgomery Daniel. However, the NDP is challenging in court the outcome of the elections in North Windward and Central Leeward.