Estranged founder of the main opposition New Democratic Party (NDP), former prime minister Sir James Mitchell, on Monday, attended an event in Kingstown to mark Taiwan's 106th national day and created a stir when he urged the nation to seek "bankable assurances" when dealing with the China-Taiwan issue.
In August 2016, then president of the NDP and opposition leader Arnhim Eustace announced a change in the party's foreign policy, saying that it would switch recognition from Taiwan to China if it is elected to office.
Godwin Friday, who has succeeded Eustace in both posts, told iWitness News last month that the NDP remains committed to setting up Kingstown-Beijing ties, if elected to office.
Since announcing the new policy, the NDP has not been attending events staged by the Taiwan embassy in Kingstown, but Sir James, who has had a strained relationship with the party –which he left as leader in October 2000 — attended Monday's event.
Also present was Alpian Allen and Herbert Young, who were ministers of foreign affairs in the NDP administration under Mitchell's leadership.
Speaking at the event, Mitchell, who was offered an opportunity to make some comments, said he wanted to make two points.
The first, he said, was to say thanks to the government and people of Taiwan for what they have done for the people of St. Vincent and the Grenadines over the years.
"I know a lot of people are lazy in using that word 'thanks', but when you use it in English, or 'merci' or 'gracias' — and I don't yet know how to do it in Mandarin, thanks is a very important human exercise and I thank the government and people of Taiwan for what they have done for us over the years."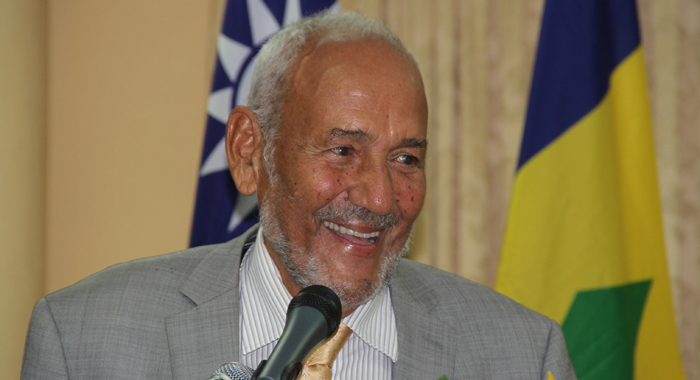 Sir James said that when his NDP came to office in 1984, his government had a choice between staying with Taiwan and moving to China.
He, however, said he had a damascene experience when he hitchhiked in Europe as a young man a bit in love with socialism.
The retired politician said that when he left Yugoslavia, a socialist country, and saw all the poverty there then crossed the border to Italy, "and literally, the two countries with the same geography, I saw poverty on one side and prosperity in the other, I said that is the end of socialism and me."
When the NDP came to office in 1984, Sir John Compton, Sir James' cousin and then prime minister of St. Lucia, convinced Sir James that his government should maintain ties with Taiwan.
Sir James noted that he never visited Taiwan during his first term, although all his ministers went.
"I wasn't going until I was certain I had enough cheese for going there," he said, adding that when the NDP won all the parliamentary seats in 1989 he made the trip to Taiwan.
"And so, we got the Union Island Airport built and lots of roads in West St. George and so on and we consolidated the agriculture programme and different things.
"So our relations deepened," Sir James said, adding that Sir John left government and the St. Lucian government changed.
"And when Sir John was aspiring to get back into government in St. Lucia, I arranged a midnight meeting in St. Vincent [in 2005] when the president whom I had met, Chen Shui-bian, visited St. Vincent.
"And it was as a result of that meeting that Sir John planned to switch. But you know what happened in the process: the ambassador of Taiwan [to SVG] at the time was recalled. You can interpret that as you want."
Sir James noted that he is not authorised to speak for NDP policy, adding that he can only talk for his legacy and my concept of the way forward.
"My concept of the way forward is based on the experience that you, the people of St. Vincent and all the people in this room and others have given me, all that I learnt in banana negotiation etc. and so on.
"I worked very hard to convince people [of] what we are doing and one of the terms that I learnt and I adopted in looking after this country and dealing with others, I always sought what I call bankable assurances; bankable assurances.
"And I would recommend to my party and to all the people of St. Vincent and the Grenadines to keep looking for bankable assurances," Sir James said and thanked Taiwan ambassador to SVG, Bau Shuan Ger and asked him to pass on his greetings to Taiwan.