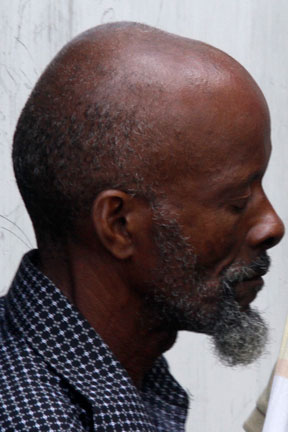 A 54-year-old farmer and businessman of Glen on Friday received a prison sentence for gun and ammunition possession.
Anthony Newbolt had one day earlier pleaded guilty to two charges: that on Oct. 18 — last Thursday — at Glen, he had in his possession one 9mm semiautomatic pistol without a licence; and that one the same day and place, he had in his possession 12 rounds of 9mm ammunition without a licence.
The court heard that a party of police officers from the Rapid Response Unit, Criminal Investigations Department and Special Patrol went to the home of Delano Ballantyne at Glen.
A police officer found the firearm under a pillow on the defendant's bed. The police officer took out the magazine and found 12 rounds of ammunition inside.
When cautioned, Newbolt told the police officers, "Ah mine. Ah man gi' mi but me nah know him."
Newbolt was then arrested and charged.
In mitigation, defence counsel, Grant Connell, told the court that the defendant is the father of 16 children, the youngest of which is 6 years old.
He noted that Newbolt had pleaded guilty at the first opportunity and had admitted his guilt to the police.
Connell told the court that his client was extremely remorseful for his action.
He said Newbolt has been sleeping with the firearm under his pillow ever since unknown assailants shot at him in Glen on Sept. 6, 2016.
Newbolt was an occupant of a car driven by Sorono McKie when he was killed in a drive-by shooting in Glen on Sept. 6.
Newbolt sustained a gunshot injury to the right leg.
Connell said this was Newbolt's reason for acquiring a firearm.
"He is a farmer, a businessman. He raises pigs — 16 to be precise," Connell told the court, adding that his client is not in a position, "given his position, appearance and everything else", to acquire a firearm licence.
He further said that his client is not one "to give the police cause to recite the Beatitudes".
He was echoing comments by Prime Minister Ralph Gonsalves, who said last week Tuesday that police are not obliged to recite the Beatitudes and should use reasonable force if they apprehend harm when they come upon gunmen.
"He throws himself before the court and begs mercy," Connell said.
He said that not because Newbolt is a poor man means that his life is worth nothing.
The lawyer said that since the attack, nothing has been done to give the defendant an inkling of who his assailants were.
Connell said his client has walked the straight and narrow for 54 years, adding that it would have a corrosive effect if the defendant is sent to prison.
"He is a nation builder — 16 children," Connell said to some restrained giggling among observers in the court.
He asked the court to entertain the possibility of a fine but noted that his client is not a man of great means, and asked that a suspended sentence be considered.
In pre-empting the prosecution, Connell said that he knows that they would say that a strong message must be sent.
He asked who is that message is being sent to.
In response, Senior Prosecutor, Adolphus Delplesche told the court that a strong message must be sent, but noted that the court has no control over its receipt.
The senior prosecutor said that like in the Bible, in some instances, the message might fall on stony grounds.
"But the message is being sent that we need to take a hard line on firearm offences. Let it be sent," Delplesche said.
He said that notwithstanding the man's age and early guilty plea, "I cannot see him escaping a custodial sentence."
Chief Magistrate Rechanne Browne-Matthias said she needed some time to consider what sentence to impose on the man, and sent the sentencing phase for the following day — Friday.
During the sentencing on Friday, the chief magistrate said it was unfortunate that Newbolt has been the victim of a gun-related offence and now finds himself accused of firearm and ammunition possession.
She said it is important that the state does all that is necessary for the victims of crime, adding that she trust that the matter is being properly investigated.
The chief magistrate, however, said she could not ignore the fact that Newbolt was in possession of a firearm and 12 rounds of ammunition without a licence.
Browne-Matthias said that Newbolt has been a victim in the past and that she does not wish a re-occurrence.
She, however, said that she takes a hard line against gun offences, even as she takes each case on its merit.
She sentenced Newbolt to four years in prison for the firearm and 12 months for the ammunition.
The sentences will run concurrently.