That is the question that Jemalie John, the moderator at last Thursday's National Youth Dialogue organised by the main opposition New Democratic Party (NDP) put to the party's leader, Godwin Friday at the event.
The forum saw students, young professionals, youth organisations and youth leaders throughout St. Vincent and the Grenadines sharing ideas and challenging Friday on national issues.
The NDP organised the forum, saying that
Vincentian youth must be involved in decisions that will affect their lives and that they must be given a chance to voice their views, identify the challenges, entitlements and current issues that affect them and their hope for the future.
John, a lawyer, moderated the forum.
"Is the country broke? I think that is the pressing question that's on my mind," John told Friday, adding that he wants to know what is the true state of the economic situation in SVG, but does not have access to the data.
"I don't know where we are in terms of our resources, but I really want to know where we are in terms of money in the country."
John said the reason he asked the question was because he listened to Friday's response to the various questions put to him at the forum and all the recommendations require money.
If Friday wins the elections and become prime minister, he would inherit "a country that is broke", John told the opposition leader, who was sitting next to him at the head table.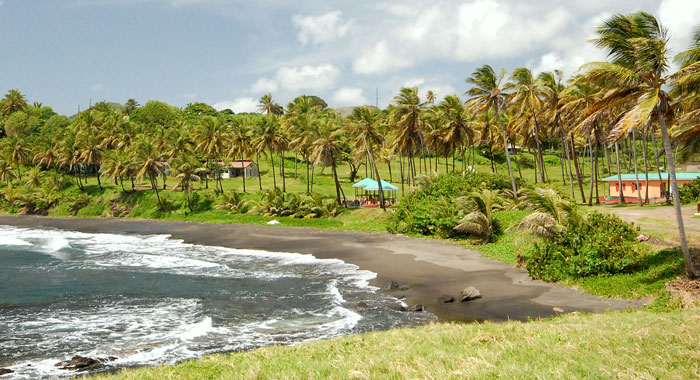 Crime, violence, tourism  
"I think it's (the country) broke; I don't know if it is. But, if you inherit a country that's broke, you don't have the money, you don't have the resources to do these things that you say would work, how then would you move forward if you don't have the resources to put these things into play?"
John said that a question was asked about crime and violence.
"A simple common sense fix to some of these things that we have going on in the country right now is it increase police presence."
John said that when he studied in Barbados and Jamaica, when he was on Mona campus he would see police officers just driving around the campus to ensure that the students felt safe and in the event that something happened and they are called, the police are perhaps two minutes away.
In Barbados, when a police officer is in your neighbourhood, you get "quick justice".
"Compare that to St. Vincent, you call a police station, say, Biabou they going tell you call back tomorrow. We doh have any transportation.' Somebody is going to tell you the police station is closed," John said.
"I mean when people call in on radio programmes and say police station close and the clinic close, I have to assume that these people are telling lies. How can a police station or a clinic be closed? When, as an attorney, I go to court and we are waiting on a prisoner and are being told there is transportation at the station but we don't have gas."
John said last year, Court of Appeal judges were waiting on prisoners to be transported.
"And I am thinking to myself, how we could be in a place like this. You're thinking about the hospital, you are hearing things about we don't have sheets and basic plaster. When I hear these things, I have to assume that these things can't be true.
"You build an international airport, you focus on tourism, but when I look at our sites — which I think are better than you would find in other countries — you look at the road condition to go to places like Montreal Gardens, it is disastrous…
"If we are serious about tourism, like some say they are with all this airport talk and all this tourism talk, you can't have your tourism destination, your sites in a dilapidated condition," John said.
"And I think the reason why our hospital is the way it is, our police is the way it is, all of these things, is because we are broke. And if we need anything, I feel as if we have to go and beg somebody to give it to us.
"So, are you going to take over from Dr. Gonsalves to become a professional beggar or are you going to be limited because you just don't have the resources to do anything. So, I want to know, is the country broke?" John asked the opposition leader.
Squeaky wheel gets grease
Friday said that the examples John had cited are serious, where basic items are unavailable in the hospital and schools are in dilapidated conditions.
The opposition leader spoke about the conditions of the nation's roads and suggested a visit to Lowmans Windward and Lauders and elsewhere in the Mesopotamia Valley.
"I complain about Bequia but sometimes when I see these. I feel like I am being a little unreasonable because they are so bad — and mine are terrible.
"So, the answer is in all these things you see, that the government has no money at its disposal to fix them."
He mentioned the saying that the squeaky wheel gets the most grease and said that is essentially what happens.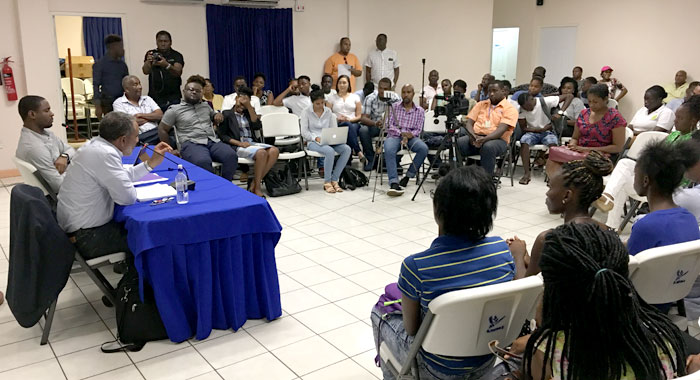 Friday noted that the government always presents a deficit budget, and uses capital receipts to make up the balance.
"So when you have all these projections that you are going to fix the roads, you are going to give so much money to the Tourism Authority, so much money you are going to give to BRAGSA so that it can do its work, and it comes down to actually transferring the money to those institutions, the government doesn't have it. So what it does, it budgets 13 million [dollars] and transfers four or five…
"The circumstances, what you see around you, answer the question. Of course, the government doesn't have any money…"
He said it cannot be like a bird that flies away and comes back with a fish and looks to see how big it is.
"We have to generate the income here in St. Vincent," he said, noting that not a single hand of banana is being exported to England anymore.
"What is substituting for that? Where is that money gone? Think about it? We have potential in the fishing industry, but we are not using it," he said, adding that Grenada has a fleet of trawlers catching tuna.
Meanwhile, Vincentians fishermen go out for a few hours a day and return with a hundred pounds of fish in their speedboat and can't sell half of it, Friday said.
"We need to give them the assistance so that they now can become true businessmen, not just somebody who is practising a sort of subsistence living from their fishing boat."
Friday said that if these things are done, they will generate the revenue that would be able to pay taxes and give government some space to do the things it needs to do.
"But, at the same time, we need to prioritise. There are certain things that you simply can't leave until you get the money."
He mentioned health care, adding that persons want to know that if they take their children to the hospital they would receive the necessary medical attention and not fear that in taking them there things will get worse.
He also mentioned education, saying, "There are certain things we have to do.
"… Yes, the country is broke, but that is not a reason, it doesn't scare me. Let's put it that way. I believe we can do a lot better. There are some people who would tell you that, 'Things are bad but if it wasn't for me it would be worse.' If things are bad, they're bad. And I am telling you that the challenges that are there, they are not going to get any less and if we believe that you, as young people, that you have a contribution to make, this is the time to do it.
"I understand the fear of victimisation, it happens to all of us, it happens to me too and we will provide as much protection as we can and I give you the commitment that when things change that that would not happen," Friday said.