Prime Minister Ralph Gonsalves has heaped scorn on the opposition New Democratic Party's (NDP) National Youth Dialogue.
At the Nov. 2 forum in Kingstown, hosted by Leader of the Opposition and NDP President Godwin Friday, young persons voiced their opinions on national issues and suggested ways of addressing them.
In a call to Star FM, his party's radio station on Friday, the prime minister fretted over the media coverage the opposition event received even as a speech on "a boring but very important subject" he delivered to Community College students in October did not attract much media attention.
"I notice Kenton is trying his best to give that youth meeting some legs; that for every question, which is posed, or every comment, which is made, he made a separate article. I've never seen journalism like that in all my life," the prime minister said, fretting over iWitness News' coverage of the event.
"All I could say, is that Kenton likes the idea of the young people meeting a leader and commenting on it, and that's what drives that, though, of course, a few weeks earlier, I had hundreds of young people at the Community College listening to a boring but very important subject about opportunities.
"I don't see no report, you know, and people coulda come and listen."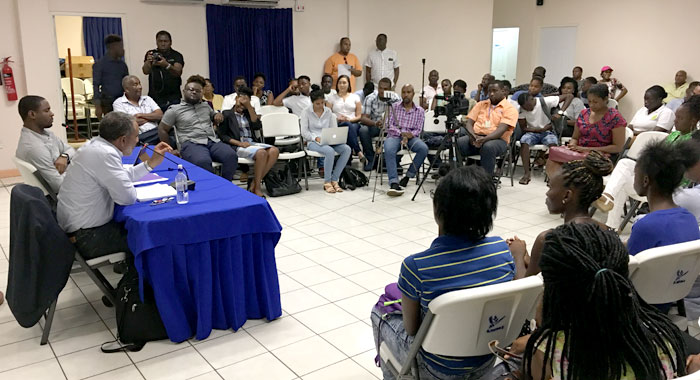 None of the independent media outlets covered the prime minister speech, which was pitched as an address about financing higher education.
The state-owned Agency for Public Information did not issue a release about the content of the prime minister's address, although they reported on it in their television programme.
Gonsalves said he made his observation about coverage of the NDP's event but did not do so to create any controversy.
"But the central point is that it was a bore. It was a national youth bore. It was like dead sheep," said the 71-year-old leader who has been at home for a week nursing injuries he sustained when he was tossed about inside his official vehicle as it tried to avoid a collision.
"The thing had no life to it. If you don't have any policy, any ideas, any messages other than some very low-level generalities, rather than bringing people to you, you going chase people. And you can't contrive this thing," Gonsalves said.
"You [are] going talk to young people when all you do you beat up on the Community College and their qualifications, the Youth Empowerment Service you call it the 'youth exploitation service'? What is happening to programme like the SET? Is nearly three million dollars we have given out in grants to young people in relation to start-ups and operation of IT-based businesses programme," Gonsalves said in relation to a World Bank programme being implemented across the region.