The Unity Labour Party is said to be a "family", with Prime Minister Ralph Gonsalves as the head.
And while he would defend his ULP family over his biological relatives who do not support him, Gonsalves said Monday that he would not get involved in whatever controversy is brewing between two prominent members of the ULP household.
Frank Da Silva, who came to the ULP after falling out of favour with the main opposition New Democratic Party, has been using the ULP's radio station, Star FM, to launch scathing attacks on Speaker of the House of Assembly, Jomo Thomas.
Thomas, who is also ULP caretaker for South Leeward, a constituency in which he ran and lost in 2015, has been a long-time, though critical supporter of the ULP.
But with Da Silva's commentaries on Thomas, including calls for him to resign as speaker, some political observers have wondered if Da Silva is being used as the ULP's battering ram against Thomas in a bid to drive him from the household.
Some sources say that the ULP, convinced that it would be returned to office in 2015, did whatever it could to ensure that Thomas did not win.
A Thomas victory, the theory contends, could have upset the plan of some members of the ULP regarding the direction in which they would want power to be transferred when Gonsalves demits office as party leader, sometime ahead of the next general elections, constitutionally due in March 2021.
Asked on Monday about the public row involving Da Silva and Thomas, Gonsalves said:
"Not everybody would have the same view on these things and I am not going to take the invitation of getting involved in whatever controversy has brewed or is brewing between Frank and Jomo."
The prime minister said that to use the analogy of family, "in the family of Labour, I look at both of those comrades with respect and it is part of my responsibility as the father of the family called Labour — to a carry the metaphor — to make sure that I don't say or do anything to contribute to any family fissures."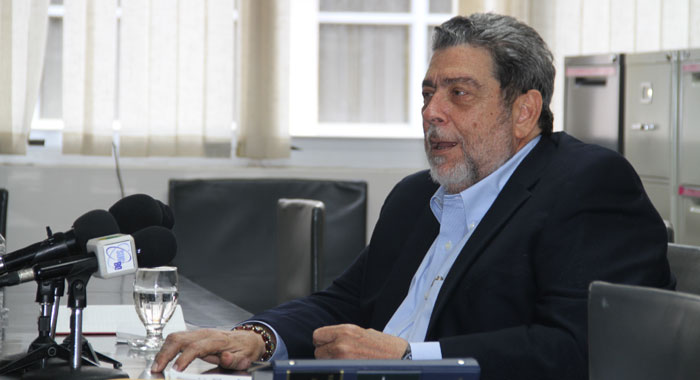 It was noted that the prime minister has also said that the ULP is not a family that washes its dirty linen in public. It was further pointed out that the party's radio station is a very public forum from which to hurl salvos at one of its prominent members.
Thomas has used his newspaper column to criticise some of Frank's positions that are contrary to ULP doctrines, most recently noting Da Silva's denial of a link between climate change and extreme weather events.
"There is linen and there is linen," Gonsalves said, however.
Asked if he would accept Da Silva speaking in those same terms about Minister of Agriculture Saboto Caesar or Camillo Gonsalves — one of whom many believe will become the next leader of the ULP — or any member of his Cabinet, the prime minister said:
"To tell you the truth, one of the things I learn about these matters is not to answer things which are hypothetical.
"You asked me about Jomo's handling of the House [of Assembly], I give you my view. Frank may well have a different view. But he and I don't have to have the identical view on every subject and as I told you that the two of them are two comrades whom I value."
Gonsalves said that from his vantage point, "I don't know if it is a huge public issue and I wouldn't want to give it legs."