Azanie Lavia – Miss GECCU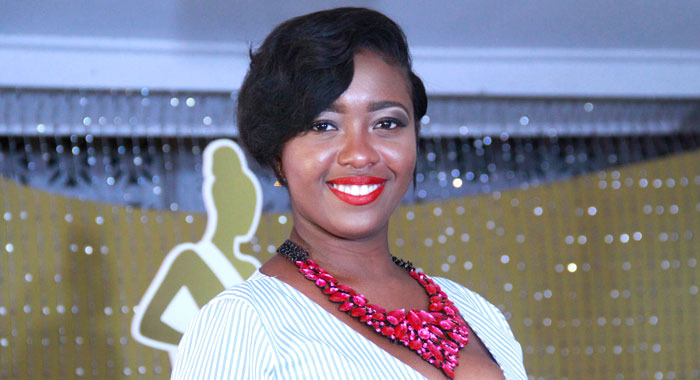 Azanie Tiwana Lavia was born on Aug. 23, 1996 and grew up with her family in Owia. As her father worked as a sailor, her mother played an amazing role as mother, father and best friend when needed. Having attended the Sandy Bay Government School, Azanie entered the Girls' High School and was successful, with nine CSEC passes. She went on to pursue CAPE qualifications in literature, sociology and law at the St. Vincent and the Grenadines Community College: Division of Arts, Sciences and General Studies.
In spite of her academic pursuits, Azanie discovered an interest in sales, and became keen on developing a career in marketing. She began pursuing studies at the University of the West Indies Open Campus in management studies, majoring in marketing, but has put a hold on this goal due to financial constraints. She hopes to open an advertising agency which would serve all business places in St. Vincent and the Grenadines.
During Azanie's teenage years, her mother succumbed to cancer. This forced her to assume the role of primary caregiver to her younger sister at home, a task that she juggled with her final year CAPE preparations. Her mother's passing helped to shape her into being the independent, resilient adult that she has become. The bond shared with her sister is unbreakable and she is now the main priority in her life. She aspires to be a positive role model for her sister and others.
Azanie hopes that this platform will aid her in bringing awareness to the mental weakness cancer causes to sufferers and their families alike. She hopes to be able to facilitate support groups so others can know they are not alone in this struggle.
Cameisha Foster — Miss Vincentian Chocolate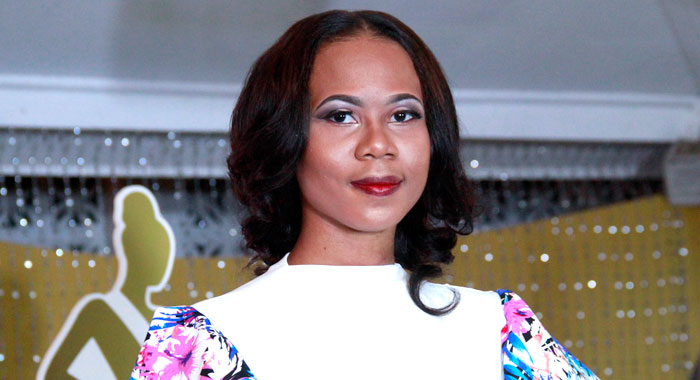 Cameisha Nikita Foster resides in the community of Green Hill and was born on Jan. 4, 1996. During her early years, she developed an inexplicable love for nature and animals, and would usually explore the outdoors, admiring various animals and how they interact with their surroundings. She enjoys being in the presence of animals and aspires to pursue a career in veterinary medicine.
As a child, Cameisha was a victim of bullying, which negatively affected her academic and social life. However, as she grew older, Cameisha refused to remain a slave to her circumstances. Following some introspection, she made a conscious decision to change her outlook on life. Consequently, she became stronger, confident and transformed into an amiable, energetic optimist, brimming with positivity. Cameisha now thrives on learning and experiencing new things. She loves to smile and bring joy to others through volunteering and lending a helping hand. She also has a passion for drawing and water painting, a love for music and beading.
Cameisha's personal experiences have positively shaped the development of her values and have contributed to the hard-working individual she has evolved into today. "To be yourself in a world that is trying to make you something else is a great accomplishment"- Ralph Waldo Emerson. This has special meaning to Cameisha as she believes that with the necessary support systems and confidence in one's abilities, there is no limit to what one can achieve, and will be using this platform to empower young persons through her participation in Miss SVG 2018.
Criscione Morgan — Miss Mustique Co. Ltd.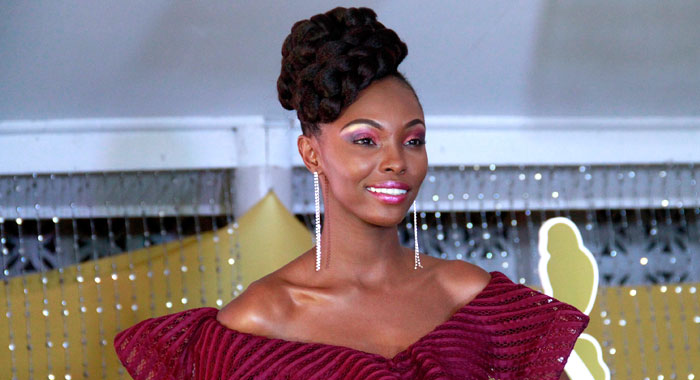 Criscione Cathy-Ann Morgan was born on April 26, 1995, and grew up in Old Montrose. She has an appreciation for and enjoys music, travelling, experiencing different cultures and fine dining.
In 2011, she graduated from the St. Joseph's Convent Kingstown and went on to pursue an Applied Associate Degree in culinary arts at the Division of Technical and Vocational Education of the St Vincent and the Grenadines Community College. In keeping with her passion for the hospitality industry, Criscione aspires to be a hotel manager and/or restaurant owner. Being no stranger to serving others, she also intends to contribute to national development through the implementation of a free school feeding programme throughout primary schools in SVG, providing delicious, nutritious meals.
Criscione credits her leadership skills to her experiences in the home as a big sister, in school as a class prefect, and as a manager to over 30 employees. She plans to empower others through education and knowledge and by being an exemplary leader.
After graduating from the SVGCC, Criscione went on to be a line cook at the Pink Sands Club in Canouan, a rewarding experience which contributed to her professional development. In 2014, she moved to Antigua where she was first employed as a pastry chef and is currently a restaurant manager.
At age 19, Criscione lost her father to congestive heart disease. His passing motivated her to seek ways to effect change in our health system, our educational system, the way we as a nation treat our health and our bodies. Criscione regards her father as the most selfless person she knew. He, too, was a chef as a youth but followed his dreams and became an entrepreneur who successfully put his only child through primary, secondary and tertiary level education. Citing both parents as her role models, Criscione regards her mother as a wise, hard-working woman of class on whom she can always rely for the truth. She is proud to have been raised by two incredible human beings and intends to do her best in this pageant to make them proud.
Morrissia Williams — Miss Massy Stores SVG Ltd.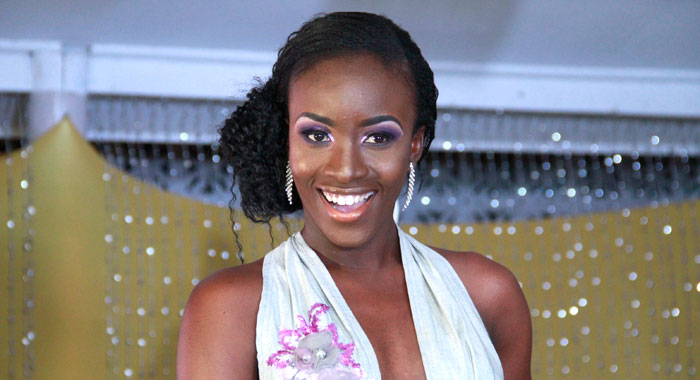 Morrissia Maddarlyn Williams was born on Oct. 11, 1998 and is the second of three siblings. Her aunt Jean Williams provided a solid foundation and source of support as her primary caregiver and worked tirelessly to mould her into the person she has become today. Morrissia has also been encouraged to put God first in everything and let Him be her centrepiece.
Morrissia resides in the rural town of Chateaubelair. Her education began at the Chateaubelair Methodist School following which she was enrolled at the Petit Bordel Secondary School (PBSS). She is currently enrolled at the St. Vincent and the Grenadines Community College: Division of Technical and Vocational Education where she is pursuing an Applied Associate Degree in office administration. These institutions helped to develop her character, boost her confidence and taught her independence.
Morrissia is a lover of pageantry and took part in the Miss PBSS Heritage where she was crowned. She was an active member of her school's Girl Guides Company and Drama Club. There, she discovered and developed her talents in the performing arts — music, modelling, dancing and acting. This sparked her interested in pursuing studies in visual and performing arts. Morrissia is very enthusiastic and carries that enthusiasm in all that she does.
To Morrissia, participating in the Miss SVG pageant is the fulfilment of a life-long dream and an opportunity to be an ambassador for her community and country. She intends to use this opportunity to empower others to find the strength to uncover and develop their unique talents and use them in positive ways beneficial to others.
Nazira Graham — Miss Metrocint General Insurance Co. Ltd.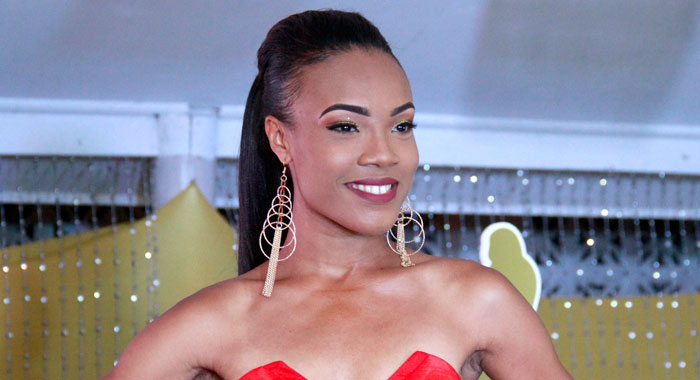 Nazira Terricia Bellita Graham of Edinboro was born on May 20, 1997. Her formal education started at the St Mary's Roman Catholic School and continued at the St Joseph's Convent Kingstown. After graduating in 2014, she pursued an Associate Degree in business studies at the St. Vincent and the Grenadines Community College: Division of Arts, Science and General Studies. Her interests lie in acting, singing, modelling and dancing, having participated actively in such extracurricular activities as a child.
Currently employed at the Audit Department, with goals of becoming a certified accountant, Nazira is currently pursuing part-time studies toward achieving the Association of Certified Chartered Accountants (ACCA) qualification. Furthermore, she believes in accountability as an individual, and is guided by the fact that one day we will all have to account for our actions in life. Nazira intends to use this opportunity to motivate females who may be interested in pursuing careers in business to pursue their goals relentlessly and work towards closing the corporate gender gap.
Nazira is the eldest of four children raised solely by her mother — their role model. She commends her mother's continuing efforts and support which have been a source of encouragement for her and her siblings, as she continues to shape their minds and actions.
Nazira's faith in God has taken her through life and has taught her that it is never too late to make a change in life. She believes that as an individual, who you are is God's gift to you, but who you become, is your gift to God. For Nazira, this pageant is about the fulfilment of a life-long dream and being disciplined enough to achieve it. She is determined to make the best of this opportunity and continue to work towards achieving her personal development and career goals regardless of the outcome of Miss SVG 2018.
Solange Fernandez — Miss FLOW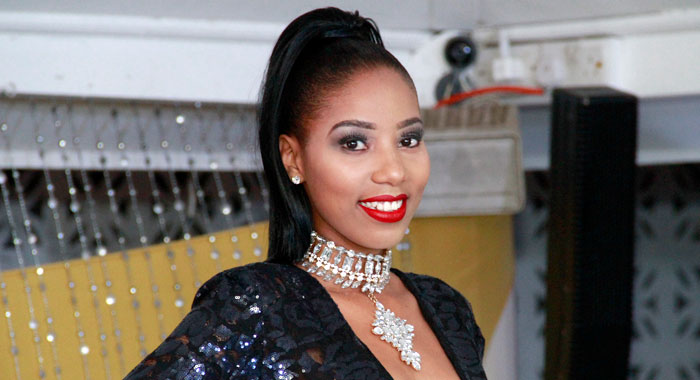 Born on Dec. 17, 1996, Solange Fernandez is an enthusiastic, self-driven and creative young lady residing in the village of Adelphi. She is currently employed as a customer contact agent at the Argyle International Airport and she is the owner and operator of Solange Couture Designs, a clothing brand featuring custom design apparel.
After graduating from the Girls' High School in 2013, she furthered her education at the St. Vincent and the Grenadines Community College: Division of Technical and Vocational Education where she successfully completed an Applied Associate Degree in hospitality studies.
Solange is no stranger to the world of pageantry, having secured the 3rd runner-up spot in the 2012 Miss Unity Youths Pageant and obtaining the Peoples' Choice award. She also entered the Miss P'tani Pageant in 2014 where she was crowned acquiring three of the four judged categories and later that year, she represented the Marriaqua constituency at the Miss Rural SVG pageant where she placed 1st runner-up and was adjudged Best in Interview.
Her chief goal is to study fashion design and pattern making because she has a strong passion for this field and she wants to market St. Vincent and the Grenadines internationally by becoming an ambassador showcasing creativity through the fashion industry, being an inspiration to young persons, as well as empowering Vincentians through entrepreneurship.
Shellisa Nanton — Miss Lotto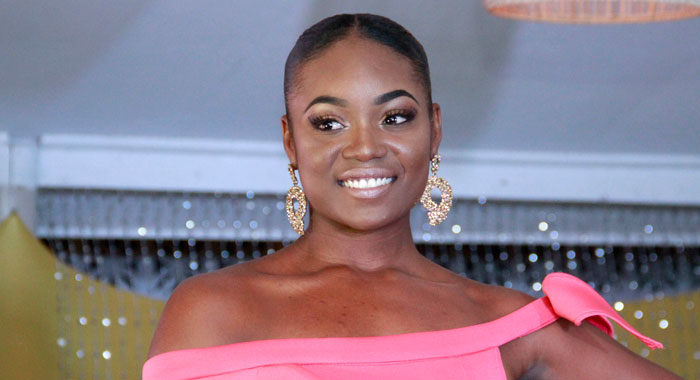 Shellisa Nanton of Overland was born on Oct. 16, 1994, and is the youngest of three siblings. She describes herself as a creative, amiable and optimistic individual.
Her education began in her birth village at the Sunshine Pre-School, the Tourama Primary School and then the Thomas Saunders Secondary School. At the secondary level, she participated in various sports and was selected for training with the Under-16 National Volleyball and Netball Teams. Having had an interest in nursing because of her upbringing, she then enrolled at the Division of Nursing Education of the St Vincent and the Grenadines Community College where she completed the nursing assistant programme. Shellisa intends to pursue further studies in this profession once afforded the opportunity. At present, she is employed at the Argyle International Airport as a customer service representative.
She has a deep love for pageantry, which has taught her to accept herself for who she is. She sees the Miss SVG Pageant as a platform for advocating for youth who may have self-doubts and are too timid to pursue their dreams. She believes that by sharing her story along this journey she can inspire them to be brave and persistent in the pursuit of their goals. Shellisa is guided by the mantra that one should always use all of life's challenges to fuel one's drive for success.