The official opening of the Cumberland Bridge Reconstruction and River Embankment Protection Project was held on Tuesday during a ceremony attended by Prime Minister Ralph Gonsalves; Minister of Transport and Works, Julian Francis; General Director of Cooperation in the Caribbean and Central America of Mexico, Minister Julian Juarez, and the Ambassador of Mexico to the East Caribbean States, Oscar Esparza Vargas, as well as members of the diplomatic corps, other government officials and local residents.
The project was financed by Mexico through the Infrastructure Fund for Mesoamerican and Caribbean Countries, with a grant of EC$13.5 million.
The project included various components related to the Cumberland River and the communities surrounding it, including protection of the embankment, three small bridges, road repair and the main bridge that crosses the Cumberland River.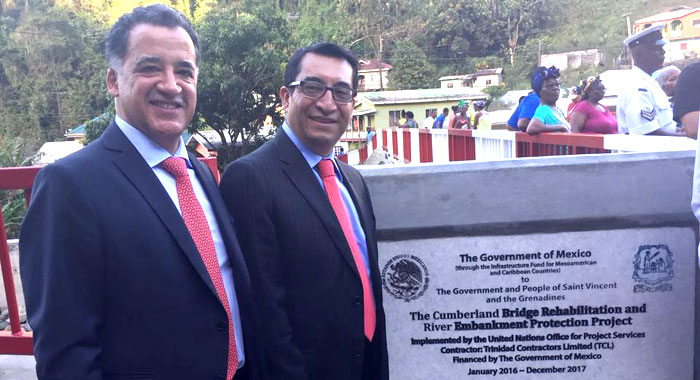 Vargas thanked Gonsalves for renaming the said main component of the project "Saint Vincent and the Grenadines-Mexico Friendship Bridge", noting that the gesture will serve as a testimony of the good relations and close ties between the two countries.
In his speech, Juarez said, "Mexico is part of the Greater Caribbean and, as such, is committed to contribution in the development of Saint Vincent and the Grenadines, as well as of its other Caribbean neighbours." He also emphasised that the Caribbean region should take advantages of the synergies between countries and "face common challenges together, as allies".
Ahead of Tuesday's opening ceremony, Juarez and Esparza held a meeting with Gonsalves to discuss, amongst other things, the regional and bilateral cooperation projects currently offered by Mexico, aimed at strengthening the integration, resilience and sustainability of the Caribbean.
Some of these include technical and scientific cooperation regarding disaster risk management, agriculture, the financial sector, and education, amongst other areas.