A senior agriculture official and an opposition politician have decried the decline in the sector in the Mesopotamia Valley, one of the nation's two major agricultural districts.
The comments by Chief Agricultural Officer, Ashley Cain and opposition New Democratic Party (NDP) caretaker for Marriaqua, Curtis Bowman, came on Tuesday at the launch of St. Vincent and the Grenadines Agri-Business Co-operative Ltd. (SVG ABC) in Yambou.
"We are here in the lush Marriaqua Valley. As I look across, I see … grass, no cattle, you see trees on the back there and so on that used to have whether it is bananas or otherwise. And I get a bit nostalgic that we can do many things and we can begin to lift again our country to the place where it once was and where we desire it to be," Cain said.
The co-operative is the brainchild of businessman Leon "Bigger Biggs" Samuel and the launch took place at the Bigger Biggs Block Plant in Yambou, which was closed almost a decade ago after the government revoked its mining licence.
Cain expressed the hope that Samuel — who has since ventured in the restaurant business before initiating the cooperative — would be an example and mentor for the youth of SVG.
Cain noted that Captain Bligh brought the first breadfruit plant to SVG — on Jan. 23, 1793.
"… It had to be when Bligh blessed his eyes on St. Vincent, he recognised that he had come across a particular place, which has excellent potential for many things, starting with agriculture."
Cain expressed hope also that the public would support the co-operative, which states that one of its aims is to reduce the cost of agricultural produce.
"Today I am wishing you, Bigger, and those who have come, prosperity forward going and excellence in the enterprises that would be driven and led by you in our country here in St. Vincent and the Grenadines," he said.
"Bigger, you have had your own setbacks, I am sure you have had them; things that you planned or hope to have achieved you may not have done them fully, but I have never seen you roll back or back away from the challenges. And I wish that many more of us would embrace that spirit."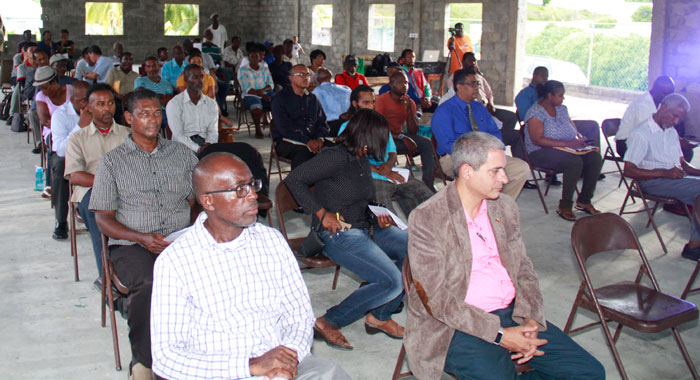 'farmers are crying'
Speaking on behalf of Opposition Leader Godwin Friday at the event, Bowman said that Marriaqua is a district "where agriculture has for many years been the mainstay of the economy.
"In my research over the past years, I found out that on bananas alone, Marriaqua used to produce over 33 per cent of all the bananas produced in St. Vincent and the Grenadines.
"But I always quote Pastor Hector when he said previously that Marriaqua used to be the constituency of green gold, which is banana, but now we are known as the constituency of green grass," said Bowman, who has failed on two consecutive occasions to become parliamentary representative for Marriaqua.
"My brothers and sisters, as I move around in Marriaqua constituency, especially, the farmers are crying out every day; every day, the farmers are crying. They can't send their children to school, they can't pay their bills but, friend, again, I want to say on behalf of myself, on behalf of the leadership of the party that is waiting to take government in St. Vincent and the Grenadines, I want to salute Mr. Bigger Biggs Samuel and his entire team for such an initiative."
Bowman, on behalf of the NDP and its leader, congratulated Samuel and his team for the initiative, saying that agri-business and the private sector at large have a key role to play in the development of agriculture in St. Vincent and the Grenadines.
"Agri-business is the force behind integrating smallholders and small agro-entrepreneurs in our economy. Agribusiness creates employment, brings technology and financing capacities to increase agricultural production in a sustainable manner," he said.
Bowman said that in this context, he wanted to mention two important issues: the need for farmers to organise themselves and the need for increased investment in agriculture.
"Such organisations are being strengthened in their economic role as service providers and lobbyists for the rights of framers and producers," he said, adding that the nation may, therefore, expect that farmers can and should increasingly speak and be heard through these organisations…
"The philosophy behind our support for this organisation is clear. From our party's point of view, whatever you are producing, it is vital to be organised. Being organised in whatever type of structure, be it farmers' organisations, co-operatives, fishermen and so on allows producers to be competitive in the market, and, therefore, to generate more income.
"As a result, organised farmers stand a better chance of interacting successfully with other value chain actors, including suppliers, traders, processors and other agri-businesses. They are also in a better position to facilitate the necessary investment by other private sector organisations," Bowman said.
Bowman said this is particularly important in countries such as SVG where family holdings remain a key feature of the agricultural sector.
"With all my heart, I believe that the SVG ABC initiative is necessary and partnership is an essential element for achieving the sustainable development goals. I am convinced that in both supporting this agri-co-operative as well as farmers' organisations, we will make a major contribution in bringing back agriculture to what it was in St. Vincent and the Grenadines."