The manager of NICE Radio, Douglas De Freitas, on Wednesday, apologised to Prime Minister Ralph Gonsalves for comments a caller to the station made on April 3.
"Dr. Gonsalves, I want to apologise to you. I haven't even spoken to my lawyers on the matter, but I feel that it is my responsibility to come this morning because I heard last night when somebody woke me out of my sick bed to tell me this matter," De Freitas said less than 24 hours after the prime minister threatened to sue.
"I apologise to you, sir, and I would be writing you an apology and hope that you accept it," he said.
Gonsalves, speaking Tuesday night on Star Radio, which is owned by his Unity Labour Party, said he had sent the recording and a transcript to his lawyers.
A caller from North America reportedly made during "New Times", the daily mid-morning programme of the main opposition New Democratic Party the comments that the prime minister complained about.
De Freitas, who is a cousin of the prime minister, said he was "very disturbed" and "very upset" about the development, noting that it occurred when he was overseas for medical attention.
Speaking on his daily weekday commentary around 6:30 a.m. Wednesday on NICE Radio, De Freitas said that the caller had spoken about a matter that had surfaced on social media.
"It was never aired on this radio station. Dr. Gonsalves said he going to seek an investigation with the State Department in America and all kinds of things," De Freitas said of the allegation.
"I have always told persons who sit as hosts on radio programme here when someone calls and say things and you do not have the proof in your hand to verify what the person is saying as truth, you cannot allow that person to continue even with a conversation."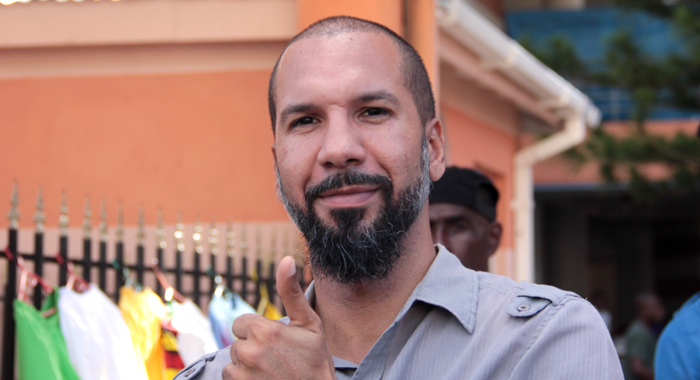 The host on the day of the call was Colin Graham, who has a long career in radio, mainly on entertainment-focused stations.
However, over the past few months, Graham has been appearing on some days as a host of New Times, as he has become more of an activist.
De Freitas said: "What Colin Graham should have done is to say I do not have the proof of which you are going to speak to, I have to take you out from this conversation.
"Failing to do that, Dr. Gonsalves now — I was on my sick bed last night, I got a call [that] Dr. Gonsalves said he is going to sue NICE Radio again. I cannot put up with this thing forever."
NICE Radio has repeatedly been sued by Gonsalves and has paid out some EC$200,000 in damages to the prime minister.
"Just recently I finished pay $150,000 to Dr. Gonsalves. I paid 200 and something thousand dollars some time ago with people's contribution and some of my own," De Freitas said.
"This thing is becoming a problem for us at NICE Radio and sometime ago, I threatened to take all talk programmes off the air, because it seems like we are not getting anywhere," De Freitas said.
"Some time ago, I had to apologise to Dr. Gonsalves on a matter of LIAT… I had to apologise to him several times in other matters, which he accepted.
"Recently, I asked him to forgive $60,000 of the balance of a judgement, which he did and it came down to $10,000 to pay the lawyer."
De Freitas expressed frustration with the attitude of some members of the Vincentian diaspora who apparently ignore the difference in defamation laws in North America and St. Vincent and the Grenadines.
"We have a lot of ignorant people who sit in the diaspora, believe they can pick up the phone and call St. Vincent and the Grenadines and say things because they are not living here and they speak as if they have authority.
"And it is important that talk show hosts recognise that you can't allow these things to happen because it jeopardises the very voice that you have, the only voice that you have"
De Freitas said although he does not support Gonsalves politically, "my intention is not to allow lies or things that you cannot prove to be spoken on the radio.
"And the problem is that some of these people living in the diaspora feel that they can say anything about anybody because they don't live here and we can't allow that to happen…
"So, I want to publicly apologise for what took place. I wasn't even on St. Vincent. Like I said, I was on a sick bed and here it is again I have to put up with all this stress with respect to all these legal issues I have to deal with and it is destroying the company.
"And for those of you out there who say you love NICE Radio and you think that you could do these things and get away with it, you are destroying the company and destroying my life and my family's life," De Freitas said.
"… And for all those ignorant people out there who believe that you can say and do what you like, you would have to desist or I will have to instruct any talk show host that when they hear you all voices, not to accept you all calls."