Trial in the historic cybercrime case in which one sister is accused of defaming another on social media has been adjourned again.
When the matter was called at the Kingstown Magistrate's Court on Tuesday, prosecutor Police Constable Corlene Samuel told the court that the Crown was not ready to proceed.
She said that prosecutors have recently received the file, have perused it, but are just not ready to proceed.
Samuel asked for a short adjournment, until the middle of May.
Defence Counsel, Kay Bacchus-Baptiste, did not object to the adjournment, saying that the time could help the Crown to "see the light", a subtlety that suggests that the charge be dropped.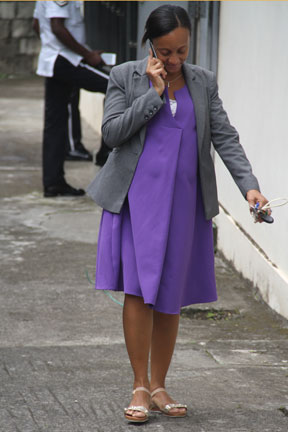 She added that she also needed time to interview other witnesses.
Senior Magistrate Rickie Burnett, after hearing the suggestion that the trial take place in the middle of May, noted that the complainant, Crystal Pierre, is at an advanced stage of pregnancy.
After some discussion between the prosecution and defence, it was decided that the trial should take place on Aug. 28, 2018.
History was created in St. Vincent and the Grenadines on Feb. 12, when Catisha Pierre-Jack became the first person in St. Vincent and the Grenadines to be charged under the controversial cybercrime act, two years after it was passed.
She pleaded guilty to four counts of libel by electronic communication, telling the court that she had made the post that her sister complained about, but that the contents of the post were factual.
The accused, however, changed her plea to not guilty when she reappeared in court for sentencing, by which time she had retained Bacchus-Baptiste as her lawyer.
Also, at what was supposed to be the sentencing hearing, Pierre-Jack's lawyer told the court that her client had pleaded guilty because the investigating officer, Corporal May, had pressured her to do so.
The magistrate said that he found the allegation disturbing and said that he would order an investigation.