Two alleged cases of human trafficking in St. Vincent and the Grenadines (SVG) are still under investigation, Prime Minister Ralph Gonsalves told Parliament on Thursday.
He described as "so highly overblown to the point of inaccuracy", an April 30 BBC report about an Interpol-coordinated raid in SVG in which three persons of Chinese descent were taken into custody then later released without charge, pending further investigation.
The BBC reported that SVG was one of the 13 Caribbean and Latin American countries in which the Interpol-coordinated Operation Libertad saved men, women and children said to have been trafficked abroad and forced into work.
The participating countries were Antigua and Barbuda, Aruba, Barbados, Belize, Brazil, Curacao, Guyana, Jamaica, Saint Lucia, Saint Vincent and the Grenadines, Trinidad and Tobago, Turks and Caicos Islands and Venezuela.
Police rescued nearly 350 victims of human trafficking, the BBC said, adding that in the case of SVG "bosses at a factory … stripped Asian trafficking victims of their passports and forced them into total dependence, taking all their money and means of transport from them".
"To all intents and purposes, you enslave the person," the BBC quoted Tim Morris, Interpol's executive director of police services, as saying.
An Interpol statement on April 30 had this to say about the SVG leg of Operation Libertad:
"In Saint Vincent and the Grenadines, Asian 'employees' at a factory had been stripped of their passports and made to be completely dependent. Having never received wages, they relied on their handlers for housing, transport, food and the most basic necessities."
Speaking in Parliament on Thursday, Gonsalves, who is also Minister of National Security, quoted the section of the BBC report referencing SVG and commented, "… this statement was so highly overblown to the point of inaccuracy".
He said that as a global partner in the fight again human trafficking, SVG participated in "Operation Libertad", an Interpol co-ordinated counter trafficking operation to combat human trafficking in Latin America and the Caribbean.
He said that as prime minister and minister of national security he was kept informed about the matter at every stage.
The operation ran from April 3 to 9, 2018 and included Antigua and Barbuda, Aruba, Barbados, Belize, Colombia, Curacao, Guyana, Jamaica, St. Lucia, Suriname, SVG, Trinidad and Tobago, Turks and Caicos Islands, Brazil, and Venezuela.
The prime minister said the SVG leg of the operation was conducted on April 4.
He said that Interpol set up a command centre at the Joint Regional Coordination Centre in Barbados, which is under the CARICOM arrangement with IMPACTS and this command centre was in constant communication with Interpol's head office in Lyons, France and Buenos Aires, Argentina.
"During this operation, a local business entity suspected of being involved in human trafficking was targeted for this operation. Three persons were detained along with cash, cellular phone, laptops and other items. These persons were interviewed by law enforcement officers and were later released, pending further investigations."
Gonsalves said that two of these persons were workers and the other, the owner of the business.
He said that the Anti-Trafficking in Persons Unit of the SVG Police Force interviewed the potential victims — the workers – "have made certain conclusions that up to that point in their investigations that the elements that are necessary to determine a case of human trafficking were not present though the investigation continues".
Gonsalves, who is also Minister of Legal Affairs, said that a meeting was held with the acting Director of Public Prosecutions and a file is currently being prepared for onward transmission to the office for further directions.
The Financial Intelligence Unit (FIU), which was part of this operation and had seized just over US$11,000 has since returned it to the owner of the business "after conducting their due diligence checks and was satisfied that the money was derived from legitimate sources and means.
'The cellular phones and laptops were analysed by professionals in the IT department [of the police force] and thus far, no materials of a criminal nature were discovered on these items."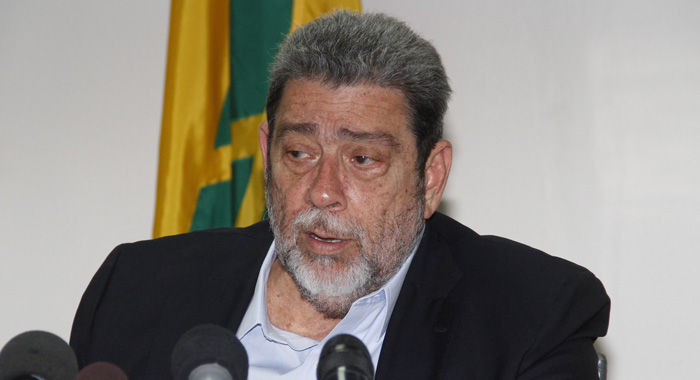 The development comes as the Gonsalves-led government has repeatedly rebutted reports by international organisations and foreign governments, including the U.S. State Department claiming that human trafficking exists in SVG.
In Parliament on Thursday, Gonsalves restated his government's position on human trafficking, saying that SVG subscribes to United National Sustainable Development Goals, including the one targeting human trafficking
In addition to enacting the Prevention of Trafficking in Persons Act of 2011, Gonsalves said that his government has set up a national Taskforce against human trafficking and the Inter-Ministerial Working Group Against Human Trafficking.
He noted the creation of a national action plan to combat human trafficking and the establishment of the Anti-Trafficking in Persons Unit in the RSVG Police Force.
In 2016, a Vincentian businessman was freed of three counts of human trafficking, the first and only such case in St. Vincent and the Grenadines.
The prosecution interrupted the proceedings and withdrew the charges against 61-year-old Adrian Deane of Brighton, owner of Farmer's Market Bakery & Snackette in Arnos Vale.
Deane had been accused of trafficking three Jamaicans to SVG, a charge he denied.
The prosecution pulled the plug on the case after defence attorney Grant Connell had crossed-examined two witnesses, including then Head of the Criminal Investigations Department of the Police Force, detective Superintendent of Police Ruth Jacobs, who has since retired.
Gonsalves cited that case to parliament on Thursday.
He further said that in 2017, the Anti-Trafficking in Persons Unit was instrumental in derailing and shutting down "the efforts of an entertainment agency which sought to recruit young Vincentian females to be dancers and models.
"This so-called entertainment agency used the social media, mainly Facebook, to recruit the females, enticing them with lucrative salaries in return for signing up to work for the agency."
The prime minister said that the unit issued a press release warning the public about the dangers of getting involved.
"And in the end, intelligence reveals that the owners/operators, though they had not as yet carried out their particular nefarious plan were actually luring the females preparatory to doing so," he said.