Prime Minister Ralph Gonsalves has weighed in on the most recent public spat between ex-prime ministers and former leader of the main opposition New Democratic Party (NDP), Sir James Mitchell and Arnhim Eustace.
There has been public animosity between both men, which began with Sir James' public criticism of Eustace, his former finance minister, whose skills as an economist he had once praised.
Eustace, who is Member of Parliament for East Kingstown said that Sir James' attitude to him changed when he reduced the former prime minister's salary after Sir James demitted that office in 2001.
In an open letter to Sir James last month, Eustace said he did not think it fair for the country to be paying salaries to two prime ministers at the same time.
Sir James had remained as Member of Parliament for the Northern Grenadines until the March 2001 election, in which his successor in that district, Godwin Friday, retained the seat for the NDP.
In 2016, Friday succeeded Eustace as NDP head and opposition leader.
"And, incidentally, I see Sir James take back his party," Gonsalves told a press conference in Kingstown on Tuesday.
"He feel he got title deed for it. Eustace wrote many things inside of his letter but Eustace didn't write that. Up to now, Eustace doesn't realise that Mitchell is a founding father of the NDP — he say Mitchell co-founded it. Co-founded? As far as Mitchell is concerned, he founded it; is his own. And as far as he, Mitchell, is concerned, Eustace was playing fresh not to recognise that this thing, he has a title deed for it."
Gonsalves said that while Mitchell doesn't have a tangible title deed for the NDP, "in his mind, he has a title deed for it, is his property".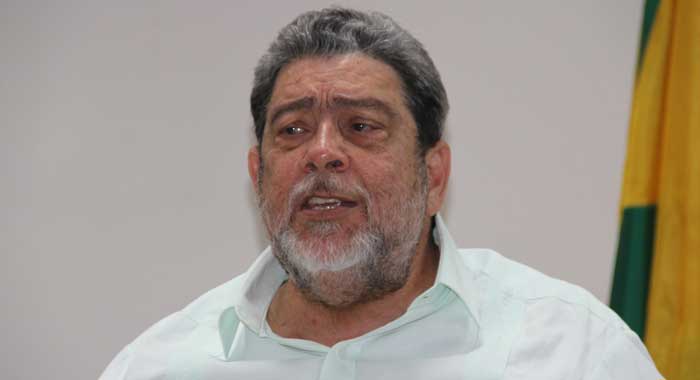 The prime minister also used the opportunity to criticise the opposition leader, saying that his recent walks against crime and violence was in fact and opportunity for him to get to know the St. Vincent.
"Well, poor Friday. Friday ain't know St. Vincent. He don't even know how to get to Gordon Yard. That's why he went walking.
"And Friday can't resist Mitchell," Gonsalves further said.
"Anything Mitchell tells him — what a sorry state for a leader. Yuh mekking a man who Eustace correctly said had lost appeal and was sliding downhill, Friday want to resurrect him from 45 per cent of the vote in 1998, where he led the NDP to bring him to ask people for him to take a frontline position in 2020?
"Man, Friday, be a big man, nuh. Don't put ah old man in front ah you and shield yourself the thing. You call yourself leader? Come on. You going allow a man think he had title deed to come back for his party?" Gonsalves said.
The prime minister's comments came at a press conference at which he suggested that he would seek a fifth term in office.
If he leads the Unity Labour Party into the next general elections, constitutionally due in March 2021, Gonsalves would have reneged on a promise he made to voters that he would transition to a new set of leaders during this term in office.
Gonsalves said he is confident that if he runs again as prime minister, he would win.
He, however, added that his confidence has nothing to do with vote rigging.