An 18-year-old Community College student has been bonded to keep the peace for six months after pleaded guilty to stealing a number of hair products from Jax Enterprises Ltd. in Kingstown on Jan. 10.
If Onelia Cato breaks the bond, she will have to pay the court EC$900 forthwith or go to jail for six months.
She was charged with stealing one bottle of Dream Kids moisturising Conditioner value EC$13,75, one Dream Kids Anti-Breakage Hair strengthener, value EC$13.75, one bottle of Mega Growth Smoother polisher, value EC$10.75 and one Pears soap, value EC$3.75, total value EC$42, the property of Jax Enterprises Ltd.
She pleaded guilty to the charge on Friday when she appeared before Chief Magistrate Rechanne Browne at the Serious Offences Court.
The court heard that last Thursday, Jan. 10, about 1:50 p.m., Cato entered the store carrying a brown handbag over her arms.
She went to the cosmetics aisle and removed a quantity of items.
The security guard, who was monitoring her via the store's surveillance systems, noticed that the woman then went to the household aisle and stood a short time there.
She then went to the bookshelf, picked up a book and paid for it then exited the store without paying for the other items.
The security guard then intercepted Cato under the gallery of the store, identified himself and told her of his observations.
He invited her back into the store and she consented to a search, where the items were discovered in her handbag.
The police were called in and Cato admitted to the offence.
The woman told the court that she stole the items for her younger sister.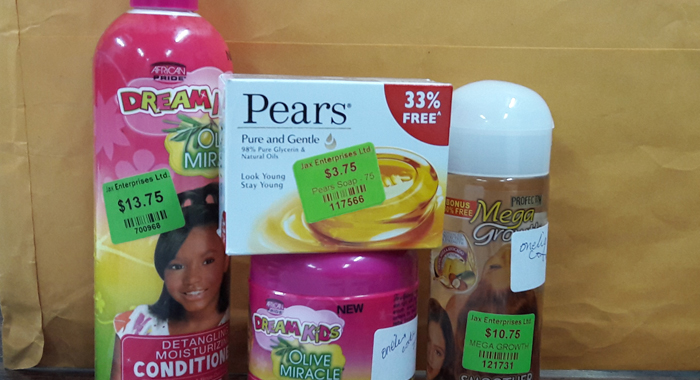 She said that she immediately regretted her action but was too nervous to return them to the shelf.
The chief magistrate responded:
"If it were food, I would be softer even… It's not things that you need. These are wants."
Chief Prosecutor Adolphus Delplesche commented that the items might be food for beautification.
"That's not necessary," the magistrate said.
"In these days, you have to keep up with the Joneses," the prosecutor further commented.
In sentencing the woman, the chief magistrate noted that she had pleaded guilty at the first opportunity and that the stolen items were in good condition.
She, however, said that she did not believe the defendant when she said she immediately regretted what she had done.
Browne further noted that Cato could have left the items anywhere in the store.