By Kenton X. Chance
Four of the five public servants who the court recently ruled were treated unfairly when they were overlooked for promotions have spoken about the impact of the actions of the Public Service Commission on their personal lives.
"It is really disheartening, it's discouraging but one of the things I do know, I take care of my mental health. And one of the things I do know, nothing lasts forever and those are like my theme. It keeps me motivated and I go and do my work," Celena McDonald told a press conference of the Public Service Union on Tuesday.
McDonald received her last promotion 18 years ago and spoke at the press conference which was held 28 years to the day when Joel Poyer, another witness in the case, received his last promotion.
During that time, he has seen persons whom he trained, and others who are less qualified than him, advance within the public service.
McDonald, Poyer, Conroy Daniel, Kejo Peters, Kenroy Boucher, and his brother, Elroy Boucher – who is also president of the PSU, testified in the case that their union won against the PSC.
"It is really sad and disheartening even though after you might have gone and furthered your studies," McDonald said, noting that in 2011 she obtained a degree in management studies from the University of the West Indies and, in 2014, received a scholarship for a master's degree in project management.
McDonald joined the public service on Dec. 9, 1994, and received her last promotion on Jan. 10, 2001, when she was appointed senior stenographer in the House of Assembly.
In May 2013, after two years at the Ministry of National Mobilisation, she has been assigned to the Forestry Department.
"Not even seconded; assigned. So my salary and everything is still out of House of Assembly."
Kenroy Boucher said the treatment he has received in the public service has been demotivating.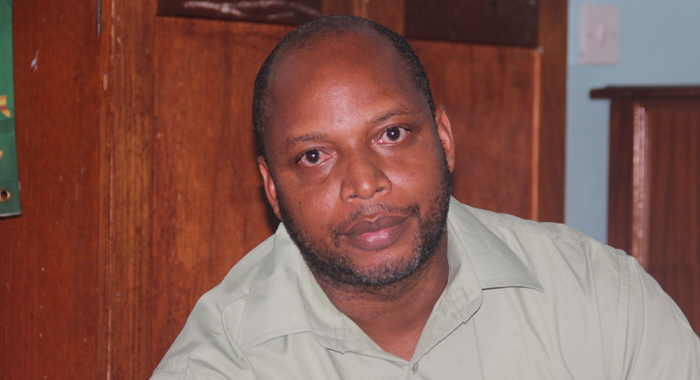 He began as a public officer when he joined the police force on June 16, 1990 and worked most of his years in the Immigration Department.
When the Immigration Department was detached from the police force on Oct. 1, 2006, Boucher was transferred to the Immigration Department as Senior Immigration Officer.
Kenroy Boucher told Tuesday's press conference that prior to the assistant chief immigration officer retiring, in 2010, he went to the then Permanent Secretary in the Ministry of National Security, Godfred Pompey, and applied for the post of assistant chief immigration officer.
"I was the most senior immigration officer at the time in the department. He informed me that he didn't want me; he wanted somebody more senior in the civil service. At that time, I had 20 years in the service and all my experience of all my years, I have worked at Immigration most of my years in the service," Boucher told the media.
He said that in May 2006, he was assigned to the National Emergency Management Organisation and about two months later, Hermisteen Burke, wife of the then chief personnel officer, Tyrone Burke, was appointed assistant chief immigration officer.
"She came from ministry of education," Boucher noted, adding that he then spent about three years at NEMO, where he was put in charge of a warehouse at Campden Park.
He was later reassigned again to the Ministry of National Mobilisation, where he is currently.
"I am still assigned. My substantive post is still a senior immigration officer on the books and I am just there waiting, going through the system," Kenroy Boucher said.
"To me, it's demotivating. I have had extensive training from my period of attachment at Immigration. Even though I went to NEMO, I did some extensive training there also. Not because I was assigned there, I went, I gave my best.
"Even at mobilisation now, I am still working there, I give my best but it is demotivating sometimes that you have studied, I did the executive diploma in management with Service Commissions and almost every person … who did the course with me has been promoted. I am here not being promoted at all."
Meanwhile, Poyer has been drawing on his faith, and his love for his job.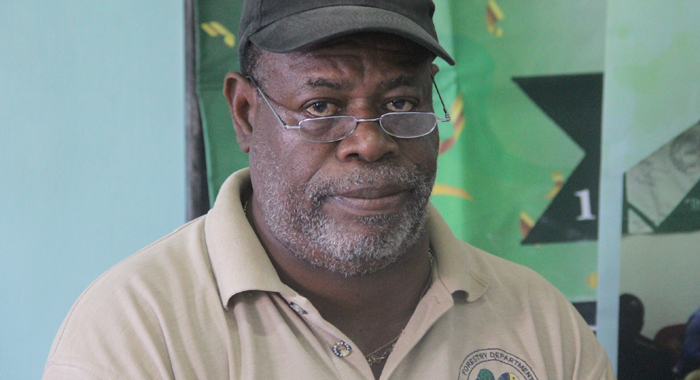 "I put my trust in God. I work for the people of St. Vincent and the Grenadines. I love my job. That is one of the main things. Many times, I would have quit," he said.
Poyer said his son has told him that he is one in a million and doesn't think that there are many people in St. Vincent who would have gone through what he did and still be able to produce."
Poyer joined the public service in 1984 and was appointed formally in 1991 as a forestry officer 3.
He has not received a promotion since, although he has received qualifications in a number of areas.
"In [December] 2013, when the storm hit, when everybody was home, I was out leading the charge in cleaning up this country. That is how much I have concern for my country," Poyer said.
Poyer said that his outspokenness may be at the heart of the reason why he has not been promoted.
"I forewarned about the situation that was pending in the ravines and gutters if we did not do what we were supposed to do as trained foresters. The minister was annoyed when I said he sent us to clean up farmers' lands and not do our job.
"And the end result that took place–" Poyer said, referring to the death and destruction that resulted from the floods.
"A memo was sent to me saying that before I open my mouth to say anything I must get clearance from the minister. I responded and said clearly that my first obligation is to tell the truth to the nation, not to no minister and I am a citizen, and as I am trained and qualified in what I am doing, I will speak candid and openly, and whatsoever happen, let it be so," he told reporters.
Meanwhile, the PSU head, Elroy Boucher, said he is "more concerned about the numerous workers that I know who have suffered".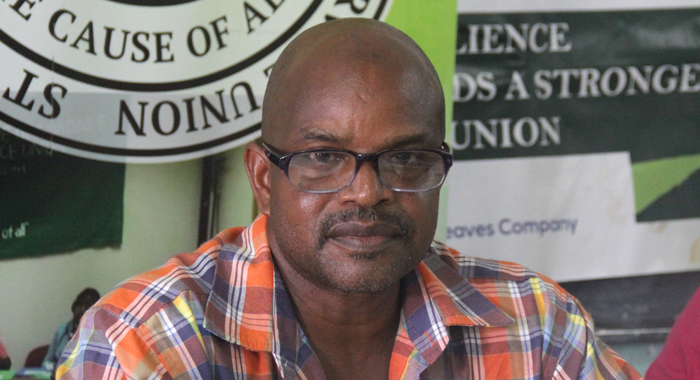 He said a woman just retired last year from the public service after 24 years as a junior clerk.
"And if the system was really working, she would not be a junior clerk after 24 years. Another lady that we wrote about, 22 years, junior clerk. We wrote about her in the middle of last year. They responded by granting her a promotion to senior clerk — after 22 years.
"Senior clerk still isn't any compensation for the number of years that she spent without being promoted."
Boucher said there are workers with master's degrees who are still junior clerks.
"And they have been toiling 12, 15, 20 years. They are qualified academically, they are well experienced and they have been doing a great job because I know some of the ministries in which they work…
"You can imagine having a master's degree in any particular field, or a bachelor's degree or any degree and you are retiring, you are being given a graduate allowance, that does nothing to your pension, nothing, you are retired at either a junior clerk or a senior clerk. So you move from making $4,000 and $5,000 and upon retirement, instead of having your pension based on that, you have your pension based on your junior clerk salary of $1,700… It is just demoralising. It is just not fair. So they are the ones whose burden I carry and whose cry I hear on a regular basis," the PSU leader said.