The St. Vincent and the Grenadines Coast Guard Service, on Monday, commissioned a new off-sea patrol vessel during a ceremony in which Prime Minister Ralph Gonsalves said that the country now has the most advanced coast guard service in the Organisation of Eastern Caribbean States.
The commissioning of the Capt. Hugh Mulzac — the second vessel to be named in honour of the unofficial Vincentian national hero — ends a 10-year period in which SVG had no Coast Guard vessel capable of reaching the furthest part of its maritime space.
Speaking at the ceremony at the Cruise Ship Berth in Kingstown, Gonsalves, who is also Minister of National Security, noted that the Damen SPA 4207 and the works done at the Calliaqua Coast Guard Base amounted to almost EC$18 million.
"And we bought this not with anybody else money, nobody gave us anything. We have invested in this ourselves," he said.
Gonsalves noted the money could have financed the construction of five primary schools to hold 250 students each.
The vessel, which has the hull number "SVG 01" and call sign J8CM, is 42.8 metres (140 feet) long, has a beam of 7.1 metres and a draught of 2.5 metres.
It has a capacity for 18 crew and four guests.
The maximum speed is 26.5 knots (49.1 kilometres per hour) and a range of 1,800 nautical miles.
The vessel can remain at sea for 14 days.
Gonsalves noted that before the commissioning of the new vessel, the SVG Coast Guard Service had three 33-feet safe boats, one hurricane 92 Rigid Hull Inflatable Boats (RHIBs), two 30-foot RHIBs recently donated by Japan, and "the old and faithful" 40-foot long Hairoun, which he said is "partly operational" and a small pirogue.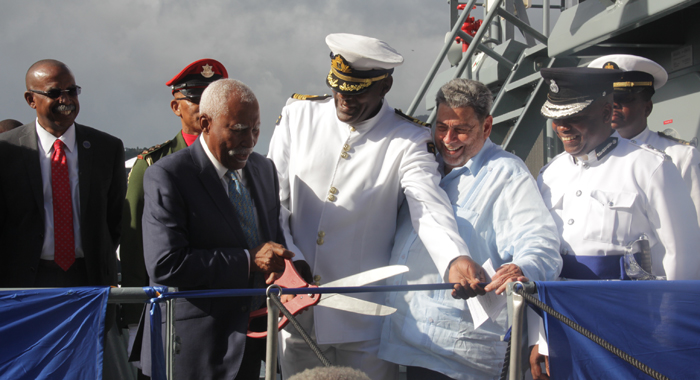 "So we have a reasonable coverage, but now we have this vessel – offshore patrol vessel," he said.
"We need to protect our resources and the people from St. Vincent and the Grenadines who are working on the sea and to prevent other people from other places to come in our country to fish in our waters and for that, you need more coast guard surveillance.
"What is out there in the water is money. We have to get the fish, we have to get the lobster, we have to get the conch," Gonsalves said in a speech in which he highlighted the importance of the blue economy.
He said the RHIBs and safe boats can help the country to intercept and interdict persons who are trafficking in arms, drugs and persons.
However, unlike the Capt. Hugh Mulzac, those vessels could not take law enforcement personnel to the furthest point of the nation's exclusive economic zone, he said.
Capt. Hugh Mulzac is outfitted with a RHIB which can be launched within seconds".
The prime minister, however, said he could not offer other information on the interceptor.
"And for those who want to traffic in drugs or small arms or persons and who want to test it, must test it. I am not telling you how fast it going. You'll find out," he said.
He said that the vessel is fitted with a fire-fighting system capable of discharging 200 litres or 528 US gallons of water or water and foam per minute.
It has a modern gallery, mess room, officers' room, laundry, storage and sanitary spaces.
"And the vessel will perform the following functions: maritime law enforcement, maritime safety, national defence, customs enforcement, Immigration enforcement, fisheries protection, environmental protection, disaster response, anti drug and anti-human trafficking operations, search and rescue and medical evacuation," the prime minister said.
"Now, this is an impressive vessel and I'm not surprised that nobody else in the OECS got one because you have to have a lot of money to get it," Gonsalves said.
The vessel was built by Damen Shipyards in the Netherlands and was delivered to the SVG Coast Guard Service on Dec. 15, 2018.
It is commanded by Lieutenant Enos Hamlette.
The first Capt. Mulzac Coast Guard Vessel was commissioned in 1987.